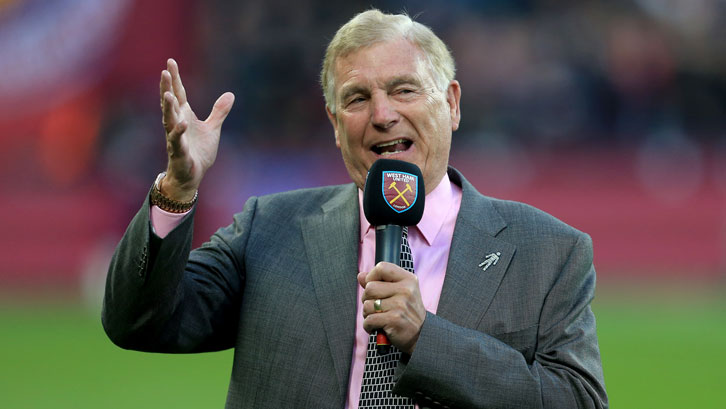 Sir Trevor Brooking believes the on-pitch relationship between Declan Rice and Manuel Lanzini will be vital to West Ham United's future success.
The Hammers legend believes the dynamic between deep-lying midfielder Rice and No10 Lanzini is central to Manuel Pellegrini's team's ability to both stop the opposition at one end of the pitch and get at them at the other.
Sir Trevor, who dovetailed superbly with Billy Bonds during his own illustrious playing career in Claret and Blue, told BBC Radio 5 Live he is excited by the prospect of watching Rice and Lanzini's partnership flourish over the coming weeks and months.
"Declan is progressing superbly," observed the five-time Hammer of the Year, when asked for his observations of Rice's ability and potential by presenter Mark Chapman. "He's only 20 years of age, and he is getting better.
"You've got to remember last year he played a lot of games, playing in a side struggled a bit more, and also in a side that was playing three at the back and he was one of those three.
"It was a learning curve from the back. Pellegrini likes to play with four at the back and Declan has come into that holding role. If you have a holding role when you're set up only to have one [deep-lying midfielder], particularly the way West Ham play when they've got everyone fit, you want somebody there who can knock balls into [the No10] – that's where the holding midfielder is the key.
"Now Lanzini – my favourite player – came back at the weekend and was excellent. You've seen people [in Rice's position] who knock it backwards and square and if you're an attacking player you want to get the ball in good positions to people like Lanzini.
"You do need that holding midfield player to place it between people and give you a chance to get them on the half-turn and get at the defence.
"And that's what Declan is getting better and better at. His defensive duties are terrific and he's got a couple of goals in the last month or so, which is excellent, but that forward passing is something which is developing all the time and I think if he can keep doing that, and he is a lad who really wants to learn and is keen, I can't see anything, if he stays fit, stopping him progressing as he is."