Andy Carroll lent his support for the east London community by visiting West Ham United's official charity partner Ambition, Aspire, Achieve (AAA).
Founded in 2016 by long-time community champion Kevin Jenkins OBE, AAA works in partnership with schools, welfare services and other community groups to provide support and opportunities to young people from the London Borough of Newham and beyond.
Carroll paid a visit to AAA's flagship adventure play, sports and hub for young people with disabilities and additional needs and their families, the Terence Brown Arc, which is based on the same site as Thames Ironworks FC's historic Hermit Road ground in Canning Town.
There, the forward was given a tour of the facilities and enjoyed a musical performance before presenting certificates of achievement to AAA volunteers and users and launching the charity's annual Easter Egg appeal.
It's a very good facility. They've built a new all-sports pitch, which is brilliant, and the place have everything you need for the kids and their families

Andy Carroll
"I used to love going to the youth club myself and visiting a place like the Arc brings back memories, with all the kids running about, all friends and all sticking together and then going home and probably living in the same street," said the No9, who attended as part of The Players' Project. "Having this on their doorstop is great and it's open every day of the year.
"You've got to applaud the people who volunteer and come into give up their time and work. It's special to see them helping in their local area.
"It's a very good facility. They've built a new all-sports pitch, which is brilliant, and the place have everything you need for the kids and their families."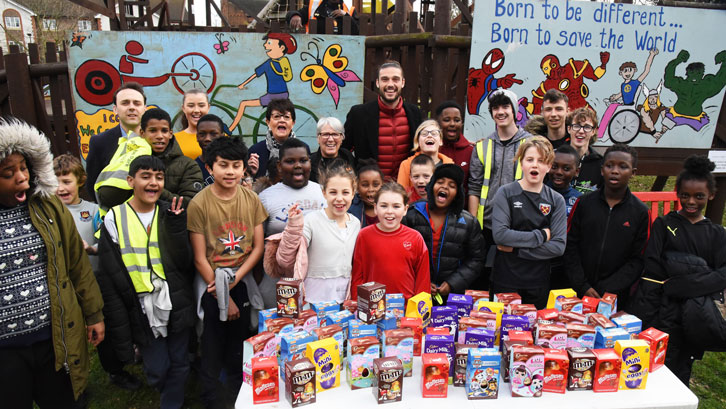 AAA Chief Executive Jonny Boux explained how the charity has close ties with the Hammers, with the Arc itself being named in honour of patron, long-time supporter and former West Ham Chairman Terence Brown.
"Andy saw a lot of the work we do during his visit," Boux confirmed. We provide open-access provision for kids from the local area and are also running a course for young people with special educational needs, so Andy was able to see a lot of the activities we do at the Arc.
"Andy saw a musical performance, which I know he enjoyed, and he also gave out some certificates and even had a kickaround in our newly-opened MUGA (Multi-Use Games Area), which was great!
"We were formed in 2016, so we're coming up to our third anniversary and we exist because there is a need for facilities like ours, which provide a safe space for young people, in places like Canning Town.
"The traditional youth club has been dying across the country, but we are committed to providing that type of facility for young people to come to, develop and grow, so they're really important places."
Anyone wishing to contribute to AAA's Easter Egg appeal can drop off eggs, which will be distributed to local children, at the Arc in the Park.
For more information about the charity and to find out how you can help young people from east London build confidence and expand their minds by enjoying activities they would not otherwise be able to experience, visit www.theaaazone.com, email [email protected] or call 07860 487727.