Established in Bobby's memory, the Moore Family Foundation provides life-changing opportunities for young people across East London and Essex.
Specifically aimed at supporting hard to reach and disadvantaged children, delivery currently includes a mentoring programme for young people who are at risk in secondary schools or Pupil Referral Units (PRU).
The Moore Family Foundation is currently working in schools in Redbridge and Tower Hamlets, engaging with over 35 young people for targeted interventions.
Pupils from one of the PRU supported by the Moore Family Foundation attend a weekly session at the Beckton Hub in Newham.
These students are currently studying for a Sports Leaders Level 1 qualification, attending employability sessions and preparing for Post-16 Education, employment and training. 
These areas have some of the highest child poverty rates in the capital, as well as high levels of unemployment and crime, particularly for knife-related incidents. All of these issues, plus many more, are very real threats for young people in these areas, which is why interventions like the Moore Family Foundation are increasingly invaluable.
Since it began in 2014, the Club's charity partner has delivered across more than 75 schools and engaged with over 15,000 children. 
Learning mentors from West Ham United Foundation provide help and academic support in schools to pupils aged 10-16. The bespoke delivery of the Moore Family Foundation project aims to meet the needs of both the school and individual, achieving positive outcomes for those young people on a personalised basis providing guidance and understanding.
Bobby's daughter Roberta spoke about some of the key messages she wanted the programme to serve when she set it up.
"I wanted the programme to convey some of the key attributes that my father stood for as a man and also as a footballer," she explained. "I wanted it to promote a way to live one's life, and how to live a better life.
"The key messaging is that it's important to be respectful, hard-working, determined, self-disciplined, kind and generous; and to conduct oneself with grace and a sense of humility."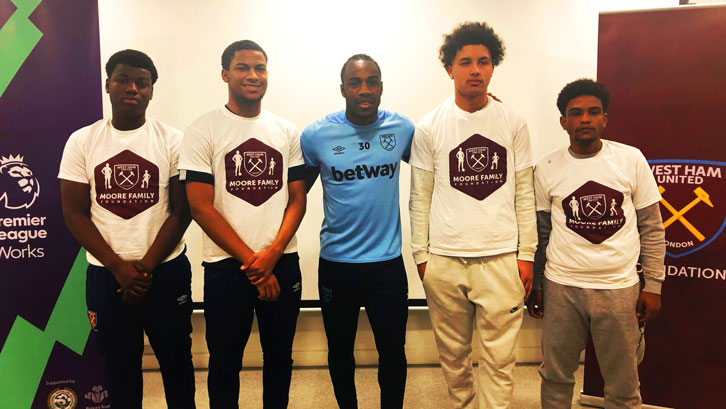 In February, the West Ham United Foundation took four children who have been engaged in the programme for a tour of the Club's Rush Green training facilities.
Two of the young people are currently pupils at a PRU in east London, while the other two have engaged with the Moore Family Foundation.
Their visit included meeting some first team men's players including Michail Antonio, Lukasz Fabianski and Mark Noble, each of whom offered them inspiring advice for their future.
Antonio recalled how things can easily take a turn onto a negative path, particularly as a young person, and that it is all about your choices – you have options and the power to put yourself in or take yourself out of situations and decide where your life goes; relating it to common issues facing youths in east London today. 
The group also went on to watch the first-team squad train before being shown around the recently refurbished training facilities.
The tour gave the four students the chance to speak to members of staff about their career in sport.
This opened their eyes about the range of career opportunities available around a football club and beyond.
One of the quartet, Isaac Miller, is a current participant and discussed his own life story.
"It's been a long journey for me to be honest," he said. "It's not what I expected, but it puts me in the position to be with different people and understand where they're coming from.
"One of the things I have been taught with West Ham is that there's always more than one path to get to where I want to be. I would like to progress to do an Apprenticeship with West Ham if possible."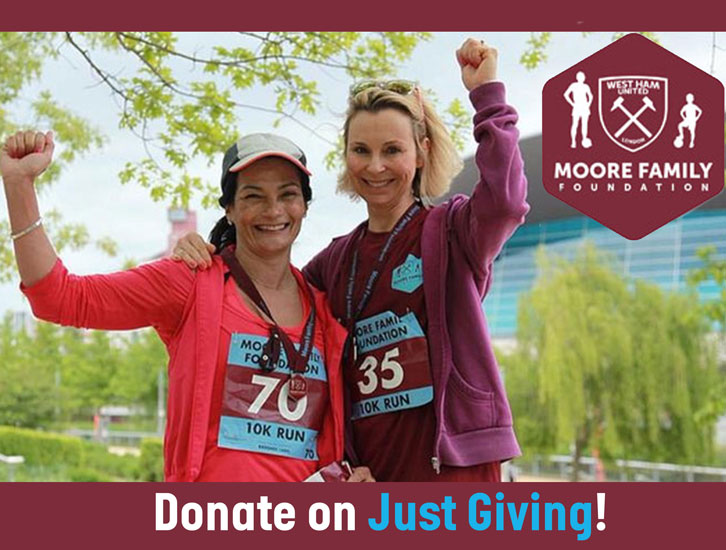 In order to continue the incredible work, fundraising is key.
In 2018, West Ham United Foundation oversaw the third annual Moore Family Foundation Fun Run, offering budding runners of all ages to run a variety of distances around the Queen Elizabeth Olympic Park – all for a valuable cause!
This run is set to return for a fourth time, once again offering the opportunity to race around the iconic Queen Elizabeth Olympic Park.
If you would like to be involved then keep a look-out on West Ham United Foundation's twitter feed @WHUFoundation to be the first to know the sign-up details!
Jesse Foyle, the Foundation's head of learning, ran the 10k race last October and commented on the success of the charity's work.
She said: "The Moore Family Foundation has gone from strength to strength since its inception in 2014. It was very important for me to raise money for this inspirational project as I see what a huge difference it makes on disadvantaged young people's lives across the community.
"At the Foundation, we strive to change lives, create opportunities and support pathways, and the Moore Family Foundation encapsulates that."
At today's game the Moore Family Foundation is calling for people to donate to support their goal of reaching 1,000 young people this academic year. You can donate by searching for Moore Family Foundation on Just Giving!