West Ham United captain Mark Noble has paid tribute to the great Billy Bonds MBE ahead of Saturday's ceremony, during which the two-time FA Cup-winning skipper, four-time Hammer of the Year and Lifetime Achievement Award recipient will be recognised with a stand named in his honour at London Stadium…
"I think it's totally right that Billy Bonds has a stand named in his honour. What Billy stands for at this football club, not only for the players who sign for us, but for every fan, are the performances, the hard work, the grit and the determination he used to play with. He embodies this football club.
"I saw the way he played, the way he conducted himself and the work he did for this Club and based the way I play on that. He gave absolutely everything and played and managed with his heart on his sleeve.
"The first thing I say to any new player who signs for West Ham is that 'it's OK to do one or two stepovers, but the working-class people of this club and the fans love to see hard work, determination and fight for the badge' and if you could a player next to that description it would be Billy.
"Leading by example is so important and to be a leader you don't have to shout and scream all the time, but to produce the goods and give absolutely everything, and hopefully that inspires others to do the same.
"The working-class person who wakes up, goes to work and then pays for their ticket can relate to someone like Billy, who walks out on the pitch and gives everything.
"Players like Billy have stuck with the club through thick and thin, through good times and bad times, and when you come out the other side of that, that's when you are really remembered.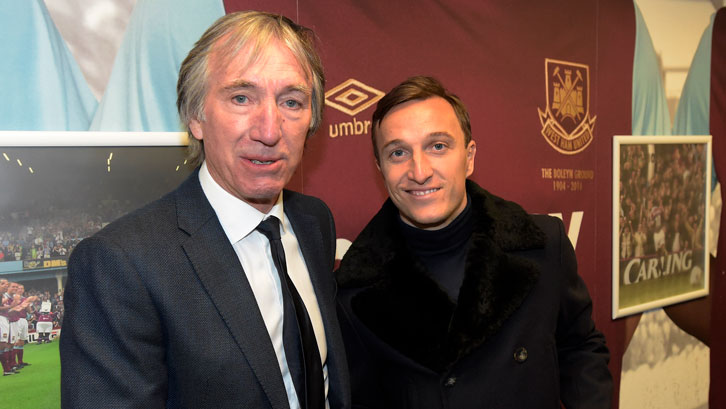 "It's an incredible achievement to have played to the age he did and to have played the number of games he did.
"I know the game is played at a different pace in this day and age, but to have made 799 appearances is incredible. That record will never be beaten and if I even get close to it, I'll be over the moon.
"For the football club and for Billy, it's incredible that he lifted the FA Cup not once but twice. Hopefully one day, I'll be able to do the same.
"I think it's the most important part of the Club. We obviously want to grow as a club, but to remember the heroes and keep our morals and the way we want to be are vital.
"The Club is doing a great thing in naming the stand in Billy's honour and I'm sure it will be a fantastic occasion on Saturday night, not only for him and his family but for the whole Club."
Ticket Exchange