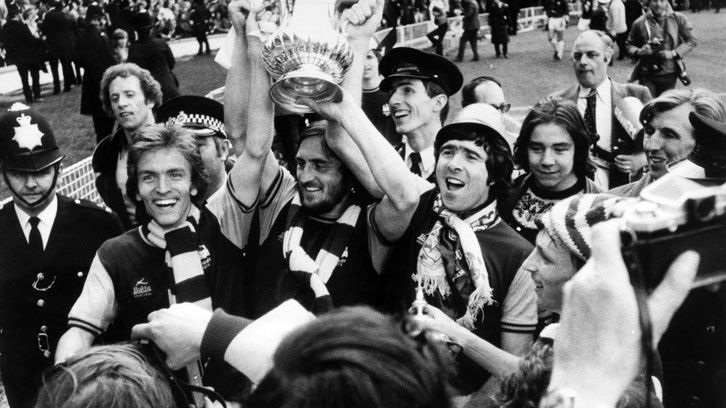 Former West Ham United goalkeeper and assistant manager Mervyn Day celebrates his 64th birthday today, and to mark the occasion, we look back at his greatest triumph in Claret & Blue...
West Ham United lifted the second FA Cup in the Club's history in May 1975 on an emotional afternoon at Wembley.
For the Hammers did not just overcome a plucky Fulham side 2-0 thanks to Alan Taylor's two second-half goals but, in doing so, they also defeated Claret and Blue legend Bobby Moore at the stadium where he had forged so many unforgettable memories for club and country.
Remembering that historic afternoon, lifelong Hammer and broadcaster Ian 'Moose' Abrahams caught up West Ham's Wembley heroes.
Goalkeeper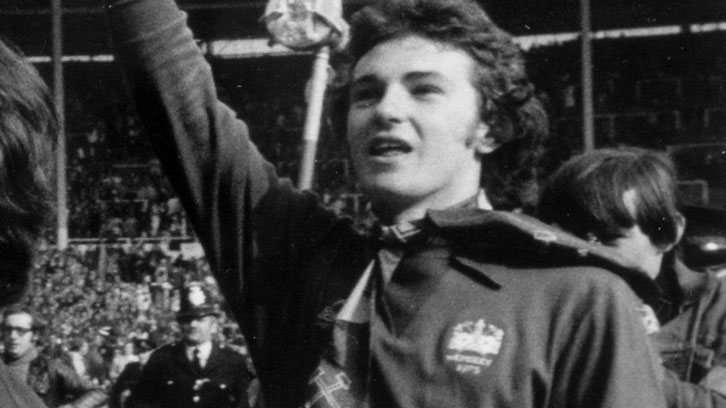 At 19, PFA Young Player of the Year Mervyn Day became the youngest goalkeeper ever to appear in an FA Cup final.
"As a kid, I had no fear, I took to playing in the first team really, really well," he recalled. "At West Ham the 'keeper always had lots to do as we were an entertaining team. We had forward-thinking centre-backs in Bobby Moore and Tommy Taylor, and then after Bobby came Kevin Lock."
Defenders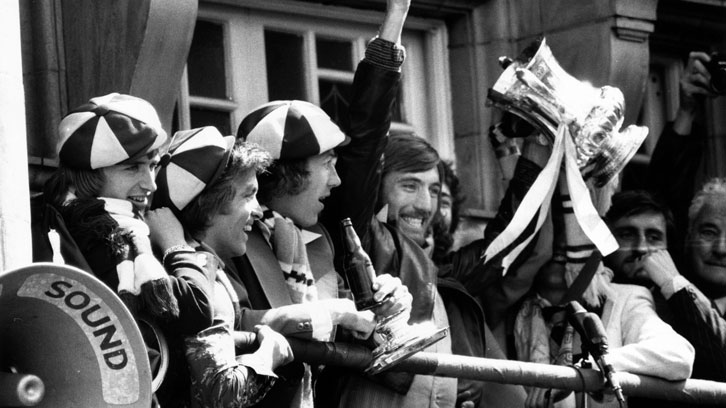 The right back was John McDowell, who admitted the 1975 final was the biggest game of his life.
"It was the highlight of my career. I felt I played really well and my father, who was my biggest critic, said that it was one of the best games he had seen me play.
"At the final whistle a copper stopped me getting to the famous 39 Wembley steps up to the Royal Box to collect my medal. He tried to get me off the pitch with the other fans, so I think I was the last up to collect my medal!" 
No relation to the two-goal hero Alan, Tommy Taylor (pictured, above, holding bottle) played at centre-half – a position he had played alongside many times at West Ham with Fulham's own centre-half that day, Bobby Moore.
"It was strange playing against Bobby, but it didn't matter who was in the Fulham team because we just wanted to go out and win. We took our time to get going that day but in the second half we got more into our stride."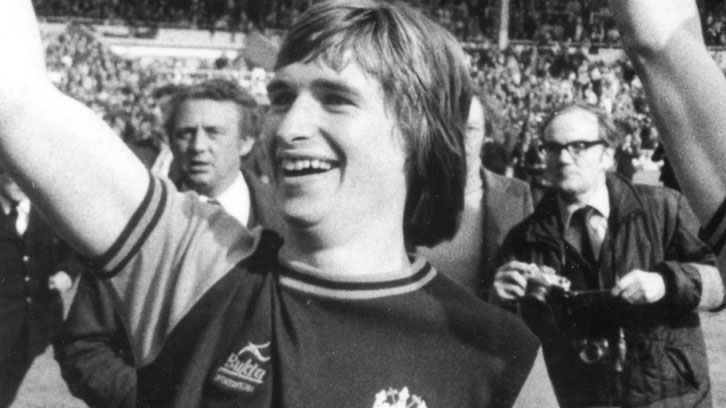 Kevin Lock (above) enjoyed his finest hour-and-a-half that Wembley afternoon.
"It was Roy of the Rovers stuff. I got into the team for the first game of that season and played every game including the FA Cup final, which was the icing on the cake. It is common knowledge that the final wasn't the best game in the world, but it's all about winning!"
Only three of the 1975 side also won the FA Cup again five years later in 1980. One was left-back Frank Lampard.
"I didn't take in the occasion as much as I did against Arsenal in 1980," Frank recalled, "but the first time was a great occasion with us facing Bobby and all that.
"I came through with the likes of Moore, Hurst and Peters, but we were never going to win a Championship, so in our day the FA Cup was the one thing we could win!"
Midfielders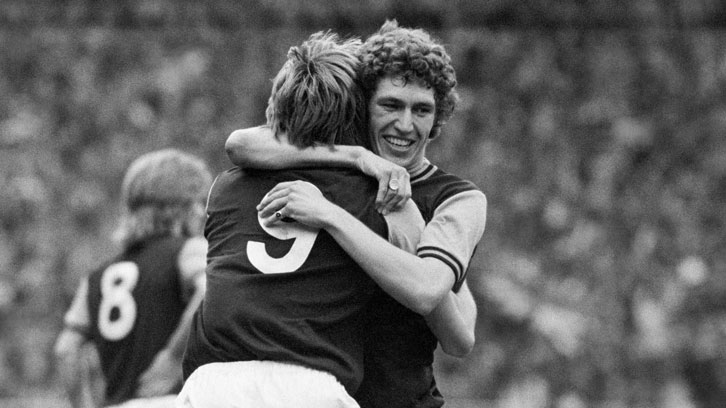 Into midfield and sadly Graham Paddon is no longer with us, but his part in the final should never be forgotten. On the other flank was Pat Holland (pictured above, celebrating with Alan Taylor), who had a hand in both goals.
"It was a strange game really," said Pat. "We didn't play well as a side in the first half and at one stage I expected to look across and see the No12 go up, as I thought I was going to get taken off.
"I had played in three of the early rounds but got injured against Newcastle in the game before the Arsenal quarter-final, when funnily enough Alan Taylor took my place. I got back into the side three games before the final when Keith Robson got injured. It was me or Gouldy so I felt under a lot of pressure.
"Winning the cup stays with you for the rest of your life!" 
Pat also told me what a great teammate Bobby Gould was, despite missing out to Patsy in John Lyall's starting XI.
"We played Arsenal on the Monday before the final in our final league game of the season. After the game John needed two players to go down to the Boleyn pub to say thanks to the supporters for their backing that season.
"Bob came with me and was great on stage telling everyone I was playing in the final and wishing me luck, it was a great touch."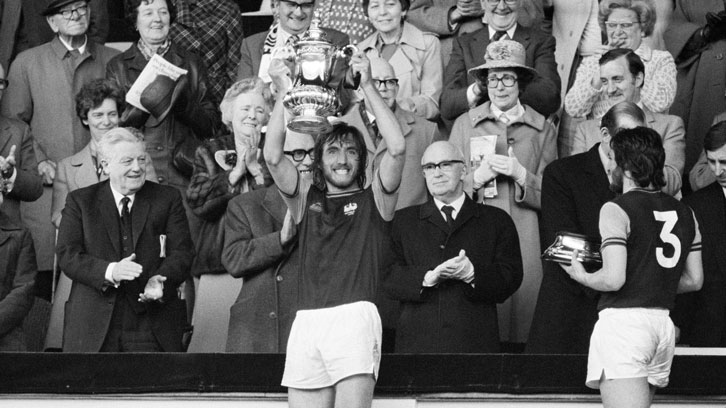 Captain  Billy Bonds was the man who lifted the trophy, but he almost missed the final through injury, but played through pain to win the FA Cup.
"Fortunately, I didn't lose a competitive game at Wembley – only the 1980 Charity Shield. I was lucky enough to win two FA Cup finals and draw a League Cup final, so luckily I didn't know what that losing feeling was like!
"It was fantastic playing against Bobby Moore. He was the first bloke I looked for after the game when we'd won. It was all about Mooro. I'm sure all the neutrals that day wanted Mooro to win, for old time's sake, but for us it was business and we wanted to win.
"Afterwards, the first person I looked for was Mooro, just to go over and shake the great man's hand."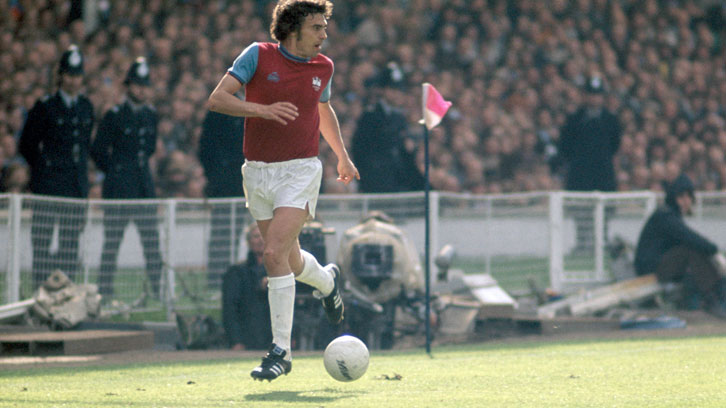 Alongside Bonds was Trevor Brooking, who admitted he did not produce his best performance in the 1975 final.
"The game against Fulham wasn't my best, although I thought Bonzo was magnificent that day," said the ever-modest 1980 FA Cup final hero.
Forwards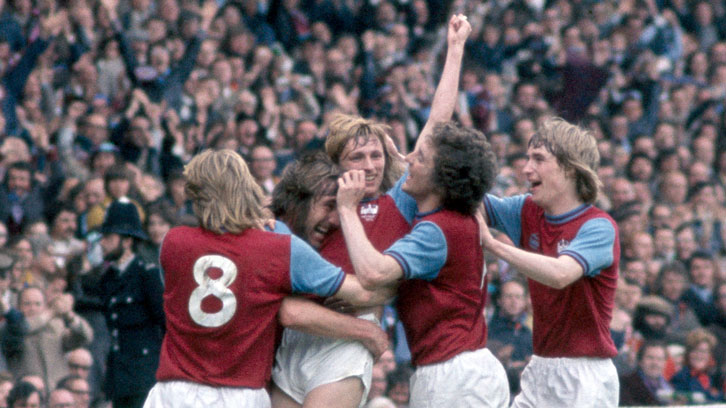 The front two were Alan Taylor (pictured, above, celebrating) and Billy Jennings. For both, just playing in the FA Cup final was a dream come true, as Taylor had begun the season at Rochdale and Jennings at Watford.
"When you grow up at the lower level, you get used to that," Billy told me. "You always want to do better, but don't dream of ending up somewhere like West Ham and playing so quickly. It was just a dream really, but sadly it all went past so quickly.
"I had an OK game if I'm honest, although I was involved in the first goal."