Foundation
Keepie Uppie: Future Irons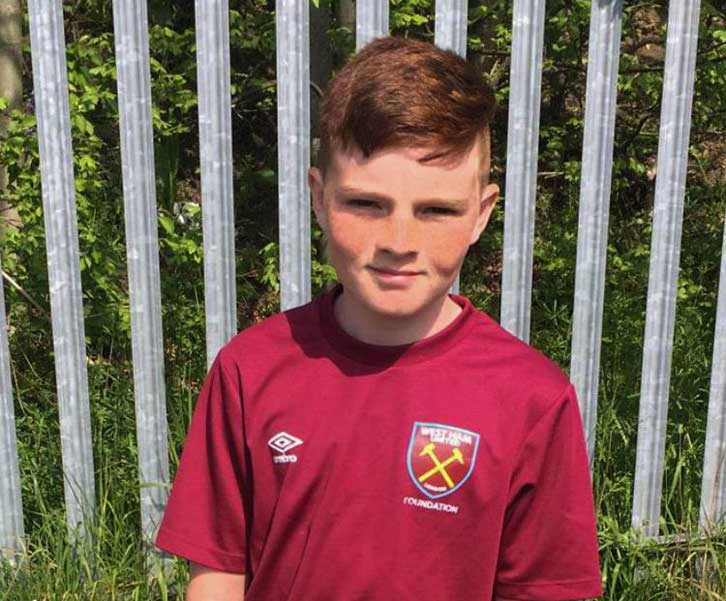 To celebrate National School Sports week, we have been speaking with aspiring Hammers about the impact programmes at the Foundation have had on them and their future aspirations.

Kicking things off is 11 year-old Alfie Quinn-Lyons. Alfie is progressing through the Foundation's Football Development Pathway and has recently received an invitation to join the Performance Academy, which would see a move up from the Advanced Academy Programme.  
Why do you join the programme? 
I joined the programme because I wanted to improve my overall game and I knew that the West Ham United Foundation has one of the best youth football programmes. I also wanted to bridge the gap between my grassroots level football and academy standard. I wanted to join a programme that was based purely on merit and to also improve my confidence from the setbacks I had previously received. 
What did the programme involve, what did you do?
Each of the programmes I have been involved in follow a structure that includes different topics of the game being taught on a weekly basis. You also get the chance to play in showcase fixtures against other Academies and even International teams.  The Performance Academy also includes entry into the Junior Premier League and an opportunity to play against other well-established teams.
What impact has it had on your life and wellbeing? 
My playing ability has improved massively as well as my understanding of the game. Before I started the programme, I was struggling to get picked for a Sunday league team as well as the school football team.  I am now two years into being a part of the West Ham Foundation and in that time, I have moved up to a top division team in the Echo league. I have won numerous football awards including Most Improved Player, Player of the Year and most recently Players' Player of the Year.  
The programme has improved my health and wellbeing from a mental wellbeing point of view and I am now a much stronger, confident and resilient person.  I am willing to take any challenge on and I am not afraid of failure I use the skills and knowledge that I have gained in the West Ham programmes to encourage other children in my school to take part in sports and to not be afraid to get involved.
Has the programme had an impact on other areas of your life?
The programme has really helped me to understand and respect others and realise that everyone has their own goals and is on their own personal journey.  It doesn't matter how you get there, what's important is that you do get there in the end and that you learn from failures and successes along the way.  If any of my friends at school are struggling with something and get down about it, I encourage and motivate them to keep going and not give up.
Have there been any challenges you have faced on the way?
There have been lots of challenges I have faced particularly with my confidence and self-belief. Last year, after being part of the performance squad for a year, I trialled for the new performance academy and was unsuccessful.  The other boys that I had been playing with for that year were selected and moved onto the Junior Premier League. I was offered a space in the Advanced Development Squad which is a level down. However, I refused to give up. I embraced my place in the Advanced Development Squad and made the decision to keep working hard on my game.  Integrating into a new team was difficult, however the West Ham United Foundation coaches are so supportive and inclusive that after a few weeks I felt I had known the other boys for much longer. 
What are your future goals and aspirations?
My new goal is to be captain of the Performance Academy's Under 12s team and to help the team achieve great things in the Junior Premier League. My ultimate goal is to play for the West Ham United Academy. I realise that this is going to be an even bigger step up for me. However, I am going to keep working hard to get there and I won't give up. 
What advice would you give someone in a similar position?
Believe in yourself and never ever give up on your dreams. Do not let anyone tell you that you're not good enough. If you want it enough and you are willing to commit, then do it. Embrace the programme too, listen to the coaches and take everything on board and take every opportunity you can get. If you get a chance to play in a fixture then take that opportunity, it's all experience. Finally, enjoy it and have fun.
If you could sum up the programme in three words, what would they be?
Professional, progression and respect.

Is there anything else you would like to add about your experience?
I am very lucky to have had two amazing coaches in both the Performance Squad and the Advanced Development Squad; Craig Smith and Luke Hirst. Both coaches taught me respect and to take responsibility for myself.  Whatever I have been graded they have then worked with me to improve on this and to move me to the next level. I do truly love being part of the West Ham Foundation and I am excited about what the future holds.