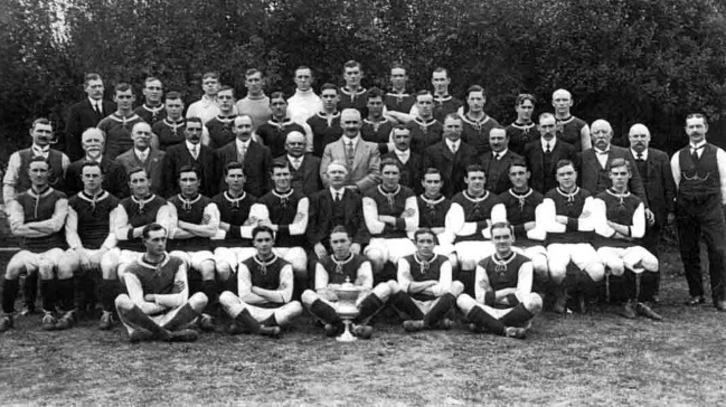 As Tuesday marks Armed Forces Day, West Ham United takes a look back at the players who made the ultimate sacrifice during the First World War...
 
William Kirby
​​​​​​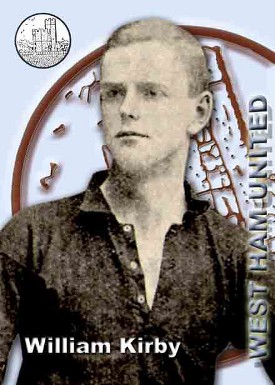 Born in Preston, Lancashire, William Kirby signed for West Ham United in the summer of 1903 from Swindon Town. The outside-right made a scoring debut for the Hammers on September 5, 1903, against Millwall. 
Nicknamed "Sunny Jim" by colleagues and fans alike, the journeyman's stay in east London last one campaign, recording 36 appearances and 11 goals before returning to Wiltshire with Swindon Town for the 1904-05 season. 
Military records show that Kirby was originally in the Royal Engineers but was invalid out of the war and worked at the Arsenal in Woolwich. He later re-enlisted and fought with the East Yorkshire Regiment 6th Battalion and by late September 1917 was fighting at the Battle of Polygon Woods around Ypres which formed part of the bigger Battle of Passchendaele. 
This is where Kirby died, whilst serving his country, on October 3, 1917. Kirby is buried in Bard Cottage Cemetery in Belgium.
Frederick 'Frank' Costello
Frank Costello signed for West Ham United on 1 March 1909 in a straight exchange deal that saw Jack Foster join the south coast club.
He made his first-team debut at the Boleyn Ground against Kent side New Brompton (now Gillingham) in a 1-0 defeat on 6 March 1909. Two days later, he scored his first goal for the Irons against Swindon Town.
Costello's stay in east London didn't last long, as he moved to Bolton Wanderers three months later.
By 1914, he joined his hometown regiment the Royal Warwickshire. Costello was a member of the 2nd Battalion, who were one of the first Regiments to see action in Northern France at the 'Battle of Le Cateau'.
On December 19, 1914, 32-year-old Frank Costello was killed in action. Sadly, he has no grave but is remembered on the Ploegsteert Memorial to the Missing, in Hainaut, Belgium. To give a sense of scale, the memorial lists 11,386 men who have no grave.
Sydney Hammond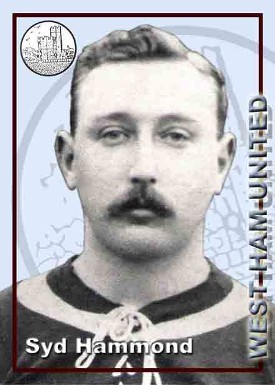 Born in Woolwich, London in 1882, Sydney Hammond was a commercial clerk by profession.
The defender joined West Ham United as an amateur in 1904 and made his initial debut in November of the same year, before progressing to the first team and a match against Tottenham Hotspur in January 1905.
His Boleyn Ground career stretched to 34 appearances, spread over four seasons. Living in Twickenham Road, Leytonstone at the outbreak of the First World War, Hammond enlisted into the Royal Field Artillery in Romford.
When he died on October 18, 1917, Hammond was recorded as being in 'C Battery' 242nd Brigade, who at the time were fighting in the Passchendaele region. Hammond is buried in La Clytte Cemetery, Belgium.
William Kennedy
William Kennedy joined West Ham United in 1910 and marked his Hammers debut in spectacular style, scoring a goal in Hammers 3-1 victory over Brighton & Hove Albion at Upton Park. In two seasons at the Boleyn Ground, Kennedy averaged a goal every other game for the Irons.
A knee injury sustained in a third round FA Cup replay with Middlesbrough in February 1912 effectively ended his football career. Although not considered fit enough for the rigours of professional football, he was, however, given the all-clear to participate in the greatest conflict ever known to man - World War One.
Kennedy joined the London Scottish 14th Brigade and it is believed he died on October 13, 1915, aged just 24.
Like so many others he has no grave but is listed on the Loos Memorial, Loos-en-Gohelle in France. The memorial lists 20,610 names of British and Commonwealth soldiers with no known grave.
Frederick Griffiths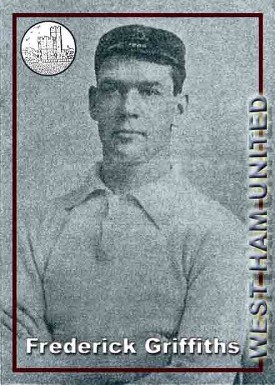 Goalkeeper Frederick Griffiths joined West Ham United in the summer of 1902 and made his debut in October in a 1-0 win against Bristol Rovers.
The shot-stopper recorded 52 appearances in two seasons before moving on in 1904. 
Griffiths was working as a coal miner in the Midlands before he enlisted in the Notts and Derbyshire (Sherwood Forest) Regiment. His battalion found themselves just across the Belgium Border south and east of Dunkirk. 
It is believed Griffiths died on October 30 1917, with a diary entry suggesting is passing came as the result of either 'very heavy artillery fire' or through contact with enemy troops in the woods east of Marechal House.
Griffiths is buried in Dozinghem Military Cemetery in Belgium.
Frank Cannon
Frank Cannon signed for West Ham in 1909, not long after scoring a hat-trick against the Irons for QPR and made his Hammers in the New Year's Day fixture against New Brompton in January 1910.
Cannon would only play four games for the Irons, scoring a solitary goal against Norwich City but he was to become yet another player with West Ham connections to perish tragically in World War One.
Cannon rose to Colour Sergeant Major in the 13th Essex Regiment, where he fought mainly around Ypres and the battlefields of Passchendaele. Cannon died on the 15 February 1916 of shrapnel wounds. 
A commemorative plaque to the 13th Essex Regiment (The West Ham Pals) was unveiled at the Boleyn Ground in 2009.
William Jones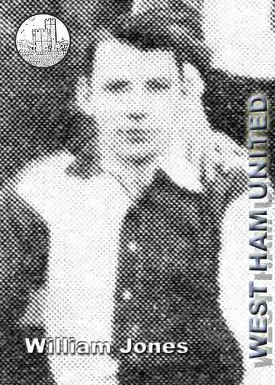 William Jones holds a place in West Ham United history. He became the first Hammer to be capped for his country when he played for Wales against England at the Racecourse Ground, Wrexham in 1902. 
Jones joined the Irons in 1901 from Kettering Town and made his debut against Swindon Town in 1901. He played 15 times in the Southern League for the Irons, before returning to his home nation with Aberamen AFC.
Jones joined the Royal Welsh Fusiliers 11th Battalion in the Balkans and was killed on May 6, 1918 by Lake Doiran, Greece.
J ones has no grave but is listed on the Doiran Memorial at the Military Cemetery in Greece.
Arthur Stallard
Edward Arthur James Stallard was born September 1892 in Hackney, London, and signed for West Ham on 12 January 1914. Ge his Hammers debut against London rivals Millwall at Upton Park which resulted in a 3-2 victory.
Stallard had to wait until towards the end of the following season before claiming a regular first team spot for the last 11 matches of 1914/15, when Syd Puddefoot switched to inside-right, allowing Stallard the number nine jersey. The result was a sensation as he took over the goalscoring mantle of his hero with Stallard hitting seven goals in 11 Southern League fixtures.
Sta llard competed in the War Time London Combination for the Hammers until the end of the 1916-17 season. By late 1917, Stallard was serving his country in the London Regiment 14th Battalion. 
During the battle of Cambrai, which was an assault that lasted 17 days, the British made early gains, but the Germans launched an offensive midway through. The Germans are believed to have exploded 16,000 shells over Allied lines, and it was on that fateful day that Arthur Stallard is listed as dying. He is commemorated on the Cambrai Memorial.
With thanks to Nigel Kahn of 'theyflysohigh' for his assistance with this feature.