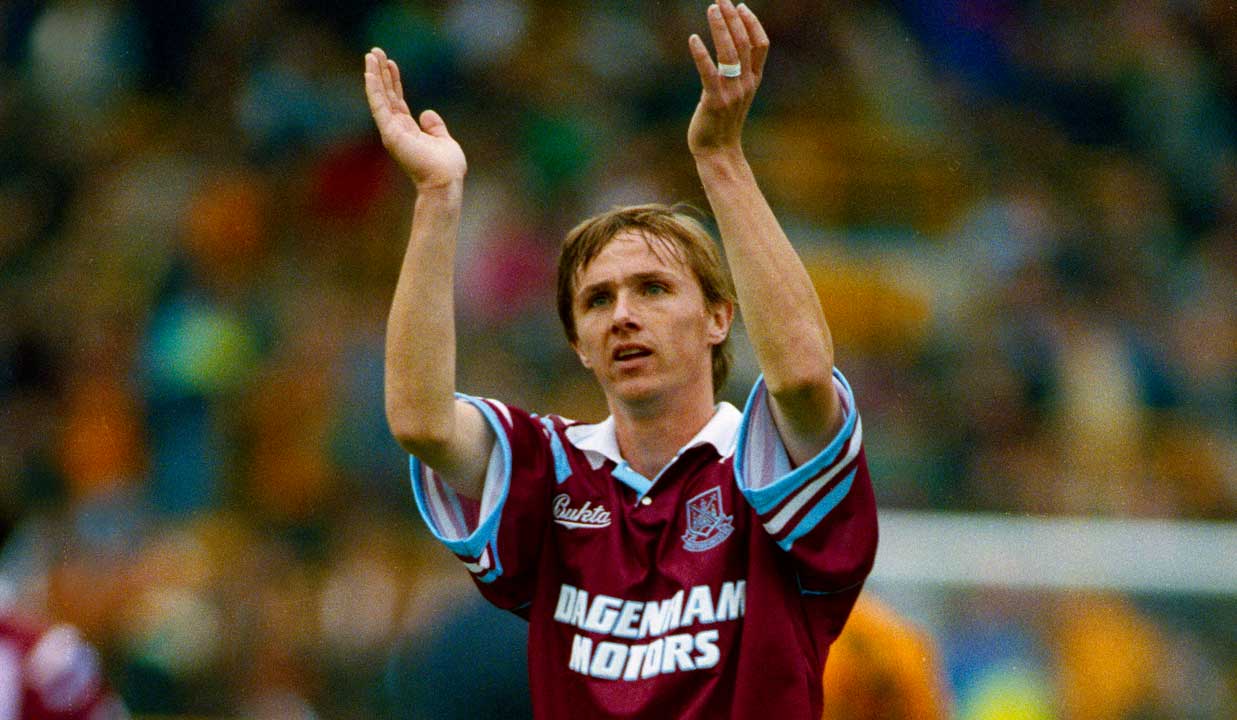 Kevin Keen has spoken of his pride and delight at being appointed West Ham United's new Academy Under-18s Lead Coach and returning to what he describes as 'my club'.
The 52-year-old former Hammers favourite, who progressed through the youth ranks in the 1980s, made almost 300 first team appearances, and then enjoyed a nine-year spell between 2002 and 2011 as a youth, reserve and first team coach at the club, takes over from Jack Collison and admits he can't wait to get started.
"I'm absolutely delighted to be coming back to the club that means so much to me," he said. "Ten years as a player, from 1983, then nine years coaching – to come back into the Academy, to work with the youth team at such an exciting time, is a fantastic feeling, and I can't wait to get started.
"When I began my coaching career at West Ham in 2002, I was very lucky to come in and work under Tony Carr and Paul Heffer, and also very lucky to have Mark Noble and Chris Cohen in the Under-15 team I took at that time!
"It was great to work with that calibre of player, and then to see someone like Mark progress and go on to become the club legend he is. It would be lovely to come back and help produce another like that. Declan [Rice] has obviously done really well in recent years, and it fills me with great hope that more could follow in those footsteps.
"It's also interesting for me that, as I come in, Jack Collison is going out. Jack was another I helped get through as a young player, a little bit later than Mark, and I have kept in touch with him over the years. Having that connection to the club is a very special factor, and I hope I can continue the great work that Jack has been doing with the young players."
To come back into the Academy, to work with the youth team at such an exciting time, is a fantastic feeling, and I can't wait to get started

Kevin Keen
Keen returns to the Hammers after eight years spent coaching in various roles, including under Kenny Dalglish at Liverpool and with the likes of West Bromwich Albion, Fulham and Crystal Palace, before his most recent spell at Southend United, where he worked alongside another former Hammer, Chris Powell, and helped lead the Shrimpers to safety following a relegation battle in League One last season.
With the brand new Academy redevelopment at Chadwell Heath now fully operational, the 1993 Hammer of the Year runner-up returns to a much-changed landscape among familiar surroundings, and is looking forward to hopefully continuing the record of producing talented young stars that the Academy of Football has always been famous for.
"I haven't been back to Chadwell Heath since I left the club to join Liverpool in 2011, so I am really looking forward to seeing the changes that have been made," he said.
"Everyone speaks so highly of the new development, so I can't wait to see all of that and begin working in the environment. When I spoke to Ricky Martin, I was so impressed with his enthusiasm, his energy, and his determination to keep that 'West Ham Way' going. There will also be some familiar faces  - the likes of Pottsy, Paul Heffer, Trevor Lewin – so I really can't wait to get started.
"West Ham United has always been my club. In recent seasons I have been doing some ambassadorial work on matchdays, which is very enjoyable, and I still get stopped all the time by West Ham fans, who I've always had a great relationship with.
"I'm just really happy to be back, and I hope it coincides with another renaissance of young, homegrown players coming through into the first team. That's what the club has always been renowned for, going right back to the 1950s and 1960s, the list is endless.
"It is more difficult now with the Premier League containing so many foreign players, but West Ham have always had a real commitment and dedication to producing our own stars. That is what the supporters want – young, local talent that comes through the ranks and understands the values and principles of West Ham United."