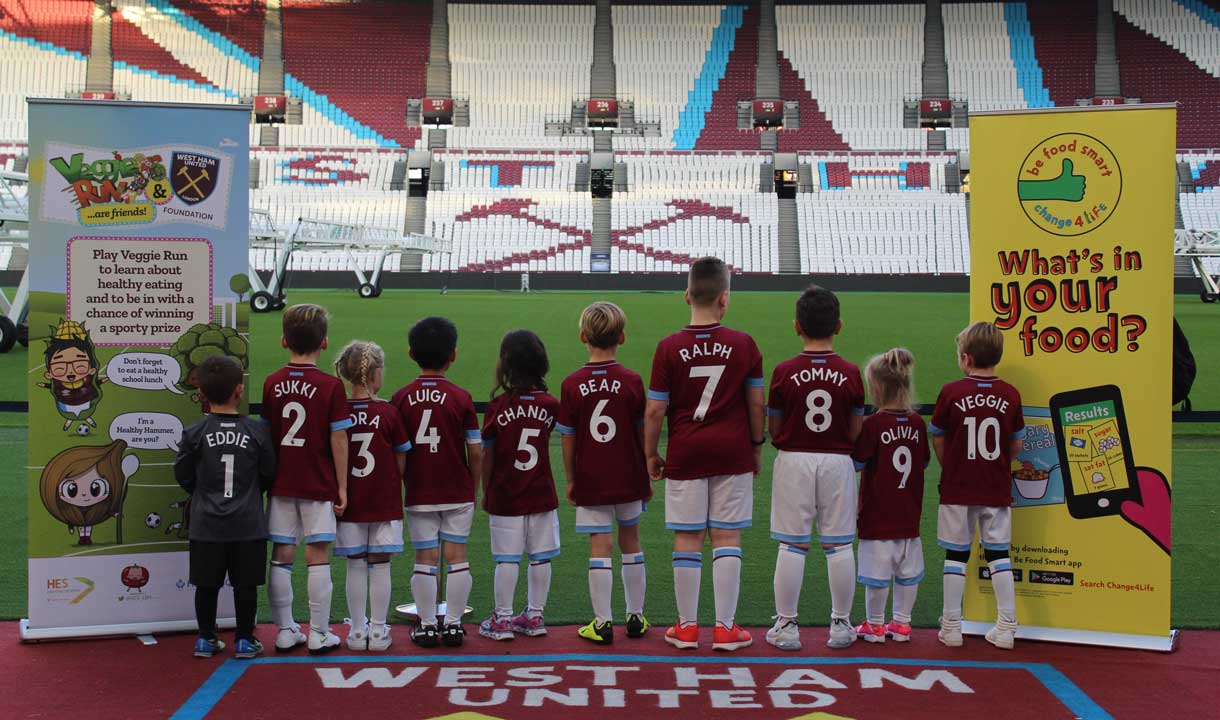 The Hammers are backing Healthy Eating Week by celebrating the work done with the community to tackle the obesity epidemic. 
The West Ham United Foundation delivers important work in the community around healthy eating in schools, which is key in tackling childhood obesity. The London School Food plan showed that only 1.6% of packed lunches met the Government standards for healthy meals.
The Foundation have developed a unique partnership with the London Borough of Havering and HES Catering, combining the Veggie Run app with the Foundation's new Healthy Hammers, which are united with the aim of raising awareness of the benefits of having a healthy diet whilst leading an active lifestyle. 
Veggie Run was launched in April 2018 to reduce the consumption of unhealthy lunchboxes and tackle child obesity through the use of an innovative education app. The app teaches pupils to dodge unhealthy foods, rewards them with sporting prizes and links with the in-school healthy eating catered programme. The app has now been downloaded almost 23,000 times across the United Kingdom.  
Last November, the West Ham United Foundation invited ten pupils from Havering primary schools to attend a launch of the collaboration at London Stadium. The children were provided with their own bespoke Veggie Run printed West Ham United home kits and goodie bags, whilst also meeting first team players Angelo Ogbonna and Xande Silva. 
This unique partnership has seen the Healthy Hammers Programme from the Foundation delivering over 450 hours to almost 2,500 children across 30 primary schools in the borough of Havering. The Healthy Hammers programme is a six-week healthy lifestyle intervention aimed at Key Stage 2 pupils to inspire them to live a healthier lifestyle. There is a wide range of topics covered including balanced diet, lurking sugars, healthy teeth and the importance of sleep.
Ross Williams, Senior Development Officer at the Foundation, spoke about the partnership saying: "It has been incredible to see this partnership develop across the borough. You can see from the statistics that this Veggie Run partnership has made a huge contribution to the tackling of childhood obesity from the education sector."
The Healthy Hammers and Veggie Run partnership has also won the Best Healthy Eating Initiative at the annual Food Matters Live Awards, whilst also being shortlisted for Campaign of the Year at the LGC Awards.