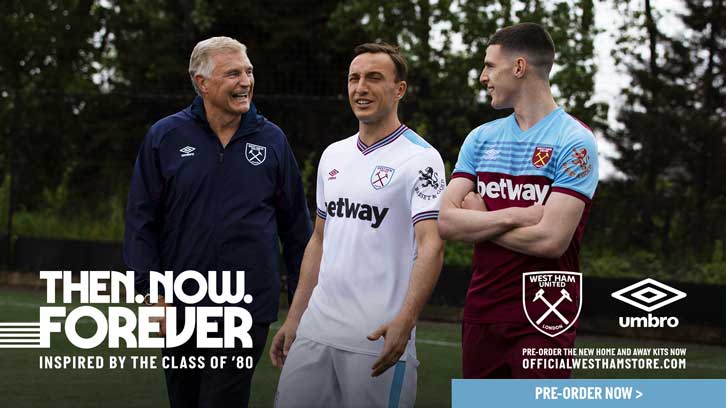 Pre-order your 2019/20 West Ham United Umbro kit today to ensure you receive it before it goes on sale in stores on 13 June!
Skipper Mark Noble says his team cannot fail to be inspired by the new kits, which are inspired by the 1980 FA Cup final win over Arsenal at Wembley.
The Umbro home and away strips for 2019/20 take a modern twist on the iconic colours worn by Billy Bonds, Trevor Brooking and company 40 years ago.
Now, as Noble prepares to lead the Hammers into another Premier League campaign, he says the designs represent the rich history the club enjoys.
He explained: "To wear this shirt, especially with the West Ham badge on it – it takes an honest player, hard-working, a player that leaves everything on the pitch and plays for the crest on the shirt.
"When you play for this Club, you join a family and players do realise that this is not just an ordinary Football Club, this is a great Football Club, with a great history, and the shirt represents just that."
You can join Noble in getting kitted out for the new campaign by pre-ordering your 2019/20 replica kits now by clicking here.
Fans who pre-order before midday on Friday 7 June will also receive it before it goes on sale in stores on Thursday 13 June.