Merchandise
Alvin Martin: 2019/20 away kit can inspire West Ham to Wembley again!
Alvin Martin is hoping West Ham United's new 1980 FA Cup-inspired away kit can inspire the Hammers to return to Wembley.
Forty years ago, Martin was part of the West Ham team which upset Arsenal to lift the famous old trophy for the third time in the Club's history.
The Irons, who became the last second tier team to win the competition when Trevor Brooking headed them to glory, were wearing an iconic all-white strip on the day, and the Club has teamed up with manufacturers Umbro to produce a modern-day kit based on it.
And defender Martin, who helped keep the star-studded Gunners at bay four decades ago, had all those fond memories brought flooding back when he first cast his eye on the 2019/20 away shirt, which is available to pre-order now.
"I do remember going to the 1975 FA Cup final as a kid but for the 1980 final, the shirt has just more presence for an occasion, I think," he recalled. "Obviously you'd have a Claret and Blue home shirt for a normal game but on a special occasion, and that was a special occasion, and when you win a game in that shirt, it resonates more with you as well.
"Hopefully next year, wearing this shirt, you've got a possibility because I think, on our day we can beat anyone. That's never changed for West Ham."West Ham United 1 Arsenal 0, on 10 May 1980. The shirt is a nice tough, and it'd be nice to get there again!
"You can see a lot of thought has gone into the shirt and I know two of my granddaughters will be wanting one straight away."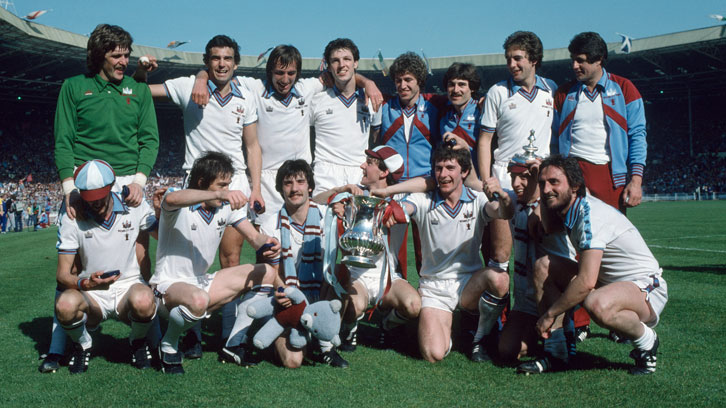 Even though 40 years have passed since that glorious afternoon at Wembley, Martin believes the wonder of winning the FA Cup continues to resonate with football fans of all ages, as he discovered on a recent school visit.
"I did a little talk at my daughter's school about five weeks ago and I ended up digging my [FA Cup winner's] medal out," he confirmed. "It's not much of a presence, it's a very small medal, but significant.
"A lot of the kids had photographs taken with it and it's lovely to be able to do that. It still has an effect on young people and shows the magnitude of what was done that day."
And, with a kit inspired by the achievements of Martin, Brooking and company on their backs, the former England international is hoping his modern-day West Ham counterparts can experience the same feelings John Lyall's team enjoyed next season.
"I think the cup competitions have always been close to West Ham fans' hearts," he explained. "Some of the greatest memories we've got have been through the cup competitions and realistically that has to be the first step for this Club.
"I know Mister Pellegrini is looking at trying to get this Club up in terms of league position, which is great, but it would be lovely to think we could coincide that with a good cup run and maybe a final.
"Every year you think it's going to be your year when you play and that one obviously was our year. You dream about winning the FA Cup as a kid and as a professional."
The all-white away kit will bring memories of that sunny afternoon at Wembley flooding back. The shirt is white with a claret and blue striped V-neck and cuffs, with the 1980 crest graphic on the back of the neck, with the look being completed by classic white shorts and socks.
Fans who pre-order the official 2019/20 Umbro home and away kits before midday on Friday 7 June will also receive it before it goes on sale in stores on Thursday 13 June.