Saturday 30 July 1966 may be 56 years ago but, for hat-trick hero Sir Geoff Hurst, England's FIFA World Cup final victory over West Germany seems like only yesterday.
The West Ham United legend made history when he fired three goals past Hans Tilkowski to become the first and only player to net a treble in the biggest game in football.
The now 80-year-old says he will always be proud of the part he played in England's greatest-ever footballing achievement.
You're not aware of the enormity of the situation or what you've achieved as you're just down there playing
"Doesn't time fly!" smiled Sir Geoff. "There are so many memories and that's the great thing about sport, that the memories last forever. And they're not just my memories of the day, but other people's memories who were there or who watched it on television and the great memories of where they watched it and what they were doing on the day are as clear to the fans of the game as they are to me.
"It's not just football fans who remember it, too, because it becomes a national event, a bit like it did at the World Cup last year, when people who are not really interested in football, but then as you advance through the competition the whole country gets involved.
"My barber, for example, is as far from being a football supporter as you can get, as he's an animal lover who shows his dogs at Crufts, but he was speaking to me during the [2018] World Cup like he'd been watching football forever. It strikes home to me that the World Cup becomes a national event and it's not just a football match."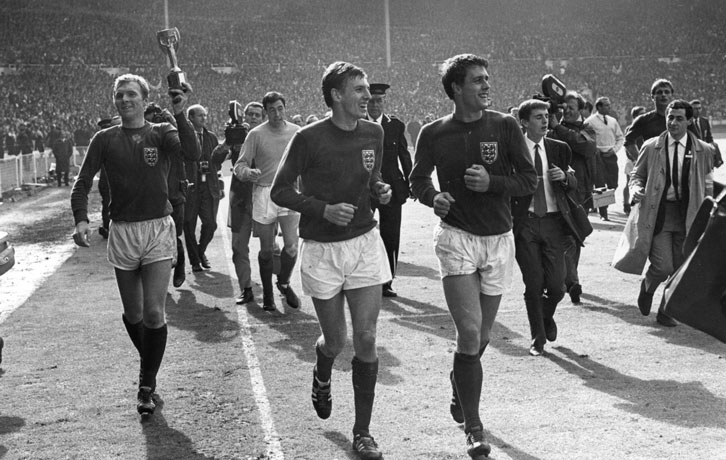 While Sir Geoff has been constantly reminded of his achievements over the past five decades, he admitted that, on the Wembley pitch all those years ago, he had no idea of how his life had changed in the space of 120 historic minutes.
"You're not aware of the enormity of the situation or what you've achieved as you're just down there playing.
"Even recently, I was sitting there thinking 'Goodness me, I got three goals in the World Cup final' and every day I think like that and it's me that has done it.
"You're not aware of it at the time, but you are aware of it after and will continue to be aware of it because of people's memories and people still talking about it."
One question Sir Geoff is constantly asked is 'Did you take your hat-trick ball home with you?' and while the short and simple answer is 'No', there is more to the story.
"What happened after the final was that a West German player stuffed it up his shirt and went off to Germany with it!
"To cut a long story short, there was a bit of a media war in 1996 when England hosted the European Championship finals, and the Mirror won the media war against The Sun to bring the ball back.
"Helmut Haller was the German who had stuffed it up his shirt and kept it in his loft for 30 years and the Mirror and Richard Branson paid £80,000 for him to bring the ball.
"My part in it was to kiss the ball for a picture on the front page of the Daily Mirror. That ball has now gone into the National Football Museum in Manchester, so that's what happened to the ball!"
And so, 56 years on from the greatest day in English football history, we can be safe in the knowledge that both Sir Geoff Hurst and the ball he put in the West German net on three occasions are both safe and sound!