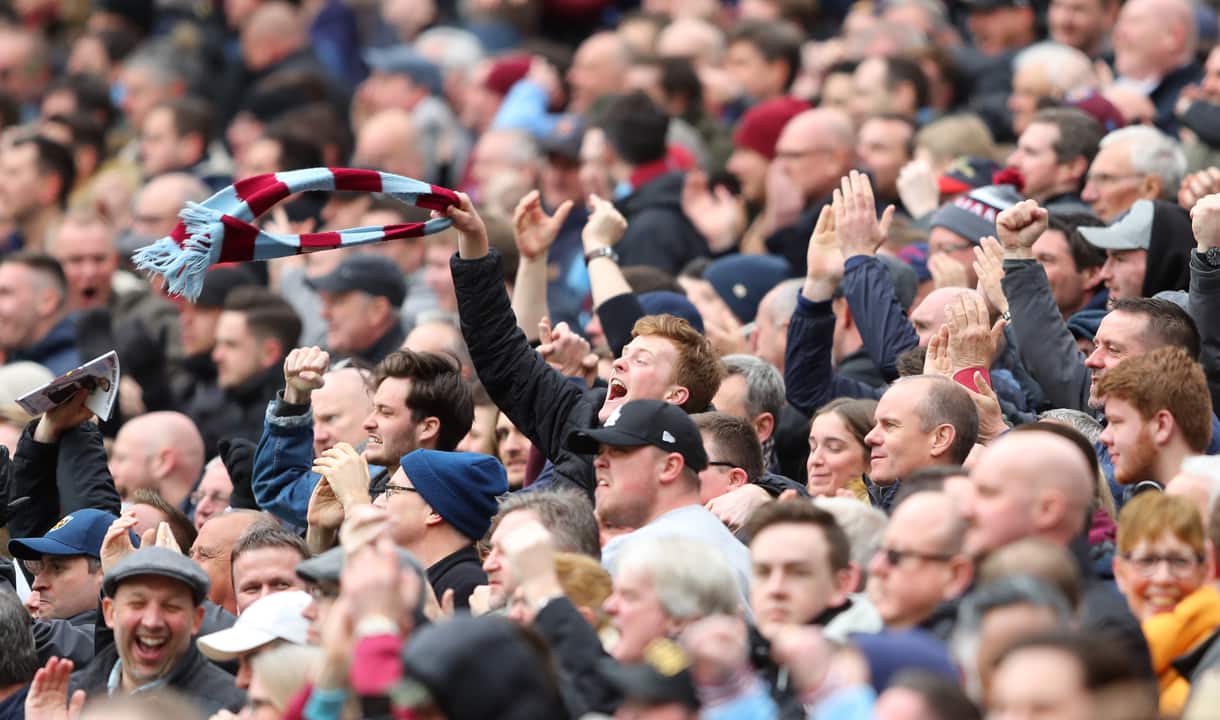 Ahead of the new Premier League season, West Ham United can confirm standard match ticket pricing for the 2019/20 campaign.
The Hammers kick off at home to Manchester City on Saturday 10 August at 12.30pm, with 54,000 Season Ticket holders already set to be in attendance. Match tickets for this fixture will go on sale from Tuesday exclusively to Claret Members and will be available from eticketing.co.uk/whufc
For the first time at London Stadium, the Club has introduced Under-16 concession pricing for Category A games in Bands 4 and 5. These tickets are £10 cheaper than standard match tickets and offer a saving for young Hammers for the season's most sought-after fixtures. 
This initiative was discussed with supporters at the recent Official Supporters' Board ticketing subgroup. 
There will again be Category C priced fixtures where Claret Members can secure a standard match ticket from just £25 for adults and from £13 for over-65s, under-21s and under-16s.
Claret Kids will also benefit from two 'Kids for a Quid' Premier League fixtures to be selected by the Club and announced in due course.
Some categories and bands will see marginal increases of between 50p and £2 this season. However, if you become a Claret Member, you will receive a £5 saving on all Premier League home match tickets, when you purchase during the priority booking window, which for this season will be for a one week period from the day tickets go on sale.
As well as the visit of the champions for our opening fixture, the first half of the campaign sees Manchester United come to the capital in September, before the Irons host Tottenham Hotspur in November. Don't forget the big festive fixtures against Arsenal and Liverpool at London Stadium too!
Full information on match ticket prices can be viewed below. 
Join as a Claret Member NOW and receive priority and discount on standard match tickets plus a host of other benefits, which can be found here.
Manchester City at home is a Category A game.
Category C prices
| | | | | | |
| --- | --- | --- | --- | --- | --- |
|   | Adult | O65 | U21 | U16 | Accessibility   |
| 1966 | £45 | £45 | £45 | £45 | £45 |
| Band 1 | £40 | £23 | £23 | £23 | £23 |
| Band 2 | £35 | £21 | £21 | £21 | £21 |
| Band 3 | £32 | £19 | £19 | £19 | £19 |
| Band 4 | £32 | £19 | £19 | £19 | £19 |
| Band 5 | £30 | £18 | £18 | £18 | £18 |
Category B prices
| | | | | | |
| --- | --- | --- | --- | --- | --- |
|   | Adult | O65 | U21 | U16 | Accessibility   |
| 1966 | £65 | £65 | £65 | £65 | £65 |
| Band 1 | £55 | £30 | £30 | £30 | £30 |
| Band 2 | £50 | £28 | £28 | £28 | £28 |
| Band 3 | £46 | £27 | £27 | £27 | £27 |
| Band 4 | £46 | £27 | £27 | £27 | £27 |
| Band 5 | £35 | £20 | £20 | £20 | £20 |
Category A prices
| | | | | | |
| --- | --- | --- | --- | --- | --- |
|   | Adult | O65 | U21 | U16 | Accessibility   |
| 1966 | £80 | £80 | £80 | £80 | £80 |
| Band 1 | £75 | £75 | £75 | £75 | £75 |
| Band 2 | £70 | £70 | £70 | £70 | £70 |
| Band 3 | £65 | £65 | £65 | £65 | £65 |
| Band 4 | £65 | £65 | £65 | £55 | £65 |
| Band 5 | £55 | £55 | £55 | £45 | £55 |
*All prices are subject to change