For Robert Snodgrass, the decision to sign a new contract with West Ham United was an easy one.
 
Having enjoyed a tremendous 2018/19 in Claret and Blue, Snodgrass kicked off the new campaign in the best way possible, signing a one-year contract extension until the summer of 2021, with the option of a further 12 months.
 
Putting pen to paper on that new deal was not something the Scottish international had to think about for too long, with the No11 knowing the Club is in the midst of building something special.
 
"Signing this new deal feels great," Snodgrass said. "They're building something special here. Even when I first arrived you could see the foundations were being built, such as moving to the new stadium. It was always going to take a bit of time but, to see some of the performances we had last season, it was great to be a part of that.
 
"When you get a little bit older, you don't look at the contract negotiations as much as you do when you're younger. You're happy to be here and your family are settled. You're playing football and you're in a fantastic environment. I'm just delighted to commit my future and be here with the boys."
They're building something special here. Even when I first arrived you could see the foundations were being built, such as moving to the new stadium.

Robert Snodgrass
Snodgrass scored four goals and registered nine assists in a fruitful campaign last year for the Hammers. The midfielder featured in 38 matches in all competitions too, covering 307km throughout the entire campaign.
 
"Personally, it was a good season for me," Snodgrass reflected. "I would have liked to have scored a few more goals but, assist-wise, I was happy. I was playing, helping the team, and was a part of a team that's winning and going to compete with some of the best teams in the world. That's what it's all about for me.
 
"Of course, sometimes you go through bad stages of the season. A lot of the boys maybe had a little dip in form, and I had that too. But I feel we came back strong and got some good results, which was really important towards the end of the season."
 
With a contract extension and a wedding to long-term partner Denise over the summer, the 2019/20 campaign could not have started much better for Snodgrass.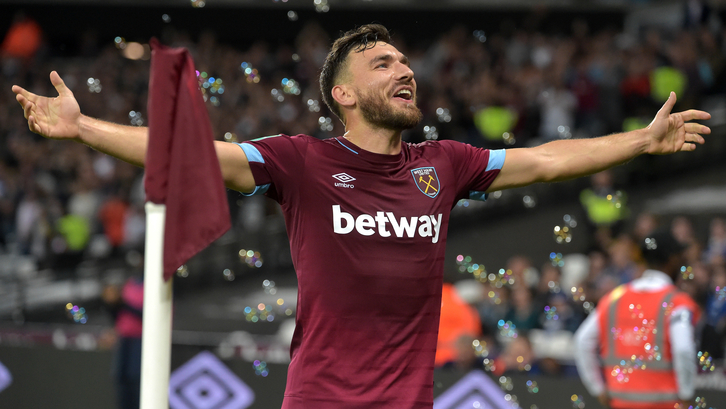 The 31-year-old believes his hard work for the Irons has helped to earn this extension and Snodgrass is looking forward to even more graft in the new season.
 
"It's amazing being married. I've been mentally married for the last 15 years!" Snodgrass joked. "I've been with my missus for a long time and it was a special day for us. It was great for my family, my missus' family, and our kids. 
 
"Footballers can't switch off now, though. You're constantly working hard all summer and it's for moments like this, and you celebrate them.
 
"Everyone knows pre-season is a mental and physical battle within yourself to produce the best you can. This is the best time for lads to get themselves in the best shape. As a footballer, you have a job to do and you come in prepared to the best of your ability."