Opinion
A new type of hero: Why Paolo Di Canio is a West Ham legend
West Ham United's Watch With... host Chris Scull remembers the Italian hero who joined West Ham United two decades ago - the one and only Paolo Di Canio...
According to popular myth, Giuseppe Verdi knew straight away in composing 'La donna E mobile' that he had written an instantly catchy tune – a tune which, of course, begins the third act of Verdi's operatic classic 'Rigoletto'.
Rehearsals for 'Rigoletto' in 1851 were even conducted in secret since Verdi knew that when this classically Italian tune hit the streets, people would be singing it everywhere. But surely even Verdi couldn't have known then that, 148 years later, a little piece of east London would utilise his masterpiece to hail our own Italian genius from the terraces.
A piece of refined Roman creation that Verdi or Leonardo Da Vinci themselves would have been proud of – Signor Paolo Di Canio.
Looking back, the arrival of Di Canio marked the dawn of a new era for West Ham. In the years previously, we had still had heroes.
Mine were Julian Dicks, Trevor Morley, Tony Cottee, Don Hutchison, John Moncur, John Hartson and Ian Bishop.
To an extent, you say those players had flair. We all loved them but, in Di Canio, we had a new hero who was nothing like those who'd come before. To watch Di Canio play for West Ham must have been like switching from a black and white television to a colour one. Di Canio was like an exotic bird among the pigeons which lived in the East Stand roof.
Di Canio was, for want of a better word, magic.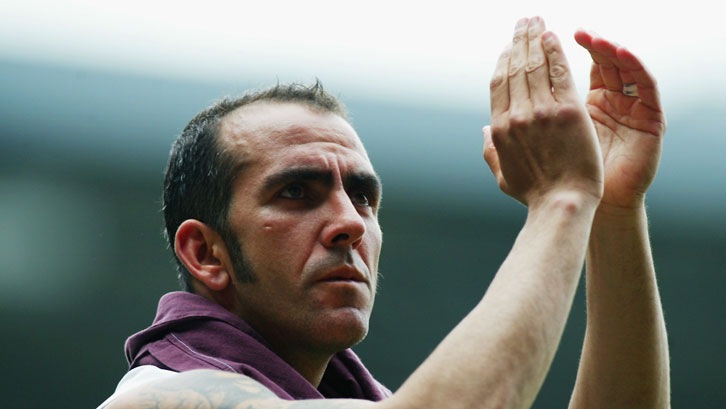 Our Italian maestro and West Ham were essentially star-crossed lovers. When he joined Sheffield Wednesday in 1997, we were his sixth club in seven years. There had been spells at his hometown club Lazio, followed by glimpses of greatness at Juventus, Napoli, Milan and Celtic.
Di Canio featured regularly but only once got into double figures goals-wise. But, in his debut season at Sheffield Wednesday, he began to hit seriously sustained form for the first time, scoring 14 goals as he became a fans' favourite at Hillsborough.
Yet it's his second season at Sheffield Wednesday, and one incident in particular, that everyone remembers; his push on referee Paul Alcock in a Premier League match against Arsenal in September 1998 that turned out to be his last for the Owls.
Four months later, Harry Redknapp made a move that changed the future for both Paolo Di Canio and West Ham United.
Despite being seemingly larger than life, Paolo was actually quite slight on the field. But under that shirt was pure granite; as was later to be seen in a high-water mark advert for Imperial Leather bubble bath. 
Paolo could twist and turn. He could beat players with incredible ease but, not only would he slink past the opposition, he would absolutely humiliate them. For examples of that, just watch him run the show in the 2-1 victory over Arsenal in October 1999.
He could beat players, he could score goals but, even better than that, he could score insane, impossible to describe, spectacular goals.
Di Canio scored a glut of unforgettable strikes in his four-year West Ham career, but really there's only ever going to be one at the top of the list. It's often cited as among the best goals in the history of the Premier League, the scissor kick against Wimbledon. The precision, the cleanness of it, the audaciousness of it and, of course, the finger wag celebration and look of feigned disgust at his own incredible ability.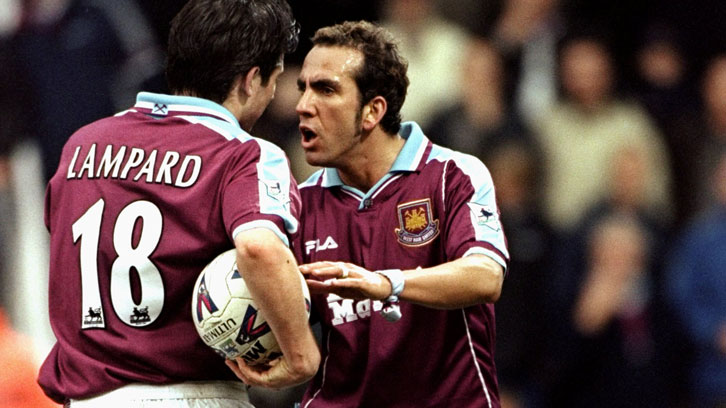 Then there's the drama that came with him. He was emotional. He could seem close to tears, he could scream in frustration, he could pound the turf in anger and he could laugh with the fans; sometimes all within a matter of minutes. He could demand to be substituted, as he did against Bradford in February 2000, then pick himself up to score and propel the Hammers into a mind-boggling 5-4 win.
He packed so many moments into his white-hot West Ham spell that it's hard, at times, to believe it all happened in a four-year spell. 
His final season was marred with disagreements with manager Glenn Roeder, but further marred by the team's poor form and, ultimately, relegation. With his final season ending on such sour terms, it's easy to forget how elating his last game at the Boleyn Ground was.
With West Ham starring relegation in the face, nothing but a win against Chelsea in the last home match of the season would keep hopes alive, but Di Canio didn't start. When he came on as a second half substitute he, of course, stole the show. Netting the winner and collapsing, tears in his eyes, by the corner flag shared by the Dr Martens and Sir Trevor Brooking Stands.
It wasn't to be enough. Like Rigoletto and many great Italian operas of the golden era, 2002/03 was a tragedy.
But Paolo Di Canio, his arm now emblazoned with a West Ham tattoo, remains a hero for the ages; an enigma, shrouded in a mystery, decked in Claret and Blue.