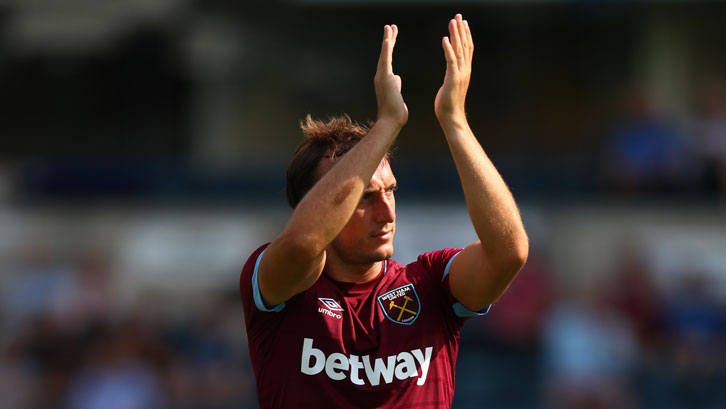 Mark Noble says every West Ham United player is up for the Emirates FA Cup as the Irons prepare for Saturday's fourth-round trip to AFC Wimbledon.
The Hammers make their second visit of the season to Kingsmeadow, having recovered from a goal down to knock their EFL League One opponents out of the Carabao Cup back in September.
And, with that experience fresh in their minds, captain Noble says he and his teammates will take nothing lightly when they take on a Dons team managed by former West Ham coach Wally Downes.
We just need to make sure we go about it the right way and take it as we would any other game

Mark Noble
"It's going to be a tough game, as it doesn't matter who you play these days, it's always tough, but I'm just hoping we can get through to the next round," said the skipper.
"We expect them to play a more direct style than we faced at Bournemouth last time out, but we also fully expect to have the ball and then they won't be able to threaten us as much.
"We just need to make sure we go about it the right way and take it as we would any other game and hopefully that will be enough for us to get the win.
"You've got to treat the game as if you are playing against Manchester City as you don't want to get knocked out by a League One team, with all due respect to them.
"We will have a good week of training and will approach it as we would any other game, so I don't think that will happen."
Noble will need to introduction to Downes, who was a part of Sam Allardyce's backroom staff during the 2011/12 promotion-winning season and recently returned to his former club to try and steer them clear of relegation to League Two.
AFC Wimbledon's form has picked up since Downes' appointment in early December, with the club reaching the FA Cup fourth round for the first time since it was reformed in 2002 courtesy of an impressive third-round win at Fleetwood earlier this month.
"Wally will have them up for it, 100 per cent," Noble forecast. "I worked with him for a couple of years here under Sam, so I know what he is about and how he will probably set his team up to play.
"If we don't take this game seriously, we will get beat. That's how it is and everyone knows it. You can't disrespect any opponent as it's eleven men against eleven."
Aside from AFC Wimbledon themselves, West Ham face the further challenge of playing at an unaccustomed kick-off time, with the live-televised BT Sport 2 tie being played on Saturday evening.
"Obviously, it's a bit of a strange time to play, with kick-off being at seven forty-five on Saturday night," he said. "I don't think I've ever played in a competitive game on a Saturday night. You get the five thirty kick-off these days, but never a seven forty-five, so it'll be a new experience and will change our routine a little bit, with us being in the hotel for a little longer.
"It's just a game of football, though, and TV decides when we play, so we just have to get on with it. If we play to our capabilities, we will win the game."