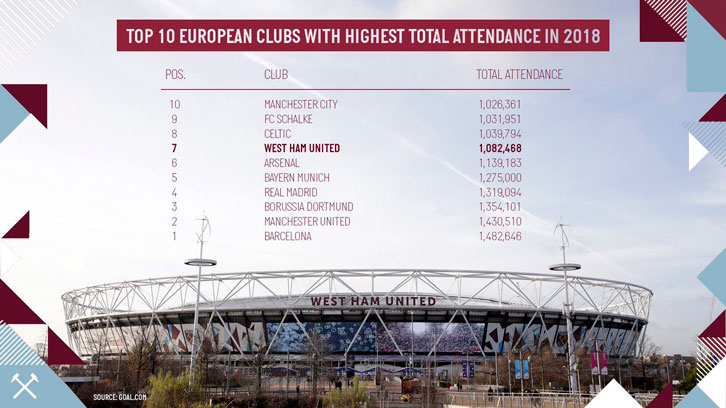 West Ham United had the seventh-highest total league attendance in Europe in 2018.
A Goal.com report revealed the Hammers attracted 1,082,468 to the 19 Premier League matches the Club hosted at London Stadium last year, at an average of 56,972 per game.
The Irons ranked third in England in total attendance, behind only Manchester United (1,430,510) and Arsenal (1,139,183) and ahead of champions Manchester City, Tottenham Hotspur and Chelsea.
Spanish giants Barcelona led the way, with 1,482,646 fans attending their 19 La Liga matches played in 2018, while UEFA Champions League winners Real Madrid are ranked fourth. German Bundesliga clubs Borussia Dortmund and Bayern Munich are the only other clubs with higher aggregate attendances than the Hammers.
With the London Stadium capacity rising to 60,000 earlier this month, West Ham's total league attendance figure for 2019 is set to rise even higher.