Injury News
Team news: Lanzini returns to training, Fredericks back in action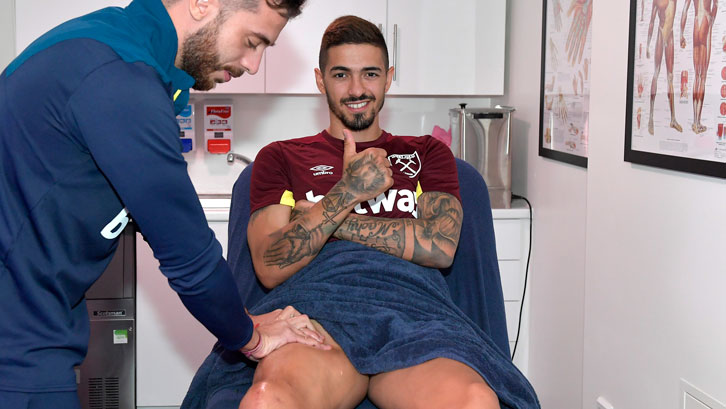 Manuel Pellegrini says Manuel Lanzini is getting closer to making his comeback from injury after returning to training alongside his West Ham United teammates.
The No10 has been out of action since suffering a knee injury in training with Argentina ahead of the 2018 FIFA World Cup finals and has yet to feature for the Hammers under Pellegrini.
However, the manager revealed that Lanzini has joined in with the first-team squad warm-up this week and could be back in action in the not-too-distant future. 
We had the good news that Manu Lanzini started working with the squad

Manuel Pellegrini
"About the injuries, we had the good news that Manu Lanzini started working with the squad," he said. It's just the warm-up, but he did his examination and his recovery is in the correct way.
"Of course he is still a few weeks away from playing. He is only working part of the warm-up with the squad, but the important thing is he feels good and his knee is in the correct way."
One player who is closer to returning to competitive action is right-back Ryan Fredericks, who made his own comeback from a shin injury in Tuesday's behind-closed-doors friendly win at Gillingham.
Pellegrini said he will speak to the defender before deciding whether or not to include him in the squad for Saturday's Emirates FA Cup fourth-round tie at AFC Wimbledon.
"Fredericks is working completely with the squad," he confirmed. "We will talk with him and see on Friday if he is involved in the squad. He played on Tuesday 45 minutes for the Under-23 team and we will see how he recovers."
In his pre-match press conference, Pellegrini was also asked if Marko Arnautovic will be considered for selection after the Austrian missed last weekend's Premier League defeat by AFC Bournemouth.
"We will see the names of the players who will be involved in the squad list on Friday," the manager continued. "Marko is working with us without any problem.
"I don't know what will happen in the future as it is impossible for me to know the future.
"As a manager, you are also worried about any different issues you have in your squad. Of course, if you don't have any this is better, but things happen in football and we know that we must try to resolve it as soon as we can. I am speaking with all of the players every day, so I know what they want."
With two Premier League fixtures at Wolverhampton Wanderers and home to Liverpool to follow Saturday's FA Cup tie in quick succession, the manager was also asked if he plans to rotate his squad at Kingsmeadow.
"We need to use our available players as best as we can," he confirmed. "We have six or seven players injured and we need to play on Tuesday against Wolverhampton.
"It's very important for us to continue in the FA Cup and we will make a big mistake if we think we are going to beat Wimbledon because they are in a bad moment or because they lost their last game.
"The FA Cup is a different competition and everyone wants to demonstrate that they want to continue, so we need to have our mind on the cup.
"I repeat, we must use all our players because we have just 14 or 16 players available."