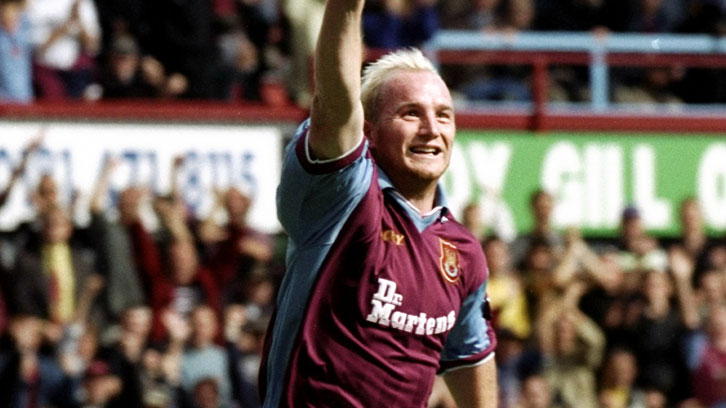 Former West Ham United and Wimbledon centre forward and BT Sport summariser John Hartson tells Steve Blowers he is looking forward to Saturday's Emirates FA Cup fourth-round tie...
Two decades on from leaving West Ham United to join Wimbledon for a club-record fee, John Hartson will be an interested spectator at Saturday evening's Emirates FA Cup fourth round tie.
"I watched the Carabao Cup game earlier this season and I'm really looking forward to this one, too," enthuses the 43-year-old, who will be picking up the microphone for BT Sport at Kingsmeadow. "I foresee West Ham winning it but it's the FA Cup and as we all know anything can happen."
Previously, the 51-times capped former Wales international had also become relegation-threatened West Ham United's most-expensive player, when he signed from Arsenal for £3.2 million in February 1997.
And alongside fellow new-boy, Paul Kitson, the Swansea-born marksman wasted no time helping to repay that fee as the duo netted 13 goals to ensure that, against the odds, the Hammers avoided the dreaded drop out of the Premier League.
The following season, on-fire Hartson bagged 24 goals – a feat still unsurpassed by West Ham player since – before a well-publicised training ground grapple with Eyal Berkovic ultimately cut short his days down West Ham way.
I wished I could've stayed at West Ham for a bit longer, but circumstances dictated and you can't bring back the past

John Hartson
"I'd like to think that I was good for the Hammers," recalls the goal-getter, who scored 33 times during his 73 outings in the Claret and Blue. "Along with new signings 'Kits' and Steve Lomas plus all the other lads, I'd played my part in that survival and, the following season, my 24 goals helped us get to two cup quarter-finals and finish eighth in the Premier League. I'd got on with everyone and it was a really good year for us.
"Then, I had that unsavoury incident at training and things changed. Everyone saw what happened between Eyal and myself after I'd tackled him from behind, but I took full responsibility and apologised. The crowd had turned a little bit, too, because my form wasn't that great and, psychologically, I was struggling to settle back in.
"Looking back, Harry Redknapp might have thought that I'd shot my bolt and, with Wimbledon offering £7.5 million he was doubling his money, meaning that he'd be able to sign three players, Paolo Di Canio, Marc-Vivien Foe and Scott Minto, overnight.
"That was 20 years ago and it was a ridiculous amount of money to pay for a player. Absolute madness! It shook the Premier League and what would the equivalent of £7.5 million amount to today?" ponders Hartson, looking back on the record January 1999 fee that still stands to this day.
"I wished I could've stayed at West Ham for a bit longer, but circumstances dictated and you can't bring back the past. I believe that things happen for a reason and I went on to get over 200 goals during my 500-match career, including 109 for Celtic.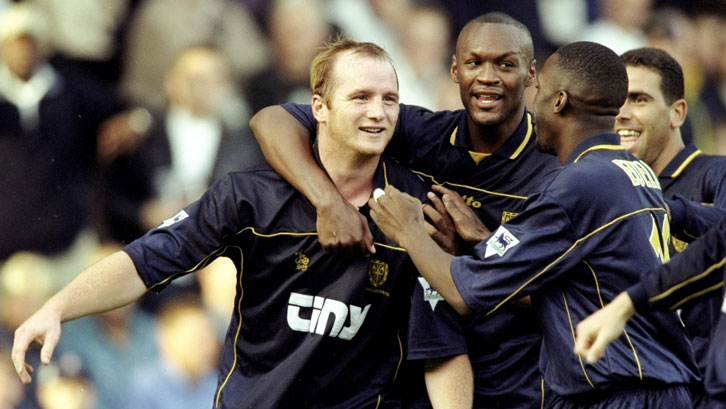 "I enjoyed it at Wimbledon with Joe Kinnear and Sam Hammam," he continues. "Mick Harford was on the coaching staff, too and I'd cleaned his boots when I was an apprentice at Luton Town. He was one of my idols and I'd really looked up to him as a kid. 
"They really were the 'Crazy Gang' and, on my first day there, they set fire to my Armani suit and sent me home in the middle of January, freezing cold, in just a pair of boxer shorts! 
"Although I'd gone for an awful lot of money, I got 19 goals in 49 league appearances for them so my record wasn't too bad. But we were unfortunate and, after Joe became very unwell, we found ourselves heading for relegation. Egil Olsen came in and tried his best but it was hard to get our form back. We were on 32 points with ten games remaining and just couldn't get a win with a deflection, bobbler or anything to get ourselves going again. Losing becomes a habit – there's always one team that gets sucked into the bottom three and that was us.
"Sadly, Wimbledon went down and never came back," grimaces Hartson, reflecting on that 1999/00 relegation.
The club relocated to Milton Keynes and became MK Dons in 2004, while supporters of the original Dons had formed AFC Wimbledon in 2002.
On Saturday, the latter host West Ham in their first-ever FA Cup fourth-round tie, seeking a distraction from their struggles at the bottom of EFL League One.
"Neil Ardley did brilliantly to get AFC Wimbledon back onto the map and I'm looking forward to catching up with their present manager Wally Downes, on Saturday night, too," Hartson observed.
"After August's Carabao Cup victory you'd expect West Ham to go back there and win again, but remember, we lost to both Northampton Town and Swansea City when I was here and, although I'm not expecting a shock, this is the FA Cup, a competition that can always be full of surprises."