West Ham United goalscoring hero Tony Cottee enjoyed both a trip down memory lane and a glimpse of the future when he visited the club's Chadwell Heath Academy headquarters recently.
The lifelong Hammers fan and former England international, who progressed through the youth ranks under the legendary John Lyall and went on to score 146 goals in 336 first team matches during two spells with the club, returned to the training ground where he honed his development as a young player, to take a look at the progress of the £4million redevelopment project at the Essex-based site.
Work is well underway on a two-phase programme that has seen the upgrade of an enhanced indoor pitch, followed by a completely new interior construction containing state-of-the-art medical, fitness, analysis and education facilities, along with a parents and coaches viewing gallery offering unrestricted views to the playing arena.
Due for completion in March, the renovation will ensure that West Ham United remains at the forefront of young player development as an elite Category One Academy, offering cutting-edge facilities and an environment of excellence and care to young players and their families, while still retaining its unique heritage as the venue where England's 1966 World Cup winners Bobby Moore, Geoff Hurst and Martin Peters began their development, followed by countless other homegrown Hammers stars. 
"It's quite surreal really," said the West Ham-born Cottee. "Going back 30, 35 years to the days when I used to train here. It's almost like that was another person – you have your life as a footballer and then whatever comes after, but so many happy memories here, learning my trade, working under the great John Lyall and Tony Carr, and working alongside so many fantastic players.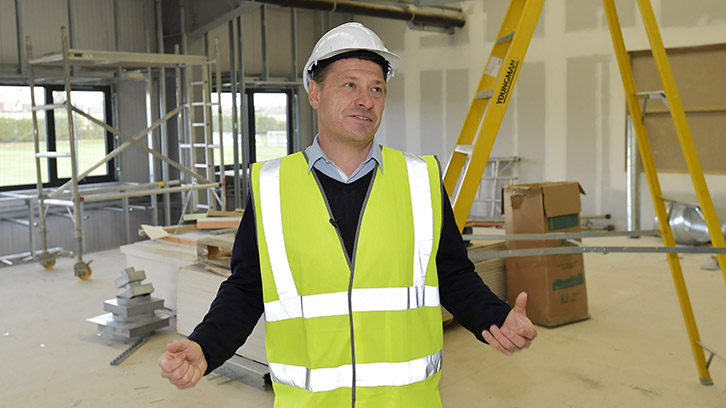 "That history is here at Chadwell Heath and we want to embrace it. When this new development is completed, the youngsters here are going to have so much more than we ever had back in my day. It is going to be a fantastic facility for them.
"I know it couldn't happen, but just imagine if you could get John Lyall and Ron Greenwood back here to show them what is going on. It's hard for me to take it all in as an ex-player, after the many happy years I spent here, but it would be great to see what John and Ron would make of it all."