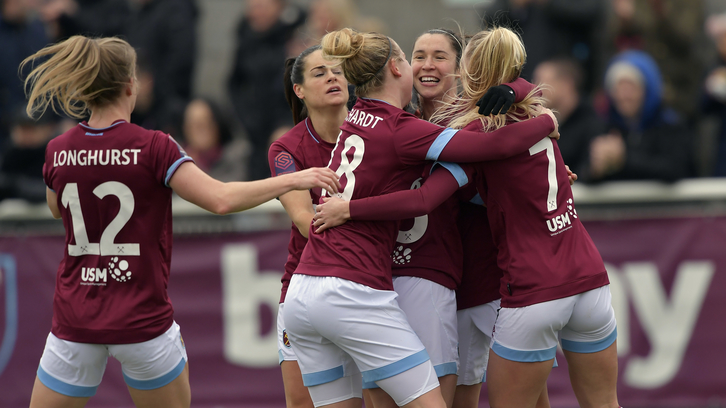 Jane Ross doesn't like talking about Jane Ross. 
The striker is in fantastic form, scoring West Ham's first two goals of 2019 last week against Arsenal. Ross also netted crucial finishes in recent weeks, helping the side to wins at home to Bristol City and away at Brighton and Hove Albion. 
She has eight goals in all competitions so far this season, the most of any West Ham player.
Ask her about her strikes, though, and while some forwards might launch into a boastful monologue about their efforts, that is not Ross' style.  
For the Scottish international, her goalscoring form only comes when the team is working at 100 per cent. It's the entire side that deserves plaudits. 
I'm just happy to help the team, in any way I can. If that comes in the form of scoring goals, then that's what I'll do.

Jane Ross
"I've managed to get a few goals recently," she shrugs, almost nonchalantly. "For me first and foremost though, it's always about the team performance. 
"It's nice to score but goals don't really count for much if you don't win the game. It's always been more important to me that we get wins. It doesn't matter what the manner of those wins are, or who scores the goals. 
"I'm just happy to help the team, in any way I can. If that comes in the form of scoring goals, then that's what I'll do."
In a positon of the pitch where self-interest, even selfishness, is not only expected but perhaps encouraged, Ross' attitude is refreshing. The No9 truly recognises that her role, as the side's main goalscorer, is only fulfilled if the entire team is at its very best.
"Ultimately, this is a team sport," she continues. "As a striker, I wouldn't score any goals if it wasn't for the team behind me. 
"It's the same for any forward, or indeed any player in any position. You require everyone in the team to do their job for you to be able to do yours properly. The other ten players in our side do just as much as I do, even if I happen to be the one that scores the goal.
"Obviously, it's enjoyable to be putting the ball in the back of the net. It's what I enjoy doing the most of course, as a striker, but if I can help the team in other ways then that is always my priority. It's about the team."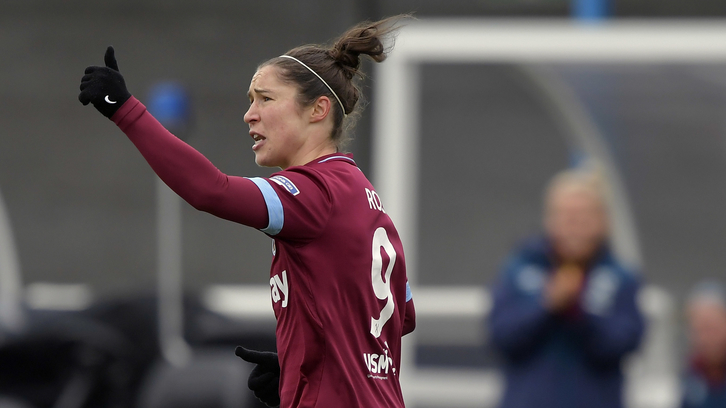 Ross' ethos for shared commendation is one that has been a part of the forward's nature since her very early days of being a player. Growing up on the Isle of Bute, a young Ross just wanted to play football. First, it was with the boys at her school. But as time went on, regular travel to her first club was required, which in turn meant serious commitment to her training. 
Not just from her, but her dad too.
"I was football mad from about three-years-old, and when I was 13 I joined by first club," Ross revealed. "That meant I had to travel to the mainland twice a week with my dad. That meant, twice a week, we would take the ferry and then drive about an hour on top of that to training. 
"By the time training was done in the evening, the last ferry would have long departed. We could never get home after training so it meant an overnight stay twice a week, before heading back early the next morning. 
"It was such a commitment from my dad to my training and I'll be forever grateful for his support and effort. He knew how much I loved playing football, how much I wanted to give it my all, and he has supported me every step of the way."
The efforts from both Ross and her father were not in vain, with the attacker getting noticed and called into the Scotland youth set-up. At 16-years-old, Ross was a regular for the Under-19s. 
"I think that international call up was a great moment for my dad as well as myself," Ross recalls. "It was proof that all our hard work, our travelling and efforts, was worth it."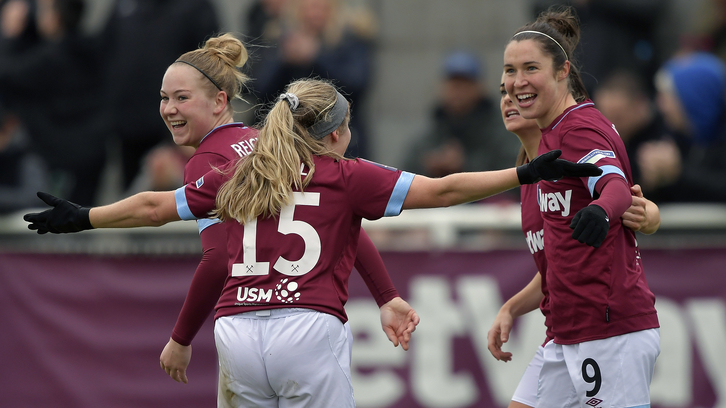 Ross moved to Glasgow City in 2006, helping the side to win six Scottish Women's Premier League titles, three Scottish Cups, three League Cups, and reach the last 16 of the Champions League in the 2011/12 campaign. 
The forward's next move may have raised some eyebrows however, as Ross opted to join Swedish Damallsvenkan side Vittsjö GIK.  In moving into Europe though, Ross achieved a goal she had set for her career progression.
"It was always an ambition to go abroad and play football, and at the time the league in England wasn't for full time professionals, and certainly wasn't at the standard it is today. The league in Sweden at that time was really strong and competitive. It helped me grow a lot. 
"Living in a different culture and environment helped me to grow as a person as well.  I think, having done that, I have some understanding of what it is like for some of our girls who have come over here from foreign places, particularly players like Alisha [Lehmann], and Esmee [de Graaf] and Lucienne [Reichardt] who have come from that part of the world."
If playing abroad was an ambition for Ross, getting the chance to represent Scotland was a dream.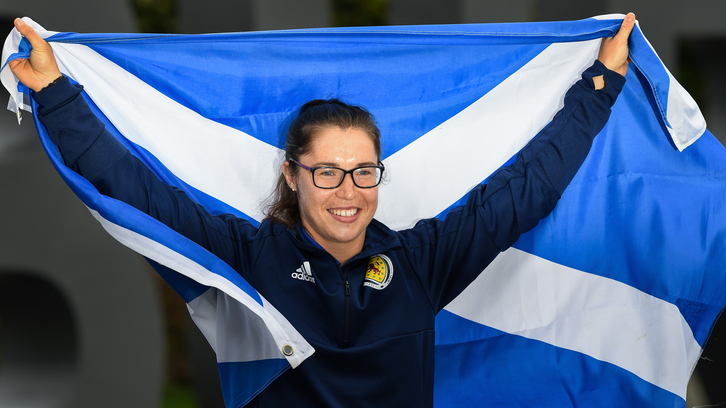 To date, Ross has earned 121 caps for her country. She has scored an excellent 57 goals, a journey that started with a first appearance in a clash with England in March 2009.
Despite over a century of international showings, the honour of playing for her country is not lost on Ross. 
"I'm very privileged to have had the opportunity to pull on a Scotland jersey to start off with. I've had the opportunity to do it so many times, and to have the goalscoring record to go alongside it is something I'm very proud of. I'd still like to work on it and improve on it, but every time I'm selected it's an honour to play. "
The Scottish side is going through arguably its most successful ever period. A first ever tournament appearance, at the 2017 European Championships, will be followed by a first World Cup this summer. 
Ross will go down in history as the player who scored the goal that took Scotland to the World Cup finals, netting her side's second with a looping header in a 2-1 win away to Albania. 
"There was a lot of important goals that helped us get to the World Cup!" Ross laughed, responding in typical modest fashion when asked about that goal. "The feeling after that match was incredible though, and even thinking about it now puts a smile on my face.