Academy
Academy youngster Baptiste's ahead of schedule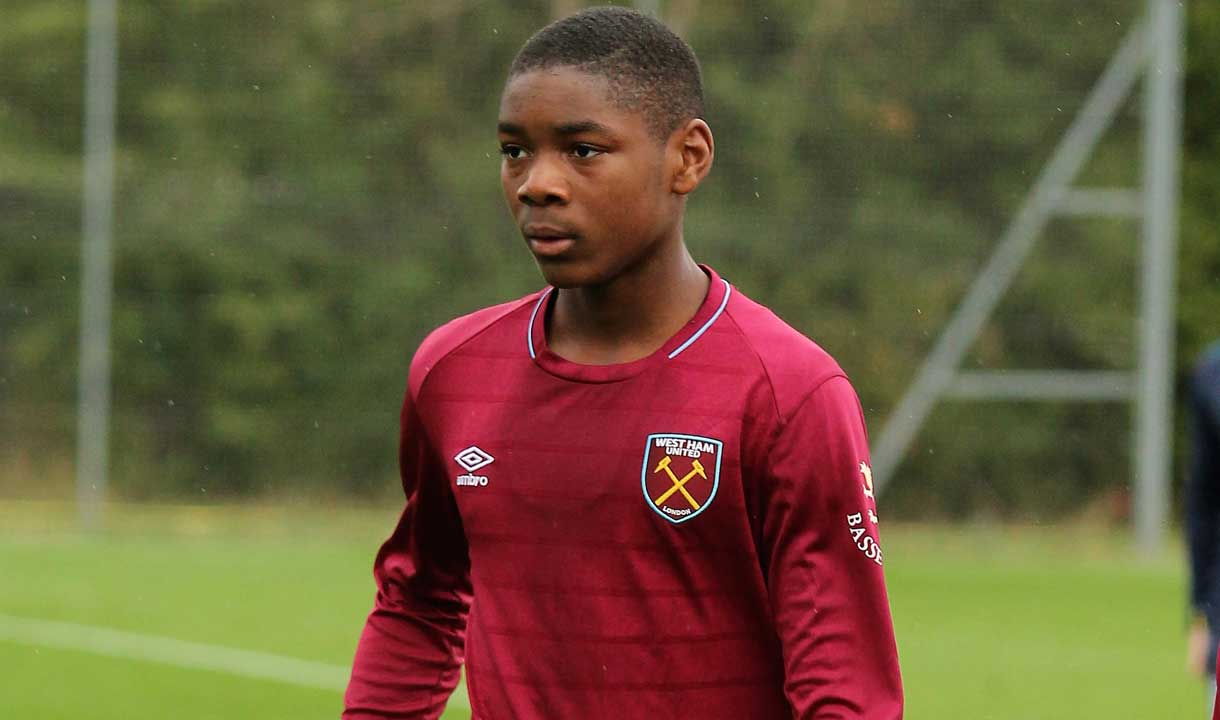 Teenage defender Jamal Baptiste will never forget where he came from, no matter where his career takes him...
When Jamal Baptiste is given a new pair of football boots by his sponsor, he makes sure he remembers the many times his parents would dig their hands into pockets to ensure he could get his hands on the latest pair.
The 15-year-old, who has been an unlikely star for West Ham United's U18 squad this year despite playing above his schoolboy age-group, has many idols and figures to thank for getting him to where he is today, but nobody more so than his family.
The defender's parents, along with his two sisters, have been the biggest influences on his career to date, and Baptiste has them to thank for everything.
"I live with my Mum and Dad and sisters now, and I love every single one of them," he says with a smile. "I have them to thank for everything, for pushing me every single day and I wouldn't be doing what I am doing now without them.
"The days I am really tired or I am feeling a little bit ill, they have been there to push me to go and do what I love doing, and of course you need that sometimes.
"When I was growing up, my parents would break their necks to get me the boots I wanted and now I'm privileged enough to get given boots from a sponsor. 
"Nobody else plays football in my family, unless I force my little sister to play with me! But they have pushed me every day and I have to thank them for that."
It's been a privilege playing week-in, week-out for the U18 team this season and with the older boys and of course it helps you learn a lot

Jamal Baptiste
At such a young age, Baptiste has incredibly played nine of the Hammers' 12 U18 Premier League South matches this season and has looked solid at centre-back alongside the more experienced Ajibola Alese.
The schoolboy has enjoyed the experience of being thrown in at the deep end but is not ready to halt his progress just yet this season.
"It's been a privilege playing week-in, week-out for the U18 team this season and with the older boys and of course it helps you learn a lot," he continues.
"It has been a great experience because the level I am playing at is very high and competitive.
"But I want to keep improving this season and I want to keep my position in the U18 team as well as trying to break into and be around the U23s whenever it's possible.
"You have got to aim high so definitely in a couple of years I want to have my sights set on the first team. When you're in an Academy, that is the ultimate aim so it would be stupid so say that's not my target.
"You can never quit what you're doing; a quote that resonates with me is 'Once you learn to quit, it becomes a habit', and I never want that to be true about me."
In the footballing world, Baptiste looks up to current and ex-footballers playing in his position, including former Hammer and current Academy mentor Matt Upson.
"Matt has come in a lot and I have worked with him multiple times," the youngster explains. "He has given me a lot of advice on how to defend and what the Premier League is really like. That makes me want to become an even better player.
"At the moment, I watch Virgil van Dijk and in my eyes, he's the best defender in the world. He pulls off amazing things and is a great leader. I want to get to that stage in my career one day, too."
The speed at which Jamal Baptiste's career is progressing, you would back him to reach those targets, too.