West Ham Tv
Samir Nasri: Atmosphere was amazing in Arsenal win
Samir Nasri says his return to Premier League football was made all the more special by an 'amazing atmosphere' at London Stadium - as close to 60,000 fans roared on the Hammers to a famous win against Arsenal. 
The French playmaker provided the assist for Declan Rice, who scored the only goal in a 1-0 win against his former club in front of a record attendance of 59, 946.
Nasri, who joined the Hammers this month, said: "I felt really embraced by the fans. The atmosphere was amazing - especially after we scored.
"It felt good to be back in the Premier League. When I first joined West Ham I said I will try to give everything on the pitch. I will always give 100 per cent for the fans because this club gave me a second chance and the only way I can return it, is on the pitch, giving 100 per cent for the club."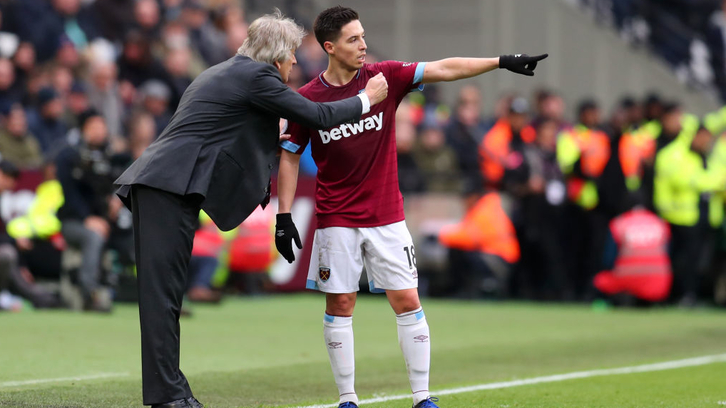 Nasri also revealed the instructions given to him by West Ham manager, Manuel Pellegrini - under whom he won a Premier League title with Manchester City – ahead of the match against another of his former clubs – Arsenal.
"The manager told me to do what I do, and play how I used to play. Play simple. Bring some creativity and don't try to overplay because sometimes when you play against your old club you try to do too much. I tried to keep it simple and make some good passes for my teammates. 
"Against Birmingham I thought that I found the rhythm and today I felt much better as well. We defended well and we did good pressing as well.
He added: "The most important thing was to win the game. We kept a clean sheet. It was amazing for me to be back in the Premier League and with that win, it was really important."