Declan Rice could not keep the smile off his face after scoring his first senior goal for West Ham United to see off Arsenal.
The midfielder celebrated his 20th birthday two days early – becoming the first teenager to score for the Hammers in the Premier League since Junior Stanislas in November 2009 – with the only goal of the game at London Stadium.
The strike, which came on Rice's 55th appearance in Claret and Blue, was followed by wild celebrations on the pitch, in the stands and in living rooms and bars full of West Ham fans all over the world.
"I can't put it into words!" he smiled. "I think you can see on my face how much it means to me and the way the team celebrated, how much it meant to them for me to score as well, as they've all been on at me to score and start shooting more.
"To get the three points, to beat Arsenal and me to score is unbelievable."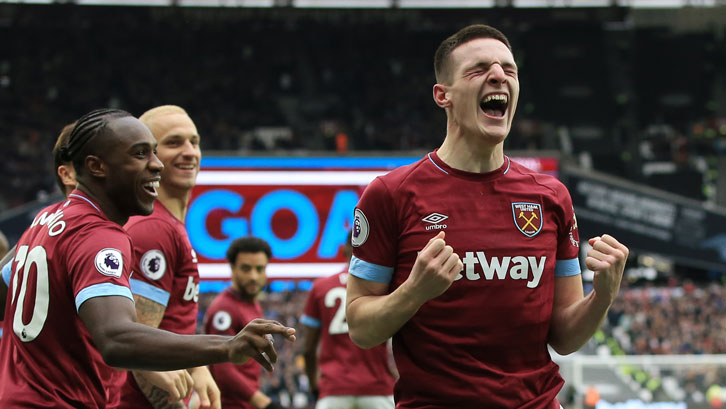 After curling Samir Nasri's square pass into the top left-hand corner of Bernd Leno's net, Rice wheeled away before sliding on his knees and being mobbed by his delighted teammates.
However, one person who might not have been quite so happy was Sky Sports Soccer AM's Tubes, who planned and practised a celebration dance with the teenager during a visit to Rush Green earlier this week – which Rice then forgot to perform!
"Samir set it back and I knew I was in the box but I didn't really know where the goal was because I was stood side-on. It was a clean strike, a clean connection and there were a lot of bodies in the way of Leno and it went right into the top corner," he recalled.
"You could see from the celebration I probably didn't know what to do, but I'm delighted!
"To be fair to Tubes, I get on really well with him and I promised him I'd do it, but it was out of my mind. The knee-slide had to come in and, to be honest, I think I'd have looked like a bit of a donut if if I'd done that dance for my first goal, but I promise I'll pull it out next time!"
Congratulations on your first professional goal, @_DeclanRice! ?

Where was the #RiceRiceBaby celebration though?! ? pic.twitter.com/JsxQjXkVVx

— Soccer AM (@SoccerAM) January 12, 2019
After the game, Rice fulfilled a host of media requests before heading to the players' lounge to be met by his jubilant family.
"I checked my WhatsApp and they've sent me some voice notes and my brother is crying as he can't believe it!" he revealed. "He's just had a new-born baby so I don't know where the baby went when I scored! My Mum and Dad have been watching me since I was a kid, so it's a special day for the whole family.
"Dad text me before the game and he said 'Don't forget to SHOOT' and today I shot and he was here to see me score.
"It's the best thing that's happened so far. Making my debut and signing a new contract were really good but to beat Arsenal, score the only goal, get Man of the Match and we won, that tops it all!