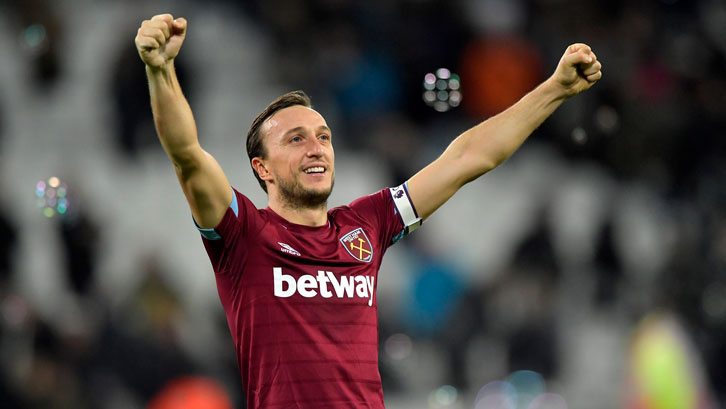 Had London's traffic not been so bad, Mark Noble could be running out in an Arsenal shirt rather than a West Ham United one on Saturday afternoon.
The Hammers captain was scouted by the Gunners as a schoolboy and trained and played for the north London club for two-and-a-half years between the ages of nine and 12.
However, the long journey from the Noble family home in Canning Town to Arsenal's training complex at London Colney made it difficult to get to after-school sessions on time, so the family took the decision to move young Mark to the club he had supported all his life – West Ham.
I was at Arsenal for two-and-a-half years, had some good times there and played with some good players

Mark Noble
"I actually spent time with Arsenal as a kid," the Irons captain wrote in his notes for Saturday's Official Programme. "I was nine when I went there. A scout called Ronnie Joyce was the first person to notice me playing for Heath Park and he took me over there.
"I signed pretty quickly and to be at a professional club at that age was unbelievable. [Former Arsenal and West Ham midfielder] Liam Brady overlooked the Academy and coached me and I really enjoyed it there. The facilities were great but getting there for training at five o'clock in the afternoon after school was difficult.
"I was there for two-and-a-half years, had some good times there and played with some good players like Bradley Johnson and Colin Kazim-Richards.
"Through it all, though, I was always a West Ham fan. When it became obvious it was too hard to get over there to train, West Ham had always shown a desire to sign me, so we decided I would come here.
"I went to watch an Under-12s game at Chadwell Heath and they won easily and I wondered if I'd be good enough, but a couple of my old schoolmates who I'd played with for Newham were here too, which was fantastic, and our parents shared the driving to training and matches, which made it much easier!"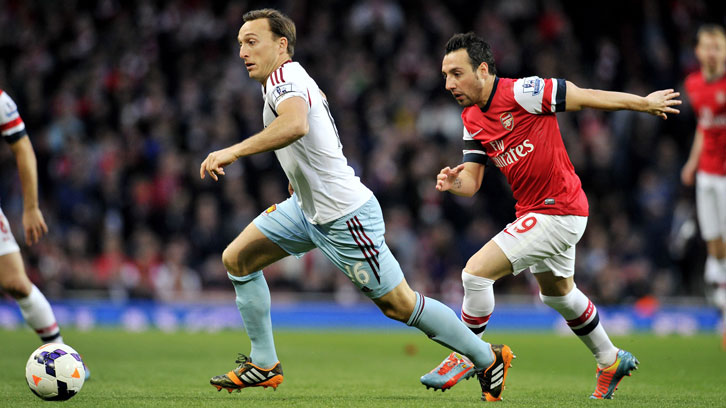 Two decades on from his big move from north to east London, Noble is West Ham's all-time record Premier League appearance-maker, captain, two-time Hammer of the Year and a hero to the Claret and Blue Army.
While his allegiances are now 100 per cent Claret and Blue, the 31-year-old will always be grateful for the foundation Arsenal gave him as a wide-eyed schoolboy.
"I've not really got any feelings towards Arsenal now, but I will always say they are a properly run football club," he observed. "Everything about them is class, down to the small details. Even the Away changing room at the Emirates is really nice!
"I know they haven't won the Premier League in a while, but they've won three FA Cups in the last five years and have had plenty of nice days out!"
Noble, of course, will hope Arsenal do not enjoy a 'nice day out' at London Stadium on Saturday!
To read Mark Noble's full column and much, much more exclusive content, download or purchase Saturday's 100-page Official Programme.
The print edition will be available to buy in and around the London Stadium on matchday and can be ordered online here.
The Digital Official Programme is available to download to your iPad or iPhone, Android devices, PC and Mac and via the Pocketmags app on kindle fire and Blackberry Playbook from 9am on matchday.
Whether you live overseas or just want to consume your content on the way to London Stadium, that means you can download your Digital Programme before kick-off, with the game being televised live in a large number of countries across the world.