Interviews
Diangana: Pellegrini's playing style is perfect for me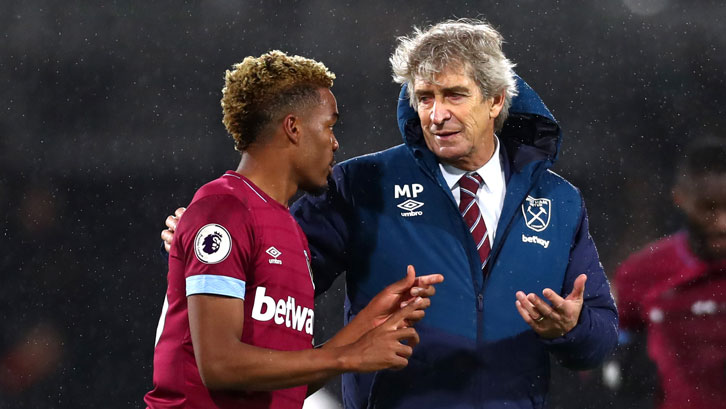 To use a well-worn football cliché, timing is everything, and Grady Diangana has most certainly benefitted from coming into the first-team fold at a time when his talents will be used to the maximum.
Manuel Pellegrini's belief in positive, attacking, 'big team mentality' football has undoubtedly benefitted the likes of Felipe Anderson, Robert Snodgrass and Diangana himself, who has been given a platform to take the game to the opposition.
At the same time, the team's improved form has given the youngster room to breathe, with supporters more patient and willing to allow him to make rookie mistakes without censure.
The manager's style of play is what I've grown up watching and trying to take into my game. For me, it's been perfect

Grady Diangana
"I think the fans understand that, when a young player comes in, there is a learning process and players will make mistakes," said the No45, who has made 15 appearances since making his two-goal Carabao Cup debut against Macclesfield Town in September. "But the important thing is that I learn from those mistakes so I don't make the same mistake more than once.
"I know I will improve. I like things to happen quickly, but I know it is a slow and gradual process.
"The manager's style of play is what I've grown up watching and trying to take into my game. For me, it's been perfect.
"I've always had coaches who have told me to express myself, from Trevor Bumstead in the Under-14s, then Mark Phillips for three years, Steve Potts with the 18s, then Liam Manning and Terry Westley in the Under-23s.
"For me, the next step is to try and cement my place in the team, try to start as many games as possible and contribute to the team by scoring goals and assisting goals. I want to become a better player with every game I play."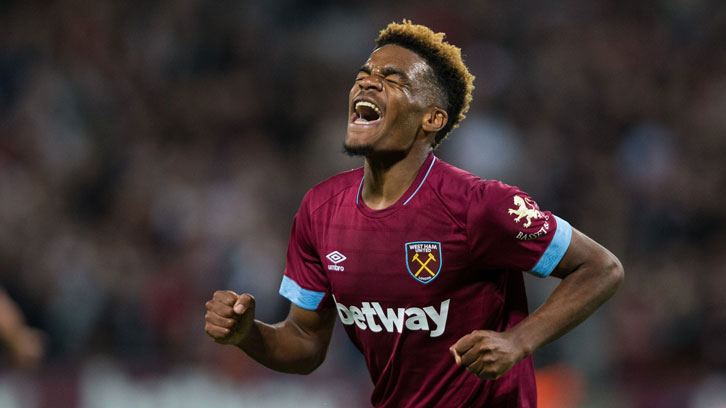 Diangana's short career has already produced a number of high points, including those two goals against Macclesfield – both assisted by his friend, fellow Academy graduate and long-time teammate Joe Powell – and a maiden assist for Felipe Anderson against Burnley.
He has played at London Stadium, the King Power Stadium, Craven Cottage and St Mary's Stadium, but, when asked to name his standout moment as a first-team player so far, you may be surprised by his answer.
"One was obviously the first goal against Macclesfield, as I had the feeling that I belonged performing in front of that many people, but the moment I felt the most strongly was against Huddersfield, funnily enough," he said, after a pause for consideration.
"It was before the game, when we were warming up, I thought to myself 'I love doing this' and I felt I belonged in the Premier League."
So, with half the season now in the book, players who might compete for his position either out injured or playing elsewhere, what does Diangana feel he can achieve over the second half of the 2018/19 campaign?
"I just want to keep going. I am enjoying it. I want to establish myself more so that, when people hear or read my name, they have a certain image of me. I want to become that player.
"In training, I'll work hard to develop new good habits which will hopefully bring me a lot of success at any club."