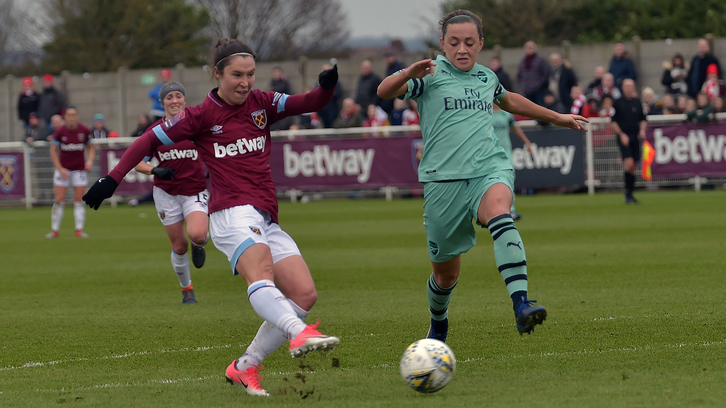 West Ham's four-game winning streak came to an end as the Irons were beaten 4-2 at Rush Green Stadium by Arsenal Women.
The Irons opened the scoring on 11 minutes when Jane Ross turned the ball home at the back post. However, Arsenal scored two goals in the space of five minutes from Leah Williamson and Janni Arnth. Ross got her second goal just before half-time, as she calmly slotted then ball home when one on one with the goalkeeper.
In the second half the Gunners turned on the style. Danielle Van De Donk scored her first goal with a simple tap in, then six minutes later scored her second with an unchallenged header. 
After a slow start to the game, the Irons had the first chance on nine minutes. Becky Spencer caught a corner well and spotted Brianni Visalli charging forward on the wing. The midfielder won a free-kick which eventually came to nothing.
Two minutes later West Ham opened the scoring. A free-kick was played long to Alisha Lehmann on the wing and she drove in to the box and found Ross, who was able to cushion it home at the back post.
On 13 minutes Arsenal looked to bring the game level. However, some good defending from Gilly Flaherty prevented Vivianne Miedema from scoring. 
On the 20 minute mark, Arsenal looked certain to score as they were able to break, but Miedema over played the ball and Kate Longhurst made an incredible block.
Six minutes later Arsenal got their equaliser. A good cross in to the box found Williamson who was unmarked and calmly head the ball in to the net.
Then only five minutes later the Gunners made it two. Arnth was left on her own at a corner and was able to head the ball in unchallenged.
It looked like West Ham would be heading in to half-time 2-1 down, but a great flick on from Visalli set Ross through one on one and she made no mistake, meaning the Irons went in to the break level at 2-2.
The Gunners started the second half by regaining the lead. On 59 minutes a low driven cross in to the box found Van De Donk who tapped the ball in.
Then on 65 minutes another cross in to the box reached Van De Donk who was unmarked and headed the ball in to give the Gunners a two-goal cushion.
On 74 minutes a good counter attack from the Hammers saw Visalli find Ross, who was searching for her hattrick, at the back post but the shot was blocked. Arsenal then went straight up the other end and Kim Little looked certain to score, but she missed an open goal.
Going in to the final moments of the game the Irons looked to score a third, but the Arsenal defence held firm and the visitors claimed the three points. 
West Ham United: Spencer; Percival, Hendrix, Flaherty (c), Lehmann, Ross, Rafferty, Longhurst, Sampson, Visalli, Reichardt
Subs not used: Moorhouse, Simic, Kmita, Kiernan, Simon
Arsenal: Peyraud-Magnin; Arnth, Williamson, Van De Donk, Little (Kuyken 90), Miedema, McCabe, Evans (Quinn 83), Walti, Bloodworth, Mead
Subs not used: Van Veenendaal, Mitchell, Grant, Bailey-Gayle
Attendance: 913