The end of 2018 couldn't have been much better for Matt Beard and his West Ham United side. 
Four wins in the final four games of the calendar year, complete with ten goals scored and none conceded, put plenty of smiles on faces at the women's training complex at Rush Green. 
It's a run of form that has pushed the Irons into the top six in the FA Women's Super League and into the last eight of the Continental Tyres Cup. 
Having enjoyed a mini-break, and a three-week period without a competitive match, West Ham's 2019 starts with the team in the deep end of the pool. League leaders Arsenal make the trip to Rush Green Stadium on Sunday, while second-placed Manchester City follow. 
In between, Beard and his team make the trip to Manchester to take on Championship leaders Manchester United in the Continental Tyres Cup quarter finals. 
It's three games in seven days to prepare for. Just because we go through a little spell without a game, it doesn't mean we're not preparing. 

Matt Beard
It arguably couldn't be a busier week to kick-start the new year for the team.
"It's a really competitive start to 2019," Beard said. "Arsenal and Manchester City are due to come to Rush Green, and with us being through in the Cup, we will have to travel to Manchester United as well. 
"It's three games in seven days to prepare for. Just because we go through a little spell without a game, it doesn't mean we're not preparing. 
"Even before Christmas, after our match with Charlton Athletic, we're been getting the girls ready for the games to come, both tactically and physically. It's going to be a tough week but we've had some time to work on the game plans and, perhaps even more importantly, ourselves."
The festive break could be perceived as both a blessing and a curse for West Ham United. On one hand, the disruption in competitive fixtures comes at a time when the Irons have found their flow, playing some engrossing football and claiming impressive wins. 
However, there has also been a chance to recover from knocks in the squad, with the Hammers battling a few slight injuries heading into the new year. 
"Our injuries have meant we have had to change our plans a bit this season," Beard admitted. "Take Vyan [Sampson]. We knew this season was about getting her back into full-time football, getting physically fit and back to her best. Our injuries have meant she's played a lot more minutes than we, or she, would have anticipated. Fair play to her; she's stood up to that test and done really well. 
"It's not always easy though. We had an issue with Lucienne [Reichardt] being out, and we lost Tessel [Middag] in the summer, which really hurt our balance in midfield. 
"We've had to alternate and try and utilise different players in different roles, like Kate [Longhurst] has played across the field already this season. I'm hoping we have got through that period now, and Christmas gave our girls a bit of a chance to have a rest and recover."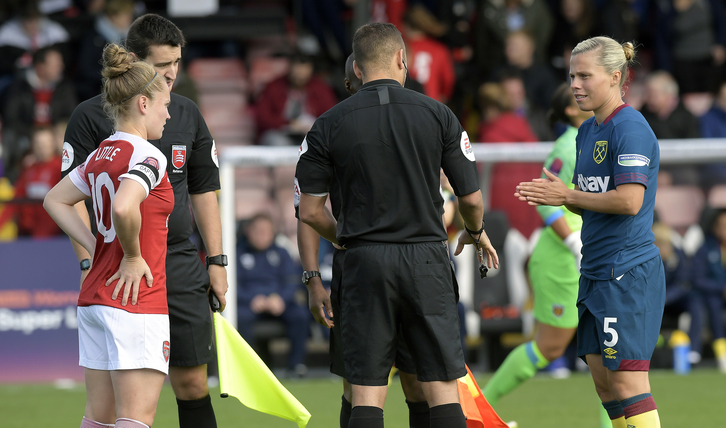 January does not just spell the return of competitive fixtures, and a new year, but it will also see the transfer window reopen. 
Beard says planning for the window is already in place, with the head coach, General Manager Russ Fraser, and Managing Director Jack Sullivan working together on bringing in their targets. 
The summer saw Beard recruit 16 new players to West Ham, as the side made their first step into the professional women's game, and there is hope on bringing in two more faces in the coming weeks.
However, Beard is delighted with how his squad is operating, and won't panic if he can't add to his team this month. 
"We are working hard right now to bring in at least two players," he said. "In the last three games of 2018, we had 12 outfield players to work with, and that's something that needs to be addressed. 
"With Esmee de Graaf's injury as well, meaning she is out for the season, we are looking to add and we would like to try and bring in an attacking player and a midfielder.
"I'm really pleased with where we are in the squad, but I just think we need some more depth and some more competition. If we can do that in January, then that would be great, but if we can't then I'm pleased with the team we have got here. Everyone is developing and getting better each week."
Beard is not looking to add to his squad for the sake of numbers, insisting any new additions must fit with the ethos and philosophy he, his staff, and team have worked hard to install at West Ham.
"Any players that come have not only got to improve the team, but they have got to be the right person as well. We are a really, really good group here and when we are looking at recruiting players, we don't just look at what they can do on the pitch; we consider their characters off of it as well."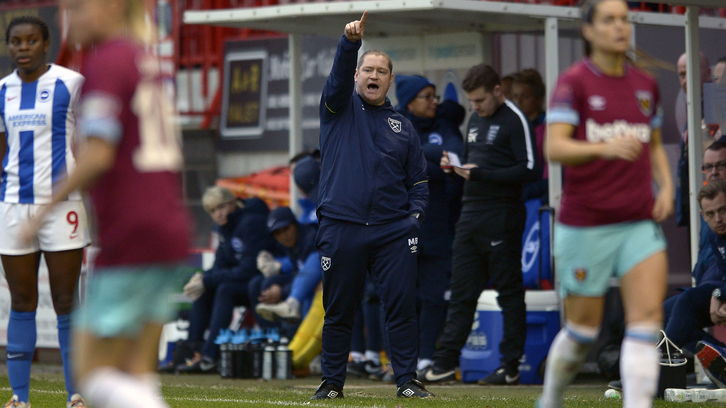 At the start of the season, Beard set his team the target of ensuring they remained in the FA WSL, but the head coach believes recent form has seen the side already secure their place in the top flight for the 2019/20 season. 
Now Beard is looking for his team to continue competing, with a place in the top six a possibility for the Irons in their debut WSL campaign. 
"We're on 16 points now, which I think is enough to stay in the division. There's nine games left to play and, when you consider teams like Yeovil Town or Everton, I think they need to win over half of their remaining games to move past us. 
"Historically, the points we have enough is more than enough to stay in the division, so now the task is to remain competitive, keep pushing on, and continue performing. 
"We said at the start of the season that we weren't in this division to just make the numbers up and we've shown that. We're in a really good position and we want to finish as high up the league as we can. 
"There's a lot to look forward to in the remainder of the season. We're in the Continental Tyres knock-out stages, and we've also got the FA Cup to come. We want to go as far as we can in these competitions. 
"We've really set ourselves up for the long-term future. All of our work this year is paying off and I am really excited for the second half of the season. We are in a great position going forward, and we can be proud of what we've achieved so far."