The longest FA Cup penalty shootout in West Ham United's history ended with a goalkeeper throwing his gloves to the ground and knee-sliding in front of the Bobby Moore Stand.
West Ham and Everton remained locked together at 2-2 at the end of extra-time following a thrilling FA Cup third-round replay at the Boleyn Ground on 13 January 2015 - but the drama had only just begun.
Everton won the coin toss and took the first kick, which Mirallas safely converted. Mark Noble equalised, then Adrian took centre-stage for the first time, saving superbly from Scotland forward Steven Naismith.
It was a great moment. Upton Park was full and all the supporters were there. It was one of the best moments I have had in my career

Adrian
Kevin Nolan, Andy Carroll and Aaron Cresswell all scored to put West Ham on the brink of victory, only for Stewart Downing to see his tame effort kept out by Everton's Spanish goalkeeper Joel.
It went on, and on, with Cole, Valencia, Morgan Amalfitano – who bizarrely claimed Adrian's gloves after the shootout had ended – and Carl Jenkinson all holding their nerve to keep the Hammers in it.
With Everton down to ten men, West Ham had to leave one player out of the shootout. Adrian would have been the obvious choice, but the stopper told his manager he wanted to take a decisive penalty, and got his way!
"I remember more or less all the penalties, because it was a great finish for us goalkeepers," Adrian, who celebrates his 32nd birthday on Thursday, recalled. "It was a very, very long penalty shootout and the keepers were in the last position to shoot.
"I had told Sam 'I want to shoot' and he said 'OK, you are not last, you can go in tenth position' [ahead of James Tomkins]. I said 'Thank you very much' but was expecting fifth or sixth!"
"But nobody expected Joel or I to have to take one, because they expected one team to win before it got to us, but it did!"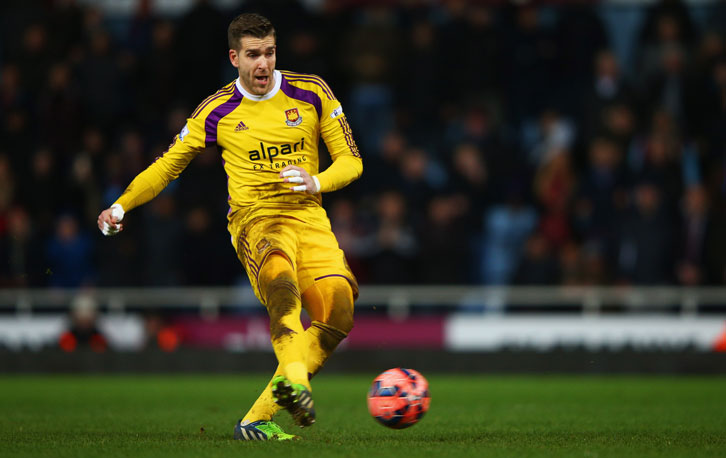 Of the two goalkeepers, Joel went first, thundering his spot-kick against the crossbar. Adrian's big moment had arrived. He placed the ball and then, in a moment no West Ham fan will ever forget, discarding his gloves before calmly slotting past his compatriot.
"I think Joel was a bit more nervous than me. I saw in his face, he was nervous and he smashed the ball and had no control. He hit the crossbar and the ball went out.
"After that I thought 'My job in goal is done and now I have to score', so I threw my gloves off. I never thought about disrespecting Joel, but only about scoring. I was so confident. Imagine if I had missed – I'd have had to take my gloves from the floor!
"I focused on the ball and tried to pass it into the net and then I enjoyed the celebration, diving on my knees. It was a great moment. Upton Park was full and all the supporters were there. It was one of the best moments I have had in my career."