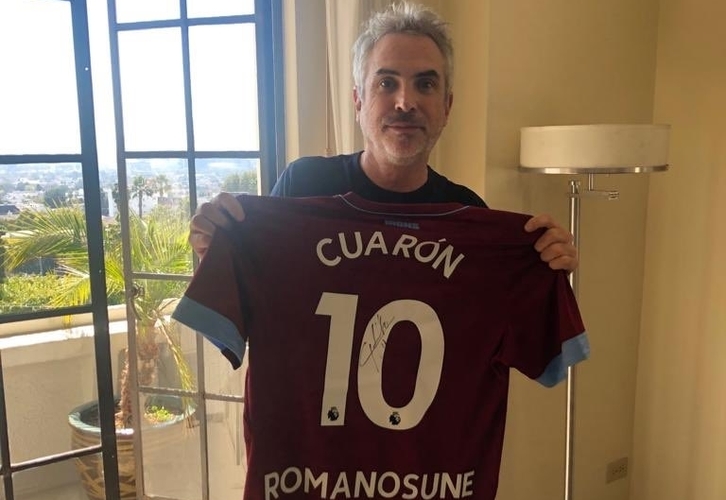 West Ham United is pleased to announce a collaboration with Mexican Academy Award Winning Director Alfonso Cuaron. The club has donated eight home shirts signed by Chicharito for Cuaron's initiative #ROMATÓN. The shirts will be auctioned, with the proceeds going towards  "Un Trabajo Digno" and "Fondo Semillas", charaties which help domestic workers in Mexico.
 
The collaboration is a further demonstration of West Ham and Chicharito's commitment to help the people in need in Mexico. In October 2017, the Club auctioned the shirts worn by the team in the London derby against Tottenham and donated the proceeds to #YoXMéxico, an initiative launched by Chicha to help the people affected by two earthquakes in Mexico in September that year.
Gracias al @WestHamUtd y al @WestHamEspanol por sumarse al #ROMATÓN donando playeras autografiadas por @CH14_ para juntar fondos para @untrabajodigno y @FondoSemillas. Celebro que un club así de grande se preocupe por las causas de las trabajadoras del hogar COYI pic.twitter.com/tlOT6muZ9G

— Alfonso Cuaron (@alfonsocuaron) February 26, 2019
Alfonso Cuaron is a Mexican film director, screenwriter, producer, cinematographer, and editor. He has twice won the Academy Award for Best Director, first in 2013 for Gravity and the second last Sunday for his acclaimed film Roma, in which he revisits his childhood and the role that Cleo, the domestic worker in his house, played in his life.