Manuel Pellegrini faced the media ahead of his West Ham United's trip to Premier League champions Manchester City on Wednesday evening.
The Hammers manager will return to the Etihad Stadium for the first time since departing at the end of a successful three-season stay in summer 2016, hoping to see his team make it back-to-back wins following Friday's home victory over Fulham. 
Here's what the boss had to say…
It is too early to judge our season
We must wait until the end of the season until we can judge how much progress we have made. I don't think it's a good idea to review a season when you have to play another eleven games more and you have 33 points to play for and you are four points from seventh or eighth position.
So, maybe it's not the moment but I think the club is improving in every sense – we have a strong squad, the training ground, in the way we are playing the way that I like and I choose to work – and I hope that this is a good process and in a couple of years we will continue improving.
I will be happy at the end of the season if we are in the position we deserve in the way that we play. That's why I just answered you that we still have to play another eleven games and we cannot see or finish the season today.
We are never fighting for relegation, we always try to have a winning mentality, so that answer I will give you in the last week of the league.
Circumstances will not weaken Manchester City
Manchester City played extra-time and penalties against Chelsea in the Carabao Cup final on Sunday but I don't think they will be weaker than normal on Wednesday.
Playing 120 minutes of course is a lot, a long game, but they have a strong squad, they can make the changes that they want and continue to have the best squad in the Premier League.
Aymeric Laporte and Fernandinho were injured in the final and may miss Wednesday game, but again I do not expect City to be weaker. 
As a manager, if you can have all the players then you choose the best ones you have, that is the best way. But I repeat, two or three injuries for them will not change their squad. We have played with eight or nine injuries all season so it won't be a factor.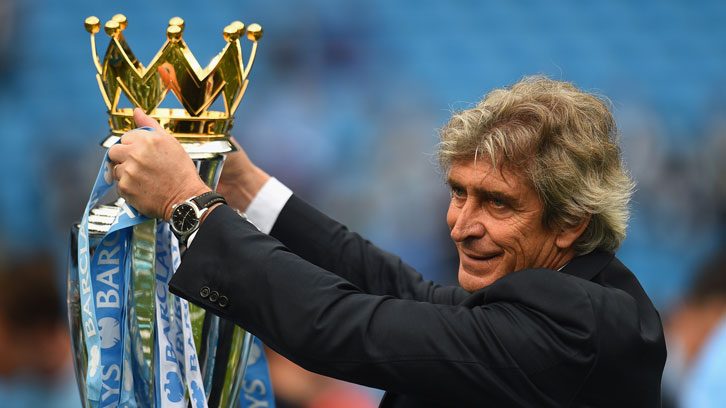 I had three beautiful years at City
When I think back to my time at Manchester City, I remember three beautiful years, especially when we won the Premier League we had a very successful season.
Not only because we won that but it was the team that scored the most goals in history. The second year was a little more difficult finishing second and couldn't win a title as we were punished from UEFA rules so we couldn't strengthen our squad, it is so important when you win the title to bring in new players to improve. 
The third season we won the League Cup and were in the semi-finals of the Champions League, where we lost to Real Madrid, so for those three years I was very happy and the fans enjoyed the football we played, so I have only good memories. 
Since I left in 2016, they are a team which has continued improving every year. Maybe after I finished my contract, they brought a lot of new players and they invested around £500 million more, so it is a team that, from the beginning, wants to be the best team in England and they always had the owners and the technical staff to do it very well.