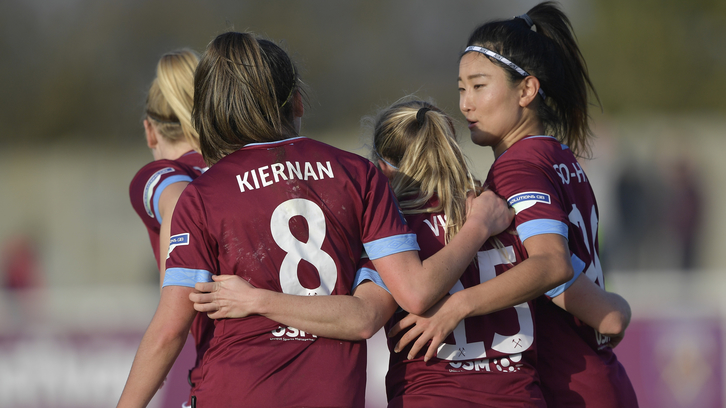 Leanne Kiernan's hat-trick was the cherry on the cake for West Ham United as they secured an unforgettable 8-1 victory over Huddersfield Town Ladies. 
A relentless showing by the Irons saw the team net four goals in each half, with Kiernan's hat-trick secured with two late finishes in the second period. 
Kate Longhurst levelled the game for the Hammers after Mallin put Huddersfield ahead, while Jane Ross, Alisha Lehmann, Rosie Kmita and Brianna Visalli all found the net. 
Sunday's win means West Ham will enter the draw for the SSE Women's FA Cup quarter-finals.
The early chances fell West Ham's way, with captain Gilly Flaherty seeing a header saved. However, it was the away side that took the lead after being awarded a penalty on 14 minutes. Huddersfield captain Mallin stepped up and confidentially fired the spot-kick into the roof of the net.
There was almost an immediate response from the Irons with Kiernan firing a volley on target, before the Ireland international missed from close range after Lehmann's wicked cross. 
On 22 minutes, Matt Beard's side found the breakthrough. Longhurst broke through the Huddersfield defence, but saw her first-time effort saved. Lehmann was there to square the rebound, with Longhurst tucking home at the second attempt.
Just five minutes later, the Hammers took the lead. The industrious Kiernan found herself in space and smashed her effort into the top corner after Lehmann once again assisted one of her teammates. 
The Swiss international got in on the action next, securing herself a deserved goal, putting in past Charlotte Oates when Kiernan returned the favour with a squared ball. Jane Ross made it four just a minute later, turning home as Lehmann registered a hat-trick of assists in the first period.
The Irons continued their brilliant, attacking football in the second period. Kiernan showed great control to skill her way into space on the edge of the penalty area, before striking an effort on goal. The effort was palmed onto the post by Oates. 
On 64 minutes, Rosie Kmita entered the fray, and less than 90 seconds later the N016 was on the score-sheet, tucking home at the far post after more good work by the Irons on the right-hand side. 
Cho came close to her first goal for the Hammers, with her strike going over the cross-bar, but Visalli was on hand a minute later to smash home an excellent finish from a tight angle. 
West Ham showed no signs of relenting as the clock ticked down, and Kieran would fire home her second with a sensational strike into the roof of the net on 81 minutes. 
The No8's hat-trick, and status as NicheSolutions' Hammer of the match, was confirmed on 84 minutes, tucking home on the rebound for her third, and West Ham's eighth, of a brilliant performance.
West Ham United: Moorhouse; Percival, Flaherty, Hendrix (Sampson 74), Simon; Cho, Visalli, Longhurst (Reichardt 66); Lehmann, Ross (Kmita 64), Kiernan 
Subs not used: Spencer
Goals: Longhurst 22, Kiernan 27 81 84, Lehmann 37, Ross 38, Kmita 65, Visalli 71
Huddersfield Town Ladies: Oates; Turner, Legge, Mallin (c), Abbott, Evans, Danby, Elford, Sanderson, Harris, Sowerby
Substitutes: Bickett, Parnham, Dobby, Price, Pederson, Taylor, Strickland
Goals: Mallin (p) 14,
Attendance: 865