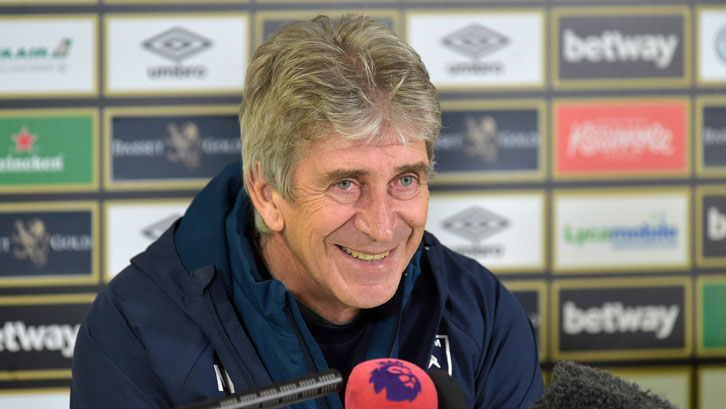 Manuel Pellegrini has called on his players to rediscover the form that brought them three consecutive Premier League away wins in December.
West Ham United enjoyed a fine end to 2018 overall, winning five of their seven Premier League matches in the final month of the year, including victories at Newcastle United, Fulham and Southampton.
The Hammers take on another team below them in the table in Crystal Palace on Saturday, and Pellegrini has urged his players to forget about their recent travel sickness at AFC Bournemouth and Wolverhampton Wanderers when they take to the pitch at Selhurst Park.
Maybe we haven't understood how difficult it is to play away games, when you must be 100 per cent concentrated on what to do

Manuel Pellegrini
"Our away from was very good during the first part of the season," he recalled. "After that we started the second part and had some important defeats.
"We were conceding goals and not scoring so we need to address this. When you don't score and you concede many goals, you are doing it all wrong.
"I hope that on Saturday we will return to being the team that plays away games in the same way we did during the first part of the season."
Reflecting on those January defeats at Bournemouth and Wolves, and the Emirates FA Cup fourth-round exit at EFL League One strugglers AFC Wimbledon, Pellegrini admitted to being shocked at how badly his team performed in all three matches.
He expects an improvement in south east London.
"I was surprised because I don't think it was the level of our team," he confirmed. "Maybe we haven't understood how difficult it is to play away games, when you must be 100 per cent concentrated on what to do. But this weekend we will have our revenge and I hope we will have a good result."