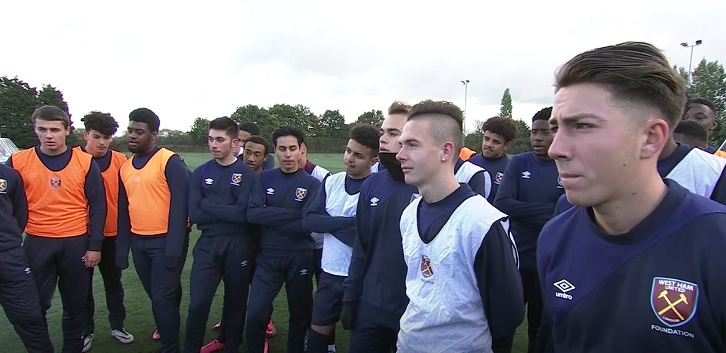 The West Ham United Second Chance Academy is a scheme run by the West Ham United Foundation that not only gives fresh talent a chance to break into the world of professional football, but also allows any players that have been released by Category 1 & 2 Academies to have a second chance in the industry.
The West Ham United Second Chance Academy allows these footballers to come in to Chadwell Heath to train and improve their football whilst also being educated. The aim of the programme is to produce players that have the right behaviour, attitude and manner to be successful in a football career.  
This season both Second Chance Academy teams are currently at the top of their respective leagues. The West Ham United Foundation team are first in the National Youth Alliance League. They have also qualified for the National Quarter Final against Maidstone on 13 February. The Chadwell Blues are also currently top of their SCL East League and have been unbeaten for the duration of this season so far. 
The West Ham United Second Chance Academy has produced many notable players from this season's squad, with Akil Martnai having a trial for the Albanian U18s and Robert Horgan training with the Academy goalkeepers. Recently goalkeeper Joseph Anang signed a professional contract with the Hammers after training alongside the first team for ten months.
Cameron Anderson has been another stand out successes of the Second Chance scheme, after progressing through a pilot of the two-year programme. Since then Cameron has worked with the West Ham United Foundation as a volunteer, a sessional coach and been a part of the International Programme. During his time with the West Ham United Foundation he gained his Level 1 Coaching qualification and is now working towards his Level 2. He now works full time as a Community School Hub Officer in conjunction with the Foundation at the Bobby Moore Academy. 
Sam Taylor, Integration Development Manager at the Foundation spoke about Cameron, saying: "Since coming through the Programme Cameron has shown a great attitude and has always wanted to learn and develop as both a coach and a person. Cameron has worked regularly on international camps in Holland & Switzerland and works with touring international groups when they train here in the UK with the Foundation. His attitude has allowed him to progress throughout the programme and means he has the capability to succeed in whatever direction he goes in with his career."
Trials will be starting soon to become a part of the West Ham United Second Chance Academy. If you are aged between 16-18 and interested in the chance to be part of this Foundation scheme, then email [email protected] for more information. The first trial is at Beckton on 18 February, with more throughout the rest of the season.