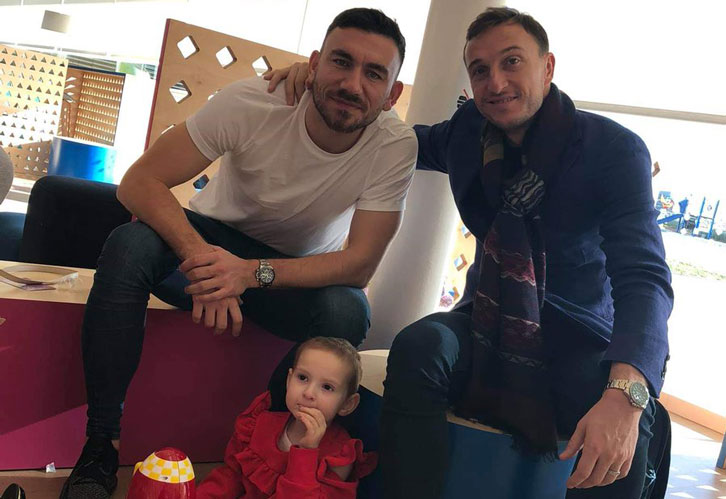 An auction set up by West Ham United's Robert Snodgrass to raise funds for cancer treatment for brave little Hammer Isla Caton closes at 8pm on Wednesday 5 February.
Isla's fight has touched the hearts of all West Ham United supporters and football fans worldwide. Having been diagnosed with a rare child cancer called Neuroblastoma – the same disease which tragically took the life of young Sunderland fan Bradley Lowery – in March 2017, the Hornchurch youngster has undergone intensive treatment in the UK and is currently in Spain receiving ground-breaking chemotherapy and immunotherapy.
Snodgrass and captain Mark Noble made a surprise to visit Isla and her family in Barcelona shortly before Christmas and the experience touched the kind-hearted Scotland midfielder, who has since amassed a large collection of signed items from football clubs and players all over the UK, as well as a range of other unique lots, including luxury holidays and nights out.
These have all now been put up for sale via an online auction, with all proceeds going to Isla's Fight and the four-year-old's future treatment costs.
"The reason why I have done it is so the family and Isla know that they're not alone and that we're here to help," the 31-year-old said. "It's meant a lot to me ever since I heard the story.
"A young kid needs us as much as possible, and this auction page is something I've been trying to do for six or seven weeks, working with the club to try and get the best solution.
"I now just want to get the page out there and raise awareness for what the family has been through, and create awareness for cancer, because you can never stop doing that.
"The money will all go to the family because the treatment is ongoing and they're trying to get the best result for her by getting the cancer clear, which hopefully can be the case."
The reason why I have done it is so the family and Isla know that they're not alone and that we're here to help

Robert Snodgrass
At the age of just four-years-old, Isla has made everyone connected to West Ham extremely proud as she continues to receive her potentially life-saving treatments.
A father himself, Snodgrass said meeting Isla and her family in person was a truly moving experience.
"It was very emotional," he recalled. "That day, we just sat there listening to the story and what they've had to go through.
"I think that, if I can give one per cent extra and try and make it a little easier for them, even though I doubt that will happen because they just want their daughter to be OK. 
"What they've had to do, move the family about and more, I just think no kid deserves to go through that, no family deserves to go through that."
To view and make a bid for any of the items in the auction, which will close at 8pm on Tuesday 5 February 2019, click here. 
For more information about Isla's Fight and how to donate, click here.