Ryan Fredericks is hoping his impressive return to West Ham United's Premier League team in Monday's 1-1 draw with Liverpool is the sign of things to come.
The speedy right-back was handed his first top-flight start since 1 September and repaid manager Manuel Pellegrini's faith in him with an eye-catching display full of pace, determination and character.
After signing from Fulham last summer, Fredericks was left out in favour of Pablo Zabaleta before being ruled out for ten weeks with a shin injury, but he is now fully fit and aiming to make up for lost time.
If his performance against the Premier League leaders and their top-class attackers is anything to go by, the 25-year-old will do just that over the closing months of the season.
I'm just happy to be back out there and playing for this great club and hopefully I can carry on doing that

Ryan Fredericks
"The first ten minutes went past very quickly!" he smiled. "It was tough, but I grew into the game and found my rhythm again.
"It's going to take a good few games to get back to what I like to call my best, but I'm just happy to be back out there and playing for this great club and hopefully I can carry on doing that.
"I was determined, I was focused like all the other lads were. We'd been watching clips of them all week and we knew what they would do, did our best to try and nullify them and I think it worked.
"It's crazy we've only got 15 games left as I feel like my season only started on Monday night! Hopefully I can play as many games as possible between now and the end of the season and show I'm more than able to play for this club."
Fredericks got forward well down the right flank, combining repeatedly with goalscorer Michail Antonio, while the No24 was also grateful for his teammate's support in defensive areas.
"It was a well-taken goal and Mick helped me out a lot, too. I've been trying to get back fit for the last ten weeks, so I needed his help and he gave me that.
"I was buzzing for him getting his goal, as well as how hard he worked for us."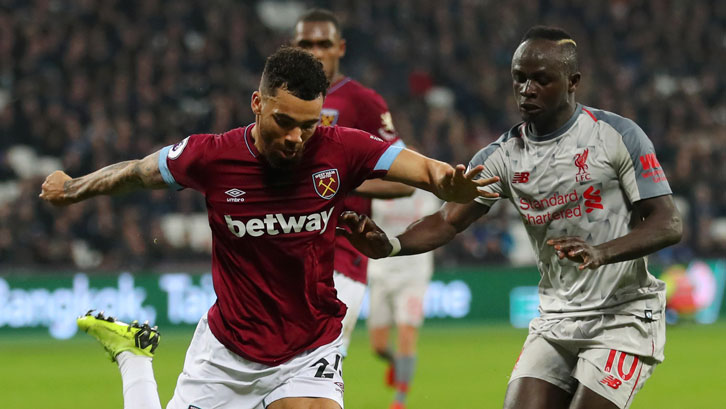 Next up for Fredericks, Antonio and the Hammers is a trip to Selhurst Park to take on Crystal Palace on Saturday afternoon.
The full-back says the Irons need to approach that game with the same attitude which served them so well against Liverpool to avoid the same disappointment they felt following recent defeats at Burnley, AFC Bournemouth and Wolverhampton Wanderers.
"We've got good players as well and we know, on our day, we can go out and do that (play like we did against Liverpool). We've done all right against the big boys this season and picked up points against some of them here [at London Stadium] and we've done that again.
"Credit to the boys. Everyone was switched on and did what they could for the whole 90 minutes.
"We've got a good bunch and lot of big characters in the dressing room and we had a lot of experienced players on the pitch and the gaffer drills home that we need to play the same way, whether we're losing 1-0 or 2-0 or winning the game.
"We need to go for the game and do everything we can do to score and I think we had the better chances on Monday night."