When West Ham United faced Liverpool on the opening weekend of the Premier League season, Manuel Pellegrini's new-look side fell to a 4-0 defeat at Anfield.
With new players and a new system going up against Jurgen Klopp's well-oiled Liverpool machine, it should perhaps have come as no surprise that the home side secured a comfortable victory.
With Mohamed Salah, Roberto Firmino and Sadio Mane all on top form, interchanging position and pulling the Hammers defensive players all over the pitch, the Irons struggled to cope at times.
Indeed, such was Liverpool's dominant first-half performance, during which they scored two goals, had five shots on target and enjoyed 66% possession, that Pellegrini opted to replace his deep-lying midfielder at half-time and leave him out for the next three Premier League matches.
For Declan Rice, the decision to withdraw him just 45 minutes into the season and drop him from the team could have set the then-19-year-old back, but Pellegrini spoke to the youngster after the game, telling him that his decision had nothing to do with the teenager's talent, but all to do with the situation of the game.
To Rice's credit, he took the manager's words at face value, going back to the training pitches and analysis rooms at Rush Green to work on his game, figure out what had gone wrong and set about developing his game.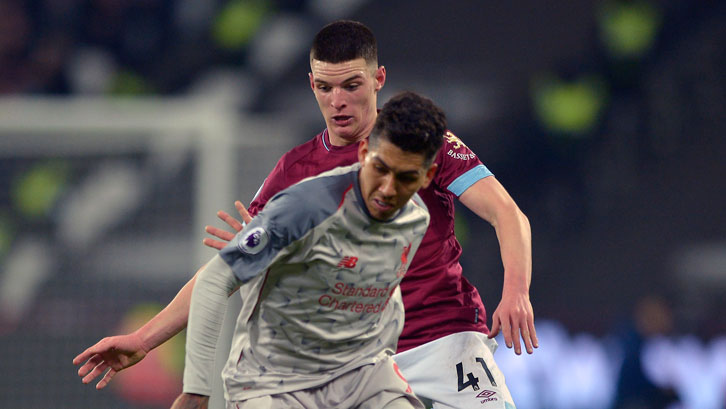 Six months later, and just a few weeks past his 20th birthday, Rice faced Liverpool again and produced a performance of maturity, stature and confidence that served as the perfect illustration of how face he has come since that August afternoon.
On Monday evening, Rice's positional sense, shielding of the back four, ability to break up play and set his own team on the front foot were all in clear sight as the Hammers held the Reds at arm's length at London Stadium to secure a deserved 1-1 draw.
Where Salah, Firmino and Mane had run wild on Merseyside, they were frustrated and hassled all over east London. With no space in the middle, they repeatedly went to the wings in search of a way through the determined Iron curtain.
No player epitomised West Ham's relentless work-rate than their young No41, who covered more ground – 11.98km to be precise – than any other player on either side.
Defensively, Rice was imperious, using the knowledge he has gained over the past half-year to make eight of the 19 tackles made by West Ham players, while adding two interceptions and a clearance for good measure.
On the ball, he was also impressive, completing nearly 75% of his passes and setting up a chance for Chicharito with a driving run through the heart of the midfield.
In fact, the only blemish on an eye-catching, redemptive display was the header he flashed narrowly wide from Felipe Anderson's well-placed free-kick moments before half-time.
But that should not take away from – another – coming-of-age 90 minutes from West Ham's brightest young star.