Manuel Pellegrini spoke to the media ahead of his West Ham United team's Premier League fixture with Liverpool...
The Hammers will be looking to bounce back from consecutive away defeats at AFC Bournemouth and Wolverhampton Wanderers in the league and AFC Wimbledon in the Emirates FA Cup when they take to the pitch at London Stadium on Monday evening. 
Here's what the boss had to say…
We want to beat Liverpool
I don't know if they are nervous or not, but I think we can beat Liverpool on Monday night because every team in the Premier League can beat another one, look at Newcastle beating Manchester City. 
I remember the last race I had with Liverpool for the title in 2014, City were six points behind them but with three games in hand, so we had a lot of pressure and won the title. 
I repeat, we want to beat Liveprool. If we want to beat Liverpool we need to play a good game, defend well, as they have top players and we need to play with a high pace as we have done against a lot of teams at home so we have all the chances to do it again. 
After we beat Arsenal, we must improve if we want to continue being a competitive team. I see the players, they are mindful again of our project and I think we will improve.
Football changes in every game, there are lots of reasons why you win or lose a game. We lost the first four games and if you saw the picture in that moment, we then played three very difficult games and won two of them and drew one. 
Two or three balls can change the game at any one moment so the only way to do it is to be concentrated in what we are doing.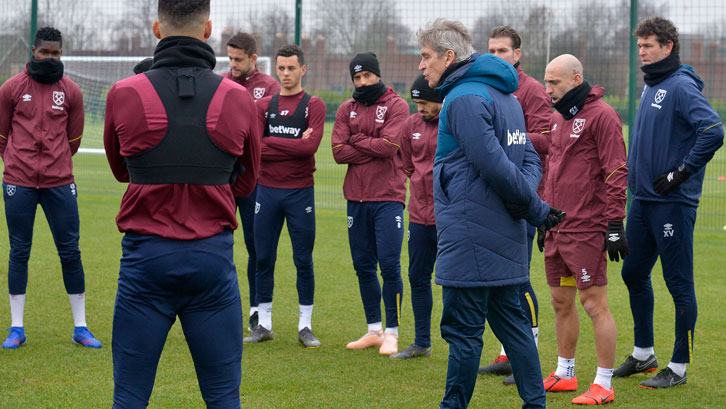 The January window does not offer many solutions
I was not disappointed by our January transfer window because the media is more interested in bringing players to West Ham than the Club itself! 
We have a squad, we have some players with long-term injuries but we have other players. The only interest we had in changing players was if we sold one but if not, we have the squad and it must be ready to play the last 14 games of the season. 
All the names and speculation about players we might be interested in came from the media. We didn't have any interest in bringing new players here unless we sold players.
The only player we had interest in was Gary Medel, they told us it was free and we were interested because he can play in two or three positions. They told us he was free but then it turned out the player was not free. 
So, I think that we have the squad and if with this one we will work with it until the end of the season. Then we will see in the summer what we need to do. The January window does not offer many solutions.
Transfer speculation was a distraction
One of the reasons why a lot of strikers were offered to our club during the January transfer window was the speculation linking Marko Arnautovic with a move to China.
Marko had an option to go to China and if he did then we had to replace him. Eventually he decided to stay here so we have our squad now. 
I agree with Pablo Zabaleta that the speculation was a distraction, but not only with Marko.
There are always a lot of clubs that call players offering a lot of money but they don't want to pay the transfer fees requested for them. The players then think they must go and of course their performances are not the same. 
Now the transfer window has closed I think that all of the players, not just Marko, will be involved in our target.