West Ham United greats of yesteryear and the family and friends of Martin Peters MBE have paid a moving tribute to the late, great Hammers and England legend.
London Stadium stood as one and applauded in memory of Peters, who passed away on Saturday 21 December at the age of 76, following a long illness, ahead of Saturday's Premier League fixture with Leicester City.
It was a predictably emotional occasion, as Peters' children Leeann and Grant joined his close pal and fellow 1966 final goalscorer Sir Geoff Hurst and former Hammer, fellow 1965 European Cup Winners' Cup winner and long-time friend Brian Dear laid a floral tribute to the midfielder before kick-off.
As they did so, a guard of honour formed by 1960s greats Ken Brown, Ronnie Boyce and Eddie Bovington, five-time Hammer of the Year Sir Trevor Brooking, a host of other legends and Joint-Chairman David Gold stood and applauded on the touchline.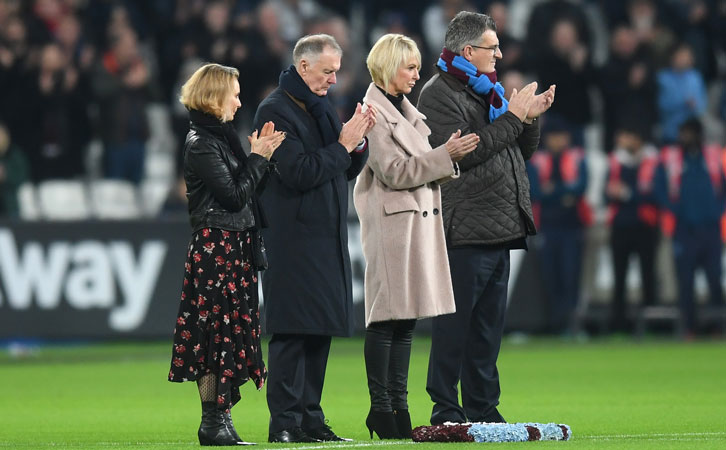 Moments earlier, Hurst and Dear had spoken fondly of their old friend, before the crowd watched on in awe as a video showing Peters' many career achievements was played on the big screens.
Hurst, who played alongside Peters hundreds of times for club and country, sharing the biggest moments in their respective careers, said: "The memories we shared become ever more special as the years pass. Martin was a very special player and I sometimes feel he didn't get the recognition he deserved. Just look at his goalscoring from midfield. It compares with some of the best we've ever had like Steven Gerrard and Frank Lampard.
"He was totally obsessed with football. We all loved football and were obsessed to a degree but I've never met anybody for whom it completely dominated his life, other than his family, of course. He was that focused. He was such a great player. Our gardens backed onto each other in Hornchurch for years and we were pretty close."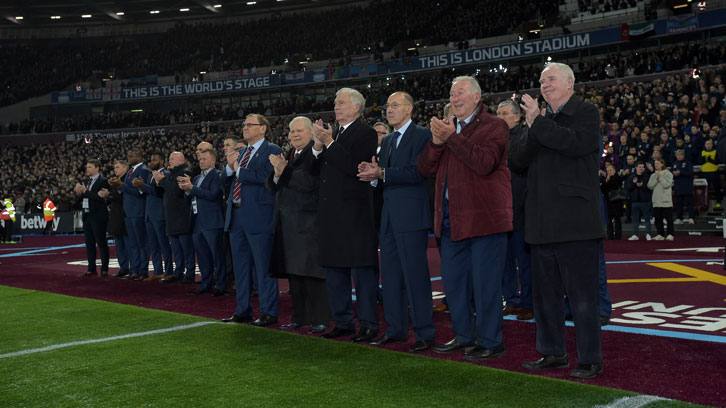 A fellow east Londoner like Plaistow-born Peters who became very close to the visionary midfielder, Dear reminisced: "I knew Martin from the age of 13 or 14 and we played for Dagenham, Essex, London and England schoolboys together and joined West Ham together at the same time in 1959.
 
"Through our careers, we might not have seen one another every day of the week, but we were a friendly bunch of lads back then and I was fortunate enough to win the European Cup Winners' Cup playing alongside Martin.
 
"It's very sad. He was a great, great fella, a gentleman, respectful and a great family man. Everyone will miss Martin. God rest him."