Opinion
Ken Dyer: It was a true pleasure to watch Martin Peters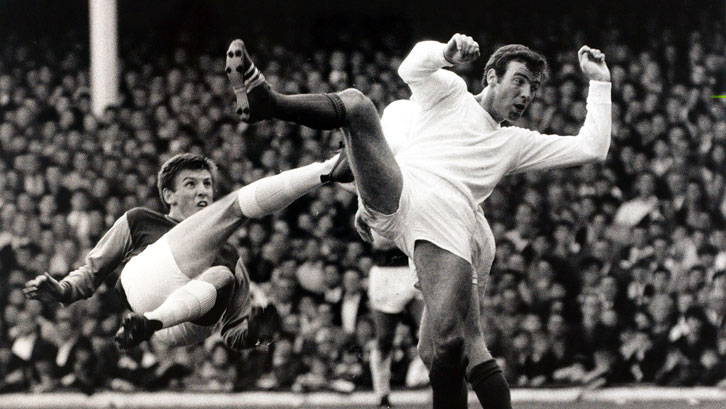 A couple of years before West Ham United moved away from Upton Park, I happened to look across from the Press Box – and spotted Martin Peters in the Directors' Box.
The team were on their way out of the tunnel before a match and 'Bubbles' was in full swing. Joining in lustily, was Martin and suddenly I was transported back to 20 August 1966 and watching him, Bobby Moore and Geoff Hurst trotting out together and in advance of their team-mates, to almost shyly accept the admiration of a West Ham crowd before the first match of a new domestic season against Chelsea.
Just three weeks earlier, the Hammers' trio had played the most major part in England winning the World Cup.
Bobby was the ice-cool captain, Geoff the hat-trick hero and Martin, scorer of the other goal in a 4-2 extra-time victory, arguably the most complete player of the three – but with a much lower profile.
Plaistow-born and the son of a Thames lighter man, Martin made his debut for West Ham's senior team over the crowded Easter programme of 1962. In three matches over four days, he played in two different outfield positions – and even went in goal as an emergency when Brian Rhodes damaged a finger!
My enduring memory of Martin was of a player who could do everything – very well. He was tall but elegant. He glided rather than ran. He could tackle, head, shoot – and look after himself when the occasion demanded.
It was his uncanny ability to find space though, which was his greatest asset and which earned him the tag of 'the ghost' during his England career, which spanned eight years, 67 caps – and 20 goals.
A friend of Martin's once summed up his natural sporting ability when he said: "We could never beat him at anything. Golf, cricket, tennis, snooker, even three-card brag, he would always win."
On Boxing Day 1963, Martin was in the West Ham team which lost 8-2 to Blackburn Rovers. Manager Ron Greenwood made one change for the return fixture, three days later at Ewood Park, bringing in the more defensively-minded Eddie Bovington for Peters, with the Hammers winning 3-1.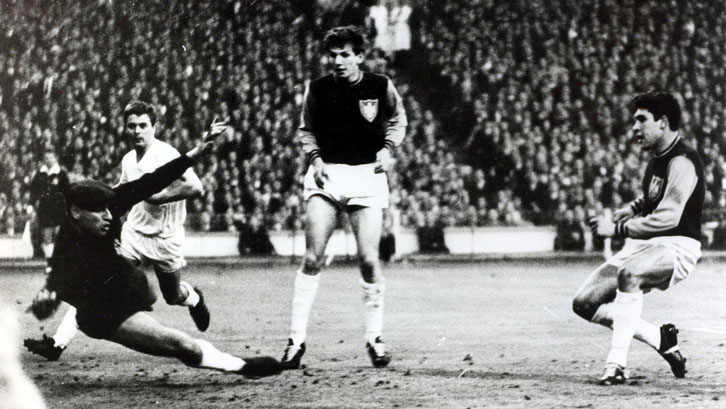 Martin was left out the cold for the remainder of that season, which climaxed in West Ham beating Preston 3-2 to win the FA Cup – and that must have been hard to take.
He was back though, by the following year, when West Ham returned to Wembley to win the European Cup Winners' Cup, beating TSV Munich 1860, 2-0.
Martin though, often felt his adaptability, he had played in every position by the age of 23, was against him. In his autobiography, he wrote: "As a player of many parts and not just one, I seem to melt into the background of a game as far as the spectator is concerned."
England manager Sir Alf Ramsey changed that perception of this truly great player though when he famously said that Martin was ten years ahead of his time.
By 1970, after 364 appearances and a hundred goals, Martin decided that the shadow of Bobby Moore and Geoff Hurst was impeding his progress and in a £200,000 transfer, moved to North London and Tottenham with Jimmy Greaves coming the other way.
Even Jimmy, having seen the best part of his career, I suspect, would admit that Spurs had the best of that particular deal.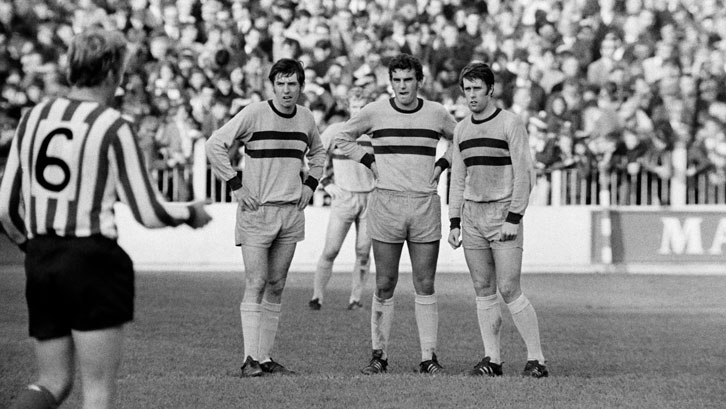 I watched Martin play many times and interviewed him on several occasions, notably at his home in Hornchurch on the day after England, despite drawing 1-1 with Poland in October 1973, had failed to qualify for the 1974 World Cup.
Martin had captained England in that match after Bobby was dropped and although the disappointment must have been raw he was, as usual a true gentleman, patient and polite.
I remember him talking about the moment he knew he was in Ramsey's team for the World Cup Final. His eyes sparkled as he said: "Even now, all these years later, I can still feel shivers up my spine."
As an illustration of Martin's talent, there is no better anecdote than the one told by former academy director and West Ham club mate Tony Carr.
"There was a bit of a lull in training one day at Chadwell Heath," said Tony. "Someone began crossing from wide and Martin was trying to volley the ball onto the crossbar from the edge of the box. "He did it once and we said, 'Go on then, do it again' – so he did.
"'One more'," said Martin, "and I'll never forget it. Over came the cross, Martin volleyed the ball and bang, it hit the crossbar for the third time in a row."
It was a true pleasure to watch Martin down the years – and an even bigger privilege to have known him.
He may have felt undervalued by some but for me – and hundreds of thousands of other fans during his long and distinguished playing career – he was admired, appreciated – and cherished.