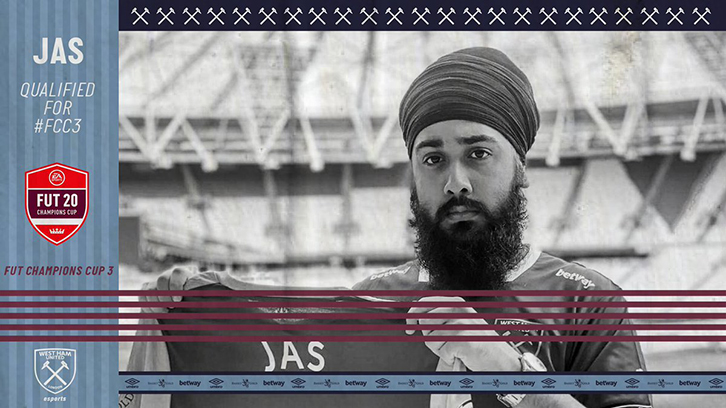 West Ham United eSports player 'Jas' Singh has overcome fierce competition to qualify for the third FUT Champions Cup of the 2019/20 FIFA season.
The PlayStation4 player, who began sporting Claret and Blue this summer after joining the Club alongside 'Yago' Gabriel Fawaz, battled through two days of fierce European qualifiers this week and won out in style.
After victory in his first two rounds of fixtures and a defeat in his third, Jas' world-class ability began to shine through, thrashing his next three opponents 5-0, 7-3 and 6-1 respectively to reach the knockout stages.
From there, Jas' emphatic form continued, a 5-1 aggregate win in his final fixture ultimately sealing his place in the high-profile tournament as one of only 16 qualifiers from Europe.
 
He's done it! ? @Jas1875_ has qualified for #FutChampionsCup 3⃣ ⚒ Let's go Jas ?#westhamesports #fcc3 pic.twitter.com/JxfJjnzsg6

— WestHamEsports (@WestHamEsports) 16 December 2019

"I can't believe I've actually qualified for it," a jubilant Jas said afterwards. "I've worked hard for this and I wasn't going to let anyone take it away from me. Whoever I played, I wasn't going to take losing for an answer.
"I'm doing this, and now we're there. We've qualified. Let's go!"
Jas will be joined by 16 other PlayStation 4 competitors in the FUT Champions Cup Stage III tournament, which will take place in Atlanta, Georgia, over the weekend of Friday 17 to Sunday 19 January. 
 
QUALIFIED FOR FUT CHAMPS CUP 3 IN ?? USA !!!!!!!!!!!! GOD IS GOOD pic.twitter.com/iRycOEd4TN

— Jas Singh (@Jas1875_) 16 December 2019

His West Ham teammates, PS4 player Yago and Xbox competitor Jamie 'Jamboo' Rigden, were also involved in this week's qualifiers, but fell in the knockouts and first round respectively.
The qualification for FUT Champions Cup Stage III continues the Hammers' recent success in this arena, after Yago finished runner-up at the first major FIFA tournament of the season, and he and Jamboo both reached the round of 16 at the second.
Each of the six FUT Champions Cups throughout the year offer a priceless opportunity to rack up prize money and Global Series points, which accumulate across the season to determine who will compete in the 2020 eFIFA World Cup in July.
Hammers stars Jas and Yago will now turn their attention to this week's qualifiers for the eClub World Cup tournament.
Don't forget to pick up your limited edition 19/20 West Ham United eSports Jersey - made for West Ham gamers everywhere - through our online store.