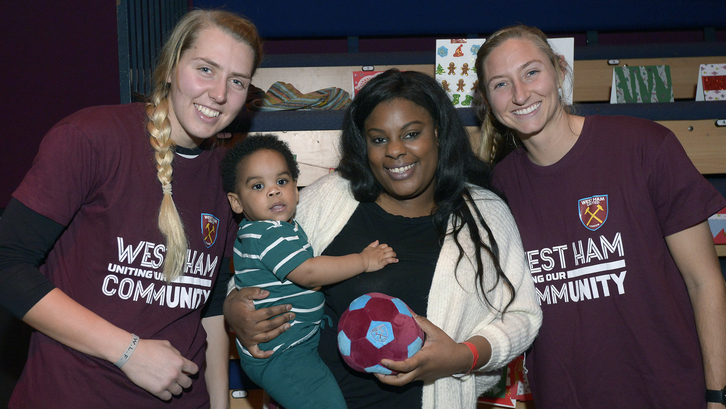 West Ham United women's players Anna Moorhouse and Brooke Hendrix paid a festive visit to surprised families at Stratford Circus Arts Centre as a part of the Full Hearts Full Tummies Campaign. 
The initiative, which West Ham United are proudly supporting for the third year running, raises money to make Christmas a magical one for families in difficult circumstances in Newham and Tower Hamlets who otherwise wouldn't be able to afford a seasonal treat.
Having both starred in a 7-0 victory over Crystal Palace last week, Moorhouse and Hendrix kicked-off their festive break by joining the team at Stratford Circus to help serve hot food, play games and hand out Christmas gifts to the attending families. 
Goalkeeper Anna Moorhouse was thrilled to participate in the scheme. 
It means a lot to be involved in schemes like this. As players, we have enough and, unfortunately, there are so many people that don't have much at all. It is so nice to be able to do something for them.

Anna Moorhouse
Moorhouse said: "It's been great to be here today and, for me personally, it means a lot to be involved in schemes like this. As players, we have enough and, unfortunately, there are so many people that don't have much at all. It is so nice to be able to do something for them. 
"You can see what it means for them to be able to come here and have a nice time. We've socialised, handed out presents, served food, had fun, and hopefully helped to create some lasting Christmas memories."
Defender Hendrix was happy to also help spread some Christmas cheer at Stratford Circus, stressing the importance of helping out in the community that gives so much to West Ham United.
"I love doing these sorts of events and I try to do them every single year because I think it is so important for us to share our time with those less fortunate than us," Hendrix said. "As players, it's so important that we give back to the community that give so much to us. 
"For me, seeing their smiles and helping to make their day and their Christmas means the world. It isn't a lot, just giving some of your time. The more that we can do that, the better."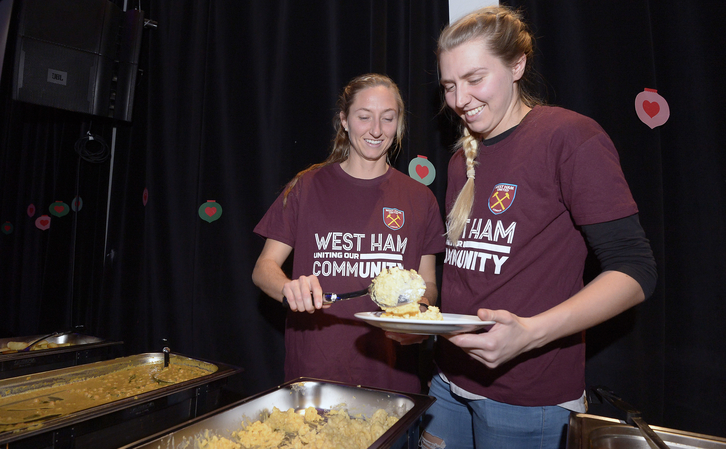 Director Tania Wilmer was delighted to welcome Moorhouse and Hendrix to Stratford Circus Arts Centre on Monday, praising the duo for helping to make Christmas extra special for the families in attendance.
Wilmer said: "Full Hearts Full Tummies represents a coming together of all parts of the community here at Stratford Circus Arts Centre so we're really pleased to be welcoming West Ham players here for the third year running, especially at such a great moment for women's football. 
"This year we're hosting more people than ever through the programme and meeting the players will have made the day extra special."
Following several successful years, which saw local businesses, organisations and individuals generously participate in raising the necessary funds, Stratford Circus Arts Centre is aiming to raise £12,000 for 2019. Now in its fifth year, Full Hearts Full Tummies means families and children facing challenges can share a festive lunch after watching a special Christmas performance at the arts centre for just £1, ensuring tummies and imaginations are well fed.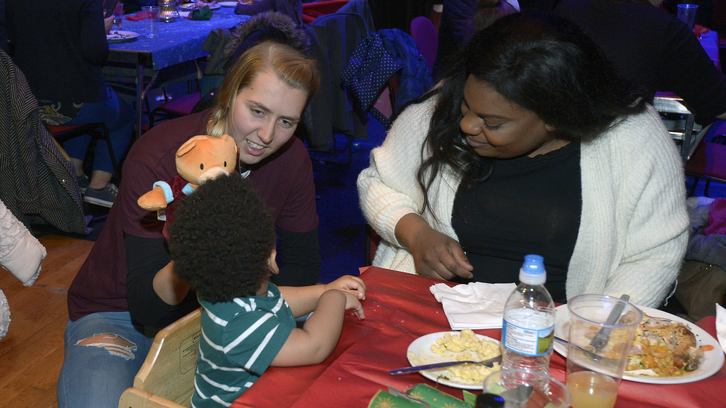 This year, the venue is offering tickets to the smash-hit children's show We're Going on a Bear Hunt (**** Time Out). Produced by London's celebrated Little Angel Theatre, the stage-adaptation of Michael Rosen and Helen Oxenbury's classic children's book arrives at Stratford Circus Arts Centre after captivating audiences across the country on its UK tour. 
Last year, over 467 children and parents benefited from the scheme, and this year the arts centre is hoping to reach up to 600 local individuals in need by collaborating with children's centres, and local charities. For many children taking part, it will be their first experience of live performance, ensuring creative inspiration for their learning development as well as some magical Christmas memories.
The visit was part of the club's Players' Project campaign which sees members of the men and women's first-team squads supporting the local community. Last year, the players gave over 300 hours of community time, directly working with over 2,000 people from the local community. The Project, split into eleven strands, delivers over 30 programmes that span health, education, community initiatives and football development, which engage with up to 50,000 people per year.