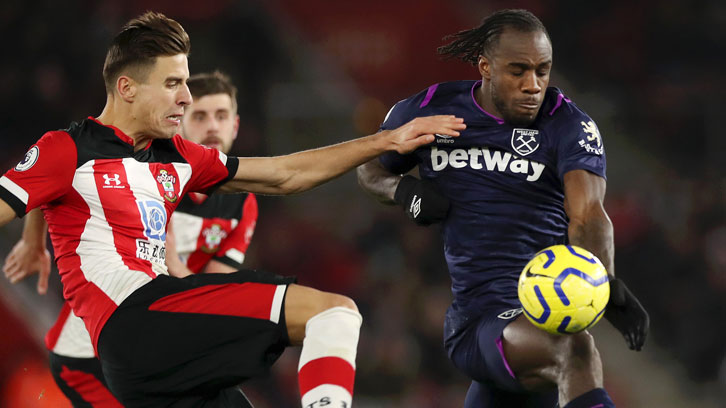 Michail Antonio would be one of the Premier League's in-form strikers – if he could stop handling the ball before putting it into the opposition net!
The No30 returned to action after a three-month injury lay-off with a goal in the home defeat by Tottenham Hotspur on 23 November. And he would have added to that strike with further goals in the 1-0 wins at Chelsea and Southampton, only for the Video Assistant Referee (VAR) to rule them our for handball on review!
Antonio himself could afford to smile after Saturday's victory over his former club at St Mary's Stadium, but he is hoping his luck in front of goal will improve during the second half of the season.
These handball decisions are killing me, can't work out why it keeps happening ?????? pic.twitter.com/tlnOn7W3mp

— Michail Antonio (@Michailantonio) December 14, 2019
"If I had no arms, I'd have three goals in four games!" he joked. "It's just one of those things where VAR is killing me right now, but hopefully these handballs and these disallowed goals can turn into goals later in the season!"
On a more serious note, West Ham produced a performance at just the right time on the south coast, dominating the Saints for long periods and scoring a deserved win through Sebastien Haller's goal eight minutes before half-time.
Antonio said the success was just reward for the way the Hammers have played in recent matches, despite the fact they had picked up just three points from nine after winning at Chelsea and losing harshly to Wolverhampton Wanderers and Arsenal.
"We were great.  We had some real good opportunities we didn't take but there were loads of positives. Next game, I think we have got to take those opportunities but it was a much-needed win and we keep pushing on from here.
"We've just not been consistent enough. In our last three games, you could see there were loads of positives in our performances. Before that, to be fair, we weren't performing well, then we performed well at Chelsea and Wolves where, even though we lost, there were loads of positives from the game.
"Against Arsenal, we played well for 60 minutes, then had ten minutes of madness, then Saturday we played a good 90-minute game. You can see the positives coming from the performances in the last four games and hopefully we can turn the performances into points."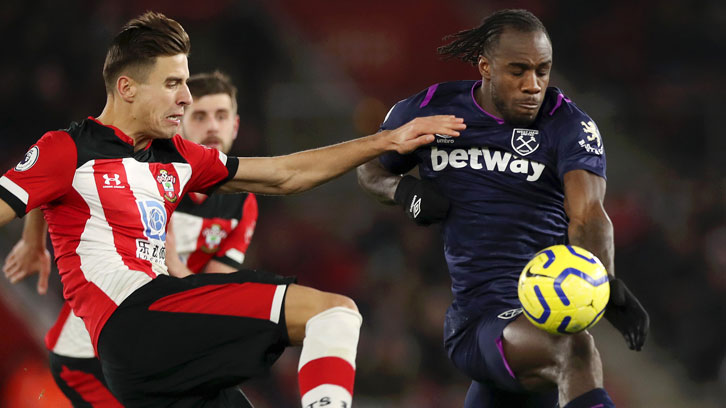 Antonio closed by praising the input of manager Manuel Pellegrini, who switched to a 4-4-2 formation at St Mary's, pairing the 29-year-old with Haller in attack and encouraging his players to ignore any external pressure and play with freedom – which they did to winning effect.
"A good manager won't put pressure on his players." Antonio confirmed. "A good manager will let you to play free and play with confidence. That is one thing he said to us, basically: 'Just go out there and play as well as we know we can'. I felt we did that and we've done it for him.
"We showed that we are behind the manager. We showed we've got the grit and the fight for him. And we showed that he has not lost the changing room."