West Ham United's Nathan Holland has won the Premier League 2 Player of the Month award for November.
The 21-year-old contributed four goals, two assists and a number of match-winning performances to the Under-23s side last month as they continued to lead the way in Premier League 2 Division 2.
Holland's November achievements include a spectacular solo brace against Swansea City, two game-changing assists against Aston Villa, and a memorable individual effort at Brighton & Hove Albion in the Premier League International Cup.
The winger's fine form has seen him shoot to second in the division's goalscoring charts, yielding a Premier League debut and a home league debut in the last fortnight against Wolves and Arsenal respectively.
I'm working hard and I'm really enjoying my football. I'm feeling confident, and it's all going well

Nathan Holland
"It's amazing to win the award, to work hard and to be recognised for what you're working for," Holland said. "I just put it down to the team doing really well, and luckily I've won this award, so it's a great achievement.
"Throughout the season I think I've just got fitter and stronger. I'm working hard and I'm really enjoying my football. I'm feeling confident, and it's all going well."
Blessed with pace, skill, a thunderous shot and an uncompromising desire to drive at defenders, Holland has hit new heights in Claret and Blue this season, having joined West Ham from Everton in January 2017.
If eleven goals and eight assists over 16 appearances for the U23s are not evidence enough of an exciting player making rapid progress, his recent graduation to Manuel Pellegrini's first-team set-up is further confirmation of his inexorable talent.
"It's been quite smooth actually," Holland said of his transition to action in England's top tier. "I've just tried to take it in my stride and not think too much about it. It's all still quite fresh at the minute, so it hasn't all sunk in, but I'm really enjoying it.
"I just want to win more appearances, keep training with the first-team, keep showing what I can do and in whatever appearances I do get – anything from ten minutes to a start – I just need to make sure I'm ready."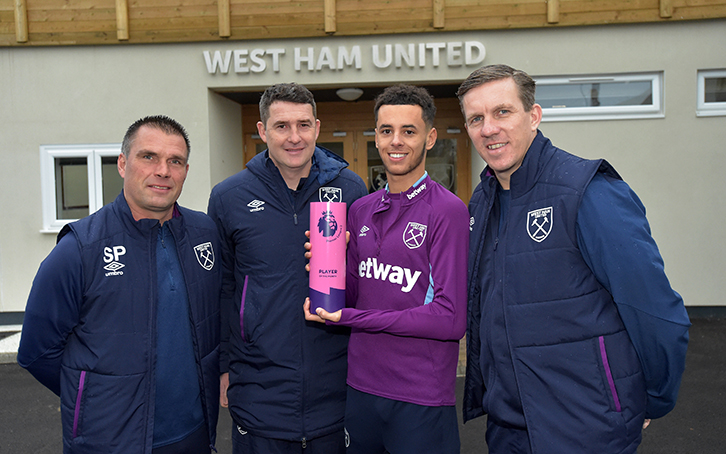 Holland was nominated for the Premier League 2 Player of the Month award alongside teammate Bernardo Rosa, as well as players from Brighton & Hove Albion, Leicester City, Manchester United and West Bromwich Albion.
His win marks the second time a Hammer has won the Premier League 2 Player of the Month award this season after striker Anthony Scully claimed the prize for September.
With the U23 side having received five nominations in the first five months of the campaign – Holland and Scully were also nominated in October, along with Dan Kemp in August – the winger took the opportunity to praise the collective efforts of the development squad.
"Five nominations already this season says a lot," he observed. "It's great for the team and it's great that we're all being recognised. It's not just individual performances, it's our team performances all the time.
"We've got a very good team winning games, so that obviously helps, but I've played in quite a few games. We're playing well, and it's just good to be out there on the pitch."
West Ham United U23s Lead Coach Dmitri Halajko said of the achievement: "Nathan should certainly be proud of himself. He deserves it. 
"He's been one of the best players in the league – certainly the best left midfielder in the league – and he's won game for us on his own. He should be very proud of his performances and his hard work this year."
Assistant coach Steve Potts added: "He's put great performances in and he's got his reward because of that. It's fully deserved. I just hope he carries that form on and everyone sees what a good player he is."