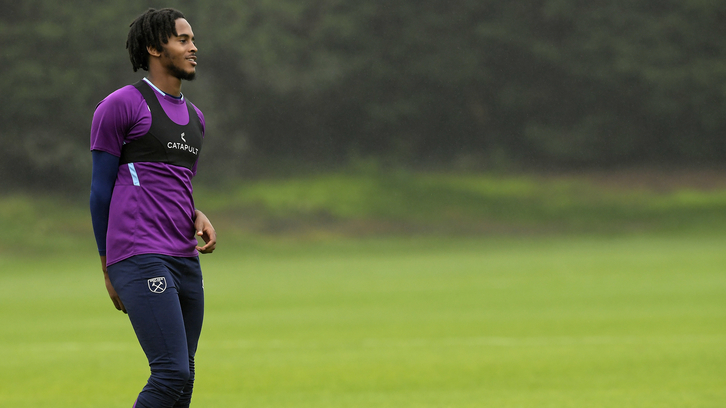 West Ham United Under-18s head into tonight's FA Youth Cup third-round clash with Charlton Athletic in excellent form.
Four wins on the spin in the U18 Premier League South have seen Lead Coach Kevin Keen's side rise to third in the table. 
Over that same span, the young Hammers have scored 19 goals, conceding just four, proving they can ably mix a potent attack with a steadfast defence.
Last weekend the U18s travelled to Southampton and managed to record their first clean sheet of the season in an emphatic 5-0 victory.
At the heart of the defence against the Saints was U18s captain Josh Okotcha, the 17-year-old who looks set to lead his team once again against the young Addicks at the Chigwell Construction Stadium this evening.
Everything we do is team-orientated, and the environment that we have is allowing every single one of us improve

Josh Okotcha
Okotcha has represented West Ham in the FA Youth Cup in both of the last two campaigns and is very much aware of the gravitas of the prestigious tournament which West Ham last won in 1999.
"For me, personally, the FA Youth Cup is huge," he said. "I've played in the tournament twice before and just being around the group this week you can tell that there's a lot of excitement ahead of Friday's game.
"From my experience, we can't put too much pressure on ourselves. If you do that, you start doing things that you don't normally do. The best way to approach it is to treat it like any other match and that's what we've done with our preparation."
Tonight's opposition Charlton have enjoyed a similarly strong first half to their 2019/20 season. They currently sit third in the U18 Professional Development League South, just two points behind leaders Millwall.
Okotcha has been impressed with the progress made by the U18s since the start of the season and insists that the Academy side are currently playing their best football as we head towards the festive period.
"Our season is going really well, especially in recent weeks," he noted. "There were a few games early on in the season that we felt we could have got more from, but I think we've gelled really well as a team since then and we've really progressed positively in the lead-up to Christmas."
The defender also believes the arrival of Keen in the summer has been hugely beneficial to the whole squad.
"I really enjoy working under Kevin Keen," he continued. "There's a huge sense of organisation within the group and we feel that it's a lot more of a professional environment, which is something that he has helped to create. 
"Everything we do is team-orientated, and the environment that we have is allowing every single one of us improve."
Another key arrival for the U18s has been Irish striker Mipo Odubeko. The 17-year-old forward looks to be nearing top form, scoring a hattrick against Southampton last time out, and Okotcha took time to praise Odubeko's impact.
"Mipo has come in and bought some more quality to our attacking play. He's a proper centre forward who holds the ball up well and brings his teammates into the game. 
"He's been a great addition and hopefully he'll help us through to the next round."
Tonight's game is the U18s' last fixture of 2019, but that hasn't stopped Okotcha and his teammates from staying focused on their targets for the rest of the year.
"We want to keep doing well in the league," he stated. "That's the big target, then we can just see how far this team can go in the FA Youth Cup. 
"For me personally, I want to keep progressing as a player and hopefully through hard work and performing well across these two competitions I'll continue to do that."