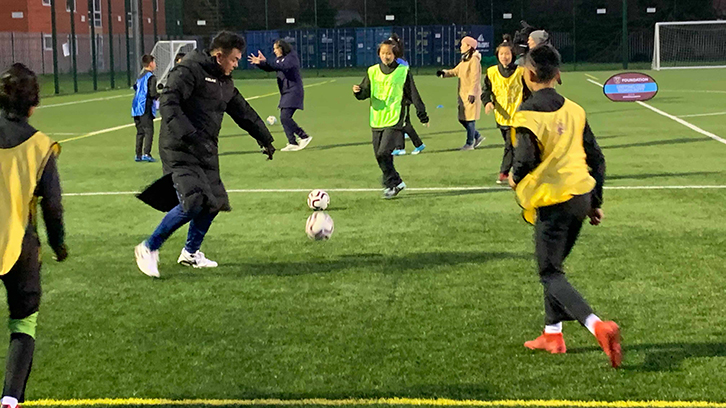 West Ham United welcomed eleven new young supporters to the Club on Monday when they played host to Chinese side Jiangsu Subei.
Jiangsu Subei's youngsters had channelled the West Ham way when they lifted the Mixed Under-12s' Premier Skills Cup in July, having received guidance along the way from Academy of Football coaches Carlton Cole and Gerard Prendeville.
First-team players Lukasz Fabianski, Winston Reid and Robert Snodgrass were also on hand in Nanjing to lend their advice and support during the competition, and their backing was duly rewarded when Jiangsu Subei won silverware and the trip of a lifetime to England.
"It worked really well to link up the community work that we do with the Academy work that we do," explained West Ham United Foundation's employability and coach education manager Rashid Abba, who was also part of the Hammers' travelling party in China this summer.
Jiangsu Subei and their coaches enjoyed a dream week-long trip to the UK, spending time at all four teams who took part in the Premier League Asia Trophy this summer, starting with the Irons and also visiting Wolverhampton Wanderers, Manchester City and Newcastle United.
Jiangsu Subei's players and staff spent Monday morning at a local primary school, where they met children and witnessed the Premier League Primary Stars programme in action.
They subsequently travelled to West Ham United Foundation's base in Beckton to receive tailored sessions from Hammers educators and coaches about nutrition, fitness in football and, of course, their technical skills.
Jiangsu Subei then took part in a Premier League Kicks session – the flagship programme which educates and coaches local young players from a variety of age groups, backgrounds and genders – before playing against a Hammers' Kicks side in an exciting, end-to-end match.
The technical skills on show impressed watchers-on at Beckton, with a young girl amongst Jiangsu Subei's ranks even winning acclaim from a spectator as a 'Mini-Messi'!
 
It's important for us to keep thinking about why football is so important in this country

Rashid Abba

The visitors' day culminated with a trip to London Stadium to witness their first-ever Premier League game in person - West Ham's Monday night match against Arsenal.
"It's about encouraging them to come and meet other people," Abba continued. "They've spent a full day with us, giving them a positive experience of playing against a West Ham Kicks team, spending a day at a Premier League club and meeting other coaches.
"For the players, the focus is on the experience of playing against kids they wouldn't normally play with, because for these kids to meet and play with them is great for their development and understanding of other people. 
"For the coaches, it's about them going away inspired, motivated and maybe understanding the game a bit better. It's about building a legacy so that we've got a conveyor belt of coaches, mentors, youth workers and community coaches coming through.
"Above all, it's about fun, and it's about making sure they go away having learned from us as much as we've learned from them. It's important for us to keep thinking about why football is so important in this country."
Graham Robinson, the Premier Skills Coaches Supervisor overseeing Jiangsu Subei's tour, added: "They're very excited – it's the first time they've ever been out of China and the first time they'll ever be at a Premier League game. 
"It's been a whole-rounded experience for them here at West Ham, which has been fantastic – it's an experience they'll probably never forget. They speak very little English so the coaches here have done a fantastic job to put sessions together for them.
"For Rashid to have them down at a Kicks section, playing against some local children in a local set-up, has just been the icing on the cake – it's fantastic for everybody."