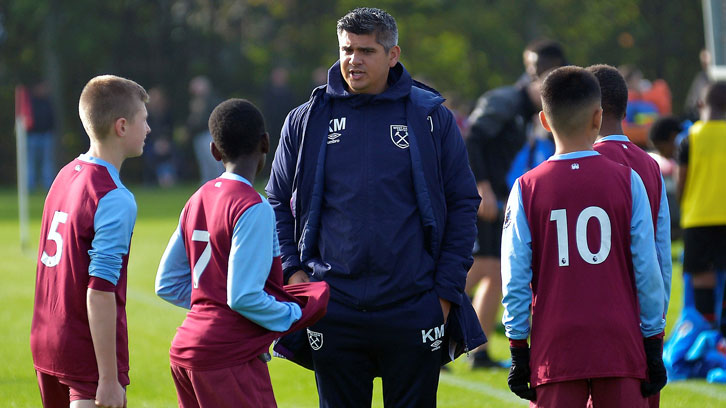 Head of Coaching Development Kalam Mooniaruck is helping coaches deliver the principles of play across the Academy of Football...
 
"Does how we coach lead to how we want to play? Or does how we play dictate how we coach?" 
That's the dilemma that met Academy Head of Coaching Development, Kalam Mooniaruck, when he first set foot at Chadwell Heath in October last year.
"My role, simply put, is help both coaches and players," he explains.
Since arriving at the club, Mooniaruck's task has been to develop the coaches that work with West Ham's youngest talents.
Working closely with the coaches at every level from pre-Academy to U23s, Mooniaruck has put together a detailed coaching syllabus to ensure players are taught the same key principles at every level of development, immersing them in the Club's footballing philosophy.
"Making sure that everyone feels valued and part of the journey is really important to me," he said. "I really get a kick out of when the coaches are taking on board information, and you see that same information filter through and help our players to improve their performances."
I recognised quite early on that, with the illustrious history of the club, it was important to have a balance of expert coaches and ex-pros in order to best help our current players

Kalam Mooniaruck
Having spent time at the Manchester United Academy in his youth (see below), Mooniaruck turned his attention to coaching after a playing career spent largely in the lower leagues. The 36-year-old joined West Ham last year from a senior coaching position at the FA.
"I spent nearly ten years with the FA," he recalled. "In my last three or four years there I was a Youth Coach Developer. I used to go into five or six different clubs and assist the coaches through their formal qualifications, helping the coaches to deliver the FA content required to pass."
Having also worked within the England youth coaching set-up, Mooniaruck also has experience of working at International level – to the benefit of the junior Hammers.
"Working with the England U15s group gave me an idea of exactly how the national teams work," he explained. "I've been able to bring some of those ideas into the coaching we do here at Chadwell Heath."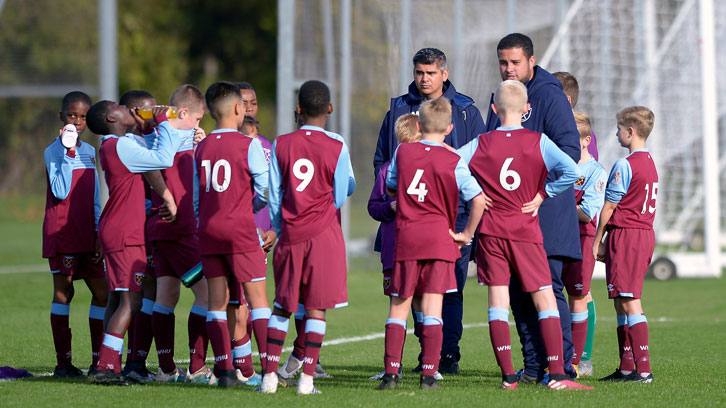 Mooniaruck was quick to recognise the prestigious nature of the philosophy developed by staff at the Academy of Football over decades – that indescribable 'West Ham Way' – and inspired the idea of enlisting former Hammers as youth coaches at the Club to complement it.
"I recognised quite early on that, with the illustrious history of the club, it was important to have a balance of expert coaches and ex-pros in order to best help our current players. 
"This season we have Zavon Hines with the U14s, Paul Konchesky with the U15s, Carlton Cole with the U16s, Kevin Keen with the U18s and Steve Potts with the U23s.
"The idea is to connect players with footballing careers that a young West Ham player can relate to. The expertise of an ex-professional might help them relate better to a young footballer than a coach whose focus is to deliver principles on how we are going to play and how we are going to work.
"Every single one of those former players have been through the system that they are now teaching – and now they're helping to get the boys through it."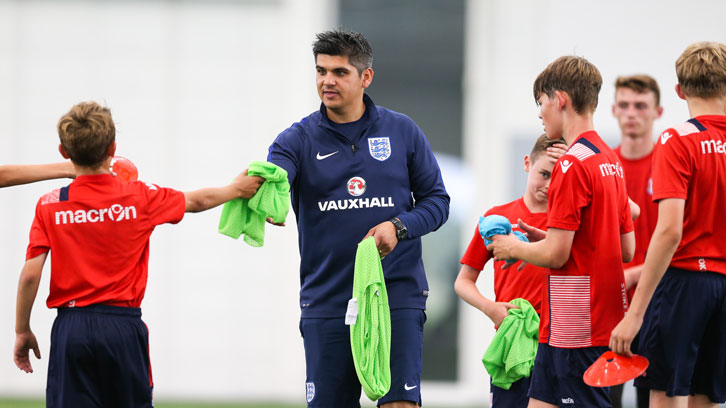 Mooniaruck believes that creating a set of coaching principles that can run through the core of the Academy will hopefully breed success for the future.
"All of the performances are helped by using the coaching syllabus, which is the same from U9s to U23s level. It's a spiralled curriculum to ensure we're constantly working on the same things and the same patterns at every level. 
"Along with [Academy Manager] Ricky Martin, I'm grateful to have been given the freedom and support to try out new ideas. I'm really proud to be part of the Club and all the good work going on behind the scenes, and I'm looking forward to seeing what we can implement next.
"It's not always about winning – it's about trying to show winning behaviour."
Getting players ready for the step-up to first team level is key to the Academy's success, and Mooniaruck hopes that, in the future, he'll see a number of their players make the transition to first-team level.
"We have to prepare the boys for when the first-team turn around and say: 'We want Ben Johnson, we want Grady Diangana'," he said. "We need to know that they are mentally tough, mentally ready, and physically ready.
"Then, if we've done our jobs correctly, their football should speak for itself."
Kalam Mooniaruck - Laptop legend!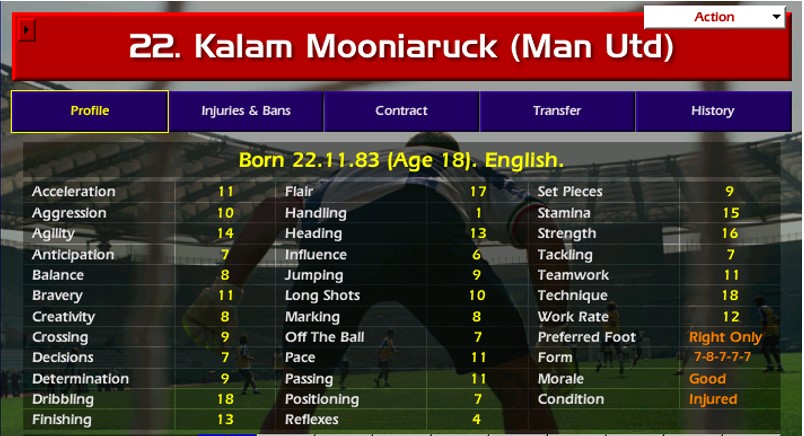 Kalam Mooniaruck starts on the popular Championship Manager 01/02 simulation as a young hopeful trying to force his way into a Manchester United team packed with attacking talent, explains retro football enthusiast Sid Lambert.
Unable to displace the likes of Dwight Yorke, Andrew Cole and Ruud van Nistelrooy he is farmed out on loan to the lower leagues to earn his stripes.
Within a few seasons he's blossomed into a world-class player, his stats have flown off the chart, and he's in the mix for the Ballon D'Or. He's a true laptop legend.