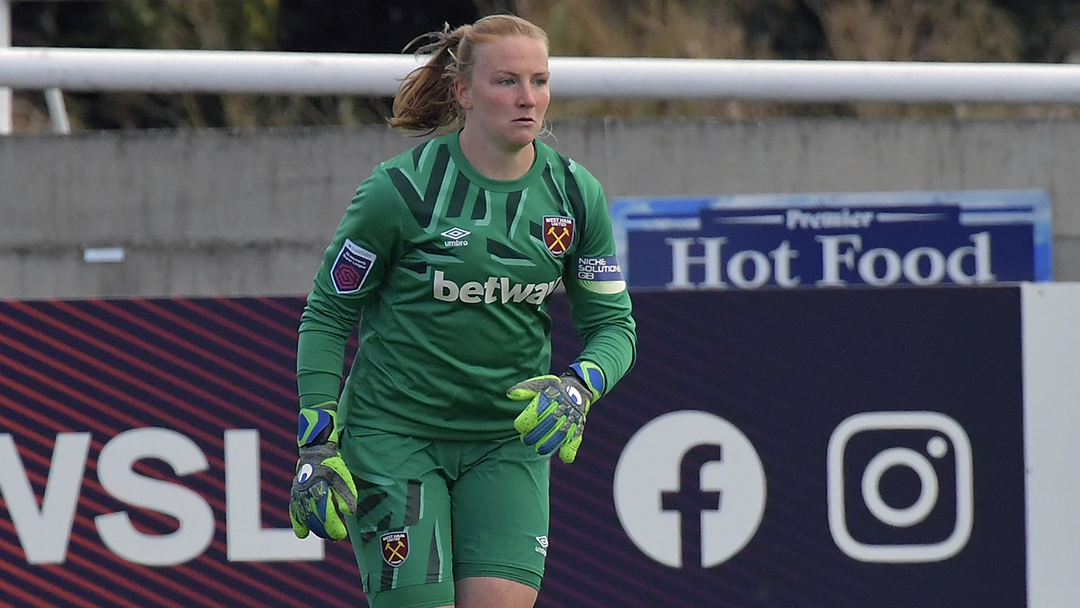 West Ham United goalkeeper Courtney Brosnan believes her team have demonstrated their potential to be a force in the FA Barclay's Women's Super League in recent weeks.
The Hammers have enjoyed plenty of dominant spells in their last few domestic fixtures and, while late goals have sometimes proved costly to their points total, Brosnan is positive that they have demonstrated every component of a successful side.
West Ham were particularly impressive in the first half of their game against Liverpool at Prenton Park, going ahead through Adriana Leon's well-taken early finish, before a late goal from Niamh Charles meant honours finished even at Prenton Park.
While Brosnan was naturally disappointed to concede late on, the goalkeeper had a positive outlook on the side's potential, with just a finishing touch missing from their performances.
"We're obviously disappointed not to come away with three points there, but I think at the end we definitely showed a lot of character just to stick it out," she said.
"We maybe lost a bit of momentum at the end, so to hold strong and walk away with a point is good, but I think we're just pretty disappointed not to come away with all three today.
"I think we're progressing and showing good spells and good moments. It might not be a full ninety minutes at this point, but I think all the pieces are there, which is good to see. 
"Now it's just about putting all those pieces together so that we can come away with a win last week and a win this week, as opposed to a win and a draw. Us making progress is good, though."
 
Any time you draw or you don't win, the next game you want to react... we play again on Wednesday – so just showing up right away... would be huge for us

Courtney Brosnan

While the Hammers had much the better of the first half, Liverpool's direct football in the second period saw Brosnan and her central defensive trio of Brooke Hendrix, Laura Vetterlein and captain Gilly Flaherty called more regularly into action.
Supported by full-backs Cecilie Redisch Kvamme and Katharina Baunach, the defensive line showed tremendous character to hold shape in the face of sustained pressure, with Brosnan particularly impressive in claiming numerous high crosses.
"They maybe had a couple more attacking moves in the second half so I had to make a few saves," Brosnan admitted. "I'm just doing my part for the team and showing up when I'm called upon. I'm keen to do everything I can to help us get three points, week in, week out.
"With our personnel, three at the back works really well for us. We have a very solid defence. We work well together and communicate well with each other, so that's what works for us and that's been good so far."
Looking forwards, Brosnan is keen to harness Liverpool's late equaliser as an extra source of motivation for her teammates when they host Crystal Palace in the FA Women's Continental League Cup on Wednesday evening.
"In the Continental Cup we want to do everything we can to make it through to the next stages, so the first step towards that is just to get the win against Crystal Palace," she declared.
"Any time you draw or you don't win, the next game you want to react. It's a short week – we play again on Wednesday – so just showing up right away, and coming away with the win, would be huge for us."