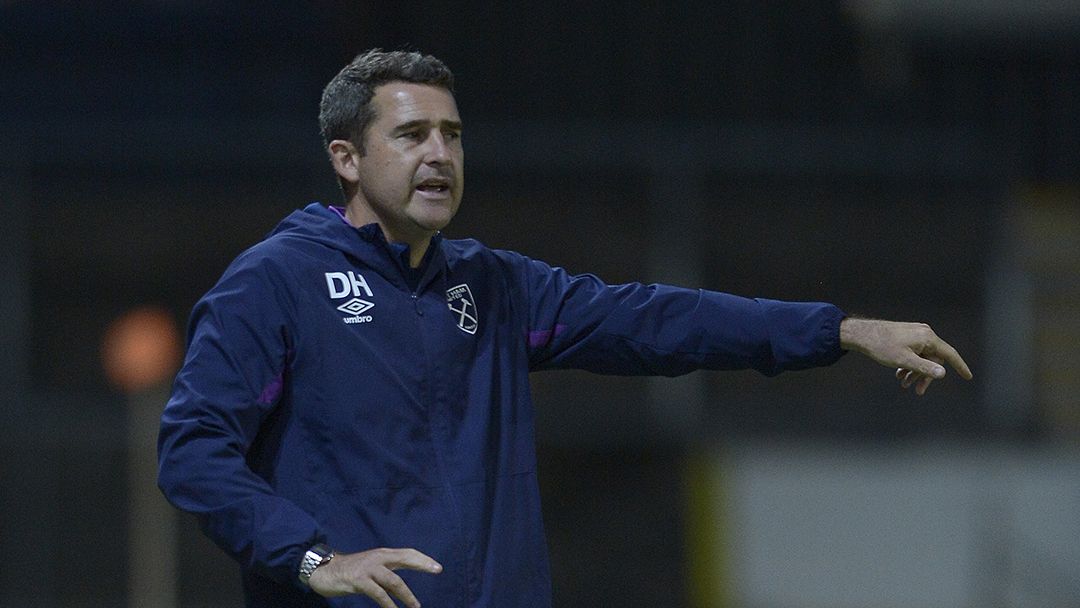 West Ham United U23s Lead Coach was pleased how his side performed against Fulham U23s on Friday night, but feels there are lessons to be learned from the end result.
The Hammers travelled to Motspur Park with a near-flawless record in Premier League 2 Division 2 and, by the interval, looked set to extend that with a solid first-half showing. 
Excellent passes by Bernardo Rosa and Jeremy Ngakia, married to smart finishes from Amadou Diallo and Dan Kemp respectively, had put the junior Hammers in control of three more league points.
The hosts pulled a goal back midway through the second period when Fabio Carvalho made space to curl home inside the area, but a cleverly worked counter-attacking goal from Joe Powell ten minutes from time looked to have sewn up the points.
Fulham showed their tenacity, however, and powerful late finishes from Jay Stansfield and Timmy Abraham – the latter with near-enough the last kick of the game – meant the match finished all square in south-west London.
Halajko was impressed by his side's attacking approach play throughout, but hopes his players learn their lesson from the events which transpired in the closing stages.
"It was a really tough game," the Lead Coach admitted. "Both teams were really going for the win, but I thought we deserved to win the game.
"The last ten minutes we just let our guard down and let them back into it, so we're disappointed with that, but I thought for the first 80 minutes we were the better team. We passed the ball out well and created some good chances, so we're just really disappointed that the last ten minutes we threw the game away in terms of the result.
"We don't want to control the game for long periods and then let teams back in at the end - that's naïve from us. We've shown naivety in the last ten minutes, so we're to learn from that and make sure that doesn't happen again."
 
I think all of our goals were top-level goals. We went to play passing combinations and we kept the ball, or went through with really precise counter-attacking

Dmitri Halajko

The Hammers' three strikes at Fulham bring their total for the league season up to 39 in just 12 games, but the three concessions mean they have now let in 14 for the season.
Halajko was pleased with the attacking quality his side demonstrated at Motspur Park, but believes they also lacked resoluteness in their defending tonight.
"I think all of our goals were top-level goals," he observed. "We went to play passing combinations and we kept the ball, or went through with really precise counter-attacking. 
"It's a shame that, with the goals we conceded, we felt we kind of gave them away. We didn't feel they had to play through us, it was more us being a little weak in our defending in and around the box that allowed them their goals. 
"I'm really happy with how we scored ours, but on the flip side disappointed with how we conceded."
The end result capped what has otherwise been an extremely positive week for the U23s, with Nathan Holland and Bernardo Rosa both nominated for Premier League 2 Player of the Month for November.
That nod marks consecutive nominations for Holland, who this week made his Premier League debut, featuring for the final quarter of West Ham's game at Wolves on Wednesday evening.
"It was a great moment for him, great for the Academy, and great for everyone's that had a part of working with him," Halajko said.
"Nathan deserves it. The impact that he's had at this level for us has been fantastic - he's won games single-handedly for us. He's the best left winger in this division in my opinion, bar none, and his goals and assists tally is outstanding, so I think it's right now that he goes and tests himself at a higher level. 
"He got the opportunity to do that a little bit against Wolves, and hopefully in the second half of the season he'll get some further opportunities."