West Ham United's 1-0 win over Chelsea is evidence of just how quickly fortunes can change in England's top tier, according to defender Angelo Ogbonna.
Despite the Irons and the Blues going into Saturday's game at opposite ends of the Premier League's recent form table, Ogbonna proved an instrumental force in a resolute West Ham defence, leading to a clean sheet and – following Aaron Cresswell's second-half finish – a memorable win.
Ogbonna believes that, characterised by diligence and discipline, West Ham's display was proof that all those clad in Claret and Blue know this season's Premier League table is there to be climbed.
Speaking ahead of Wednesday night's trip to Molineux and Wolverhampton Wanderers, against whom the Hammers will be seeking to build on their fine win, the Italian No21 called on his teammates to sustain such belief.   
"The mood [amongst us] is high," Ogbonna explained. "Even before the Chelsea game the mood was good because we knew that we could do it, so it was right for us to step up, and now we are just looking forward to the next game.
"Nothing really changed beforehand. We continued to do the same things because we believe in what we were doing before. I think the most important thing was for us to stay compact and do it in the same way.
"I think that result can help us a lot, but we need to be focused for the next game [against Wolves] and know that things are going to turn around. The way we work and the way we prepare the team is the right way, and I think we have to continue with that."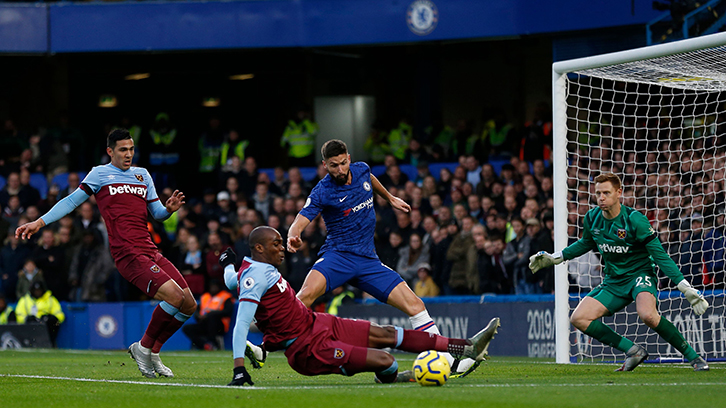 One of the defining images of Saturday's win against Chelsea was that of goalkeeper David Martin's joyous celebrations at the final whistle, the 33-year-old recording a clean sheet on his Premier League debut against the Blues.
"I'm very happy for him," Ogbonna said of Martin. "He's a good guy and he did very well. All of the players were behind him because it was his first game. 
"This is football – things change quickly. You have to be prepared to step up and do your best."
 
It's the Premier League and no matter what, you know one second you can be in one position, and the next you can be in another position

Angelo Ogbonna

The vital three points garnered at Stamford Bridge – West Ham's first win in the Premier League since September – saw the Hammers leapfrog four teams into 13th position in the table.
In the abnormally tight standings this season, the Irons sit both four points above the relegation zone and also just four points away from the European qualification places.
Ogbonna believes this is the result of England's top flight getting more and more competitive, but also foresees it as an opportunity for the Club to clamber the table having rediscovered their winning touch, starting with the trip to Wolves.
"I think the Premier League these days is very tough, very competitive," he observed. "If you see the table, the table is very tight. 
"You've four points between us and the Europa League, and we're four points above relegation. I think it's very tight, so you have to be tough and you have to be prepared. This is the Premier League - it's the best league in the world.
"Of course we'll be totally realistic. We are under a lot of pressure, but it's the same pressure as when you are in the Europa League spots because it's the Premier League and no matter what, you know one second you can be in one position, and the next you can be in another position. 
"You have to be focused. Every team, every game is hard; this is the Premier League. I'm focused on the next game because it was really important for us to get the three points against Chelsea - so the next goal is to work and win."